Quarantine life has inspired me to create this stress busting, fat blasting, strength building program that you can do (at home!) in only 20 minutes. It's called the Power20 and it's here to give you results while respecting your schedule.
What's the Power20? It combines these factors for the most impactful workout in only 20 minutes:
a heavier lift (if you don't have heavy weights, don't worry!)
a strength and plyometric circuit to cycle through twice
a "finisher" to get your muscles burning!
Your results will include a leaner body with more defined muscles, feeling and looking stronger from head to toe, improved health and wellness, increased metabolism, and weight loss! Combine this program with my nutrition course for the best results!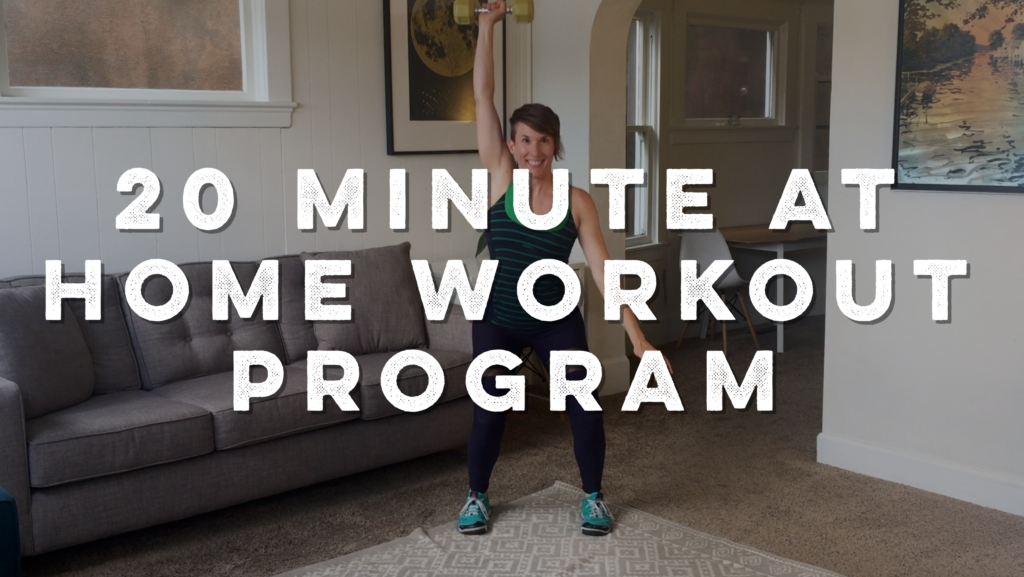 Fit in 30 Days
Each week you'll have four new strength training workouts that will focus on these muscles:
Four 20 minute workouts a week for four weeks! If you have the grit to carve that out in your schedule, then this program is for you! It's perfect for even the busiest of women. Maximum results in a short amount of time. Cardio is encouraged but not mandated ;)
Like all Fit Tutor workouts, this program can be modified for each fitness level. Each exercise has its own quick video tutorial that will include a way to make it harder or easier.
Make It Yours
Not only can you choose to make each exercise easier or more challenging by the modification, but you can also make it yours by changing up your circuit time and increasing the weight you're using!
Multiple pairs of dumbbells or adjustable dumbbells will be helpful, but if that's not in the cards right now, you can always make workouts more challenging by paying extra attention to your form and increasing your work time and decreasing your rest time in each circuit!
What to Expect in the Power20 Workouts
You'll start out each workout with a heavier lift. Grab your heavy dumbbells if you've got 'em and shoot for only a few reps, or plan to do that exercise for 15-20 reps or so with lighter weights!
For the Circuit, you'll have 7 strength or plyometric exercises that you'll perform for a minute each, and cycle through x2 for 14 minutes total.
After your circuit, you'll perform your "finisher" exercise and then stretch! Your finisher will be for about 1 minute or until failure, and you should really feel the burn at the end of each workout.
Sign up for the Power20 + over 10 other at home Fitness Programs for only $50
2020 is definitely a mixed bag so far, so I've drastically lowered my prices to help us all cope and so everyone can afford getting in shape from home! (I have a limited free plan for people who've lost their jobs- email me for details!).
A membership will give you access to:
proper form and instruction from a nationally certified trainer
access to my nutrition program + meal plans
weekly workouts that include bodyweight workouts if you're having trouble finding weights right now
10+ other fitness programs so you'll never get bored!
an exercise library and workout creator so you can build your own workouts and save your favorite exercises!
and so much more. For eva-eva. For only $50. This price won't last forever, though, so don't wait!
I'll be doing the Power20 as my life and schedule have gotten hectic during this pandemic! Won't you join me?