About The Fit Tutor
Hi, I'm Ali Lambert! Thanks for visiting my site. If you're here, I'm guessing you're looking for some help to get better results and/or consistency with your healthy eating and workouts. It can be confusing and challenging, right?
I created The Fit Tutor for busy women, to help them exercise efficiently, quit their constant dieting, and feel confident and supported, while finally getting the results they've been dreaming of.
I'm not sure if you think your dream (body, energy levels, control over cravings, etc) is attainable, but I'm here to help you realize that it is!
Here's How The Fit Tutor Gets You Results
Are you busy? You'll get efficient and effective workouts
I'll help you maximize your time with strength training, HIIT workouts (high intensity intervals), and steady state cardio – completely adjusted for your level of fitness. No more hours on the elliptical for you, sister. You don't have to sweat for 90 minutes to reach your badass babe status. I'll help you get fit efficiently because I know you've got stuff to do.
Are you over the age of 30? You're losing muscle and your metabolism is slowing
Here's how we counteract that:
I know we've been taught to believe that weight gain comes with age, like it or not, and since all the exercise models are posing with 3 pound dumbbells, that's what we should be using, too. Here's the truth:
By lifting weights- the heavier the better!– you can increase your metabolism, energy, and look even better than you did in your 20's. The Fit Tutor's workouts combine strength training and plyometrics for every level of fitness so you can take control over your body's future. 
Here's a preview of what some of the Fit Tutor workout programs look like, as well as my Weekly Workout section, and Exercise Library! Depending on what package you choose, you can also get personalized workouts made just for you!
Diets don't work and you just gain the weight back anyway
Are you longing to be off the dieting bandwagon? Here's amazing news: you don't need to diet to look and feel the way you want. Yeah, calorie restriction is important, but I can teach you how to achieve that without feeling hungry all the time and constantly calorie counting.
In fact, I'll teach you how your plate should look, what snacks to choose and when, and help you ingrain those habits so you never need another diet. And in the process, I'll provide you with meal plans, recipes, and grocery lists to help you lose weight and gain strength while you learn these healthy habits!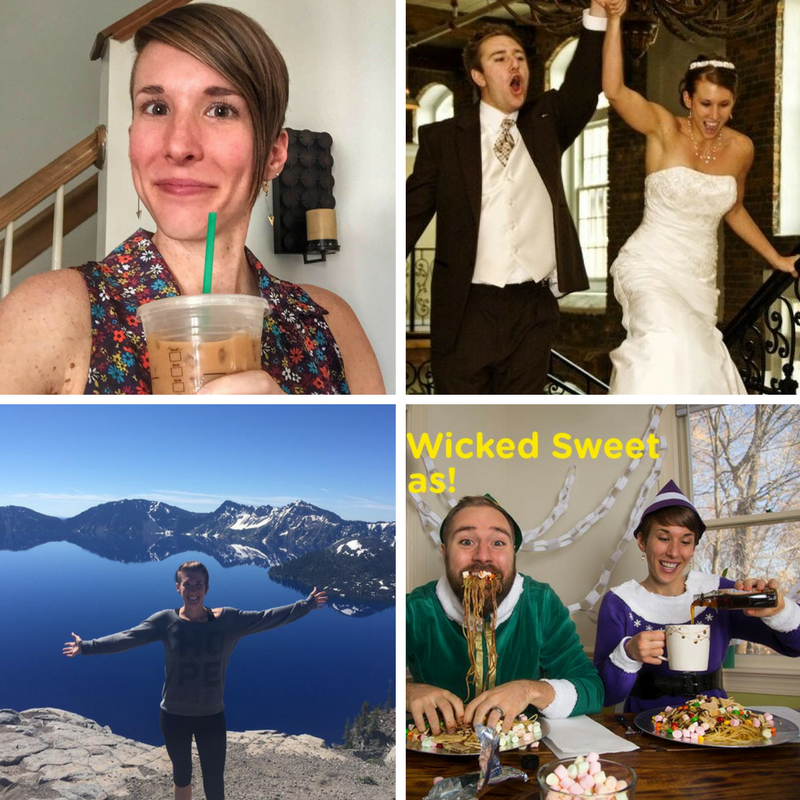 If you're thinking about working with me, maybe there are a few things you should know
Here are 10 fun facts about Ali
I have a phobia of moths! Yikes!

I love sweets, IPAs, and Macaroni and cheese; however I'm now gluten and dairy free so basically I'm in mourning after writing this sentence
I'm passionate about fighting human trafficking, feeding hungry people, buying ethically made products, and helping in the foster care system
I could school you in Friends Trivia (whooopahh)
I'm obsessed with my wiener dog mixes, Chainsaw and Samurai Warrior Princess
I am known to leave all our cabinets open in our kitchen, and my husband is trying to train my behavior with a song
I once did an interview with the local high school sports show not realizing the interviewer thought I was my best friend the whole time
I cry in most TV shows and commercials, especially all Parks and Rec season finales and any movies on a plane
One of my life goals is to be on the Price is Right!
My favorite thing about my job is meeting amazing women and helping them value and make time for themselves and feel awesome in their rockin' bods. I get to work with the best humans and I am so lucky.
I walk the line
There's one more thing you should know about me.
I'm a champion of women who walk the line.
Ya know, the women who work hard to look great but never miss a dinner out with friends. The sister who prefers to take the natural route but isn't afraid to reach for medicine every now and then. Women who claim they know 20 different ways to make kale but also know the rotating flavors at the local ice cream shop. Women whose Instagram feeds are more parenting mishaps, puppies, or macaroni and cheese than sports bra gym selfies.
I love valuing the journey. It's never perfect and I'd hate for you to have washboard abs but no life and no fun. I love helping women learn how to live the healthy life they want while also enjoying and embracing who they are, what they like, and taking what life throws their way in stride.
Street Cred
Also, here's some boring but super important stuff, like my fitness street cred:
Ask me about my program to heal diastasis recti, pelvic pain, and incontinence!

If you think we'd be a good fit, click this button and explore the different ways we can work together. I'd love to help you get in shape and overcome the obstacles in your way. And high five yourself because even looking at online training websites means you're one step closer to a healthier you!