The pace of life so far in 2017 has been fast, and I've been slowly running behind it, trying to flag it down. We were thrust into a huge life change in January. We sold most of our possessions, packed up the pups, and headed west to Portland, Oregon. After the move, I realized what a nice, cozy routine I had in North Carolina. Some things that worked for me there oddly haven't worked for me here, so I've been enjoying some new discoveries as I pretend to be caught up and accustomed to our new normal!
Here are five things I'm digging right now. I hope you enjoy this list, and feel free to ask me any questions in the comments!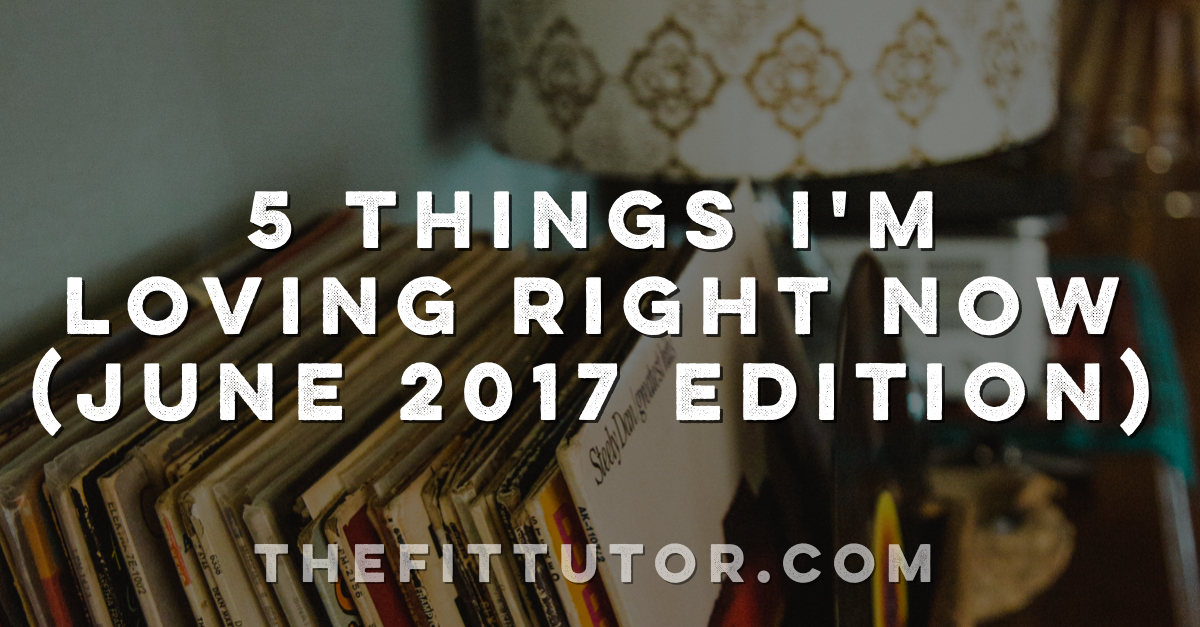 Vega Protein Smoothie Mix
Many of you know I'm almost cultish about my protein powder. I swear by Orgain; I love it and recommend it to everyone. Due to a poorly timed Amazon Subscribe & Save, I ran out of Orgain and had to swing by Whole Foods to get something to fuel my workout recovery. I bought Vega Protein Smoothie, Choc-a-lot. It only has 15g of protein, but I mixed it with creamy Ripple Milk which has 8g of protein. It has zero sugars (it's sweetened with stevia), and is full of plant-based goodness.
Let's be clear, Orgain tastes so much better. But I was thoroughly shocked at how much energy I had after having a shake. I mixed it with Ripple, a 1/2 banana, a spoonful of hemp seeds, and some frozen strawberries. I live in a rainy climate and energy is a Godsend! I'll gladly suffer through an OK-tasting smoothie to feel better. I plan on using this as a snack or pre-workout most days. Don't worry, I'll still keep my shelves stocked with Orgain ;)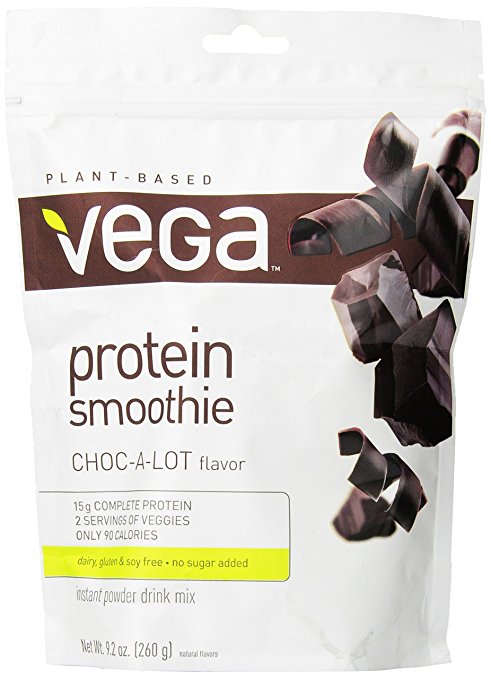 ThredUP
ThredUP isn't new, so although I'm probably behind the times, I've just now come to appreciate its awesomeness. I make it a point to try to shop ethically, and I don't buy something made from a sweatshop unless I have no choice. The cheapest and most convenient way to do this is buying pre-loved clothes.
The hubs and I like to hit up the awesome thrift stores here in Portland, but we realized that our NC wardrobe was not fit for the Pacific Northwest almost immediately, and we needed a game plan. ThredUP is so affordable, and I like that I can search for exactly what I want, return things for free, know I'm shopping ethically, and I've found some super cute clothes! They give referral links and I've gotten some things for free because my friends have also discovered their awesomeness! Speaking of referral links, if you use this one you can get $10 if you make a purchase- whoop whoop!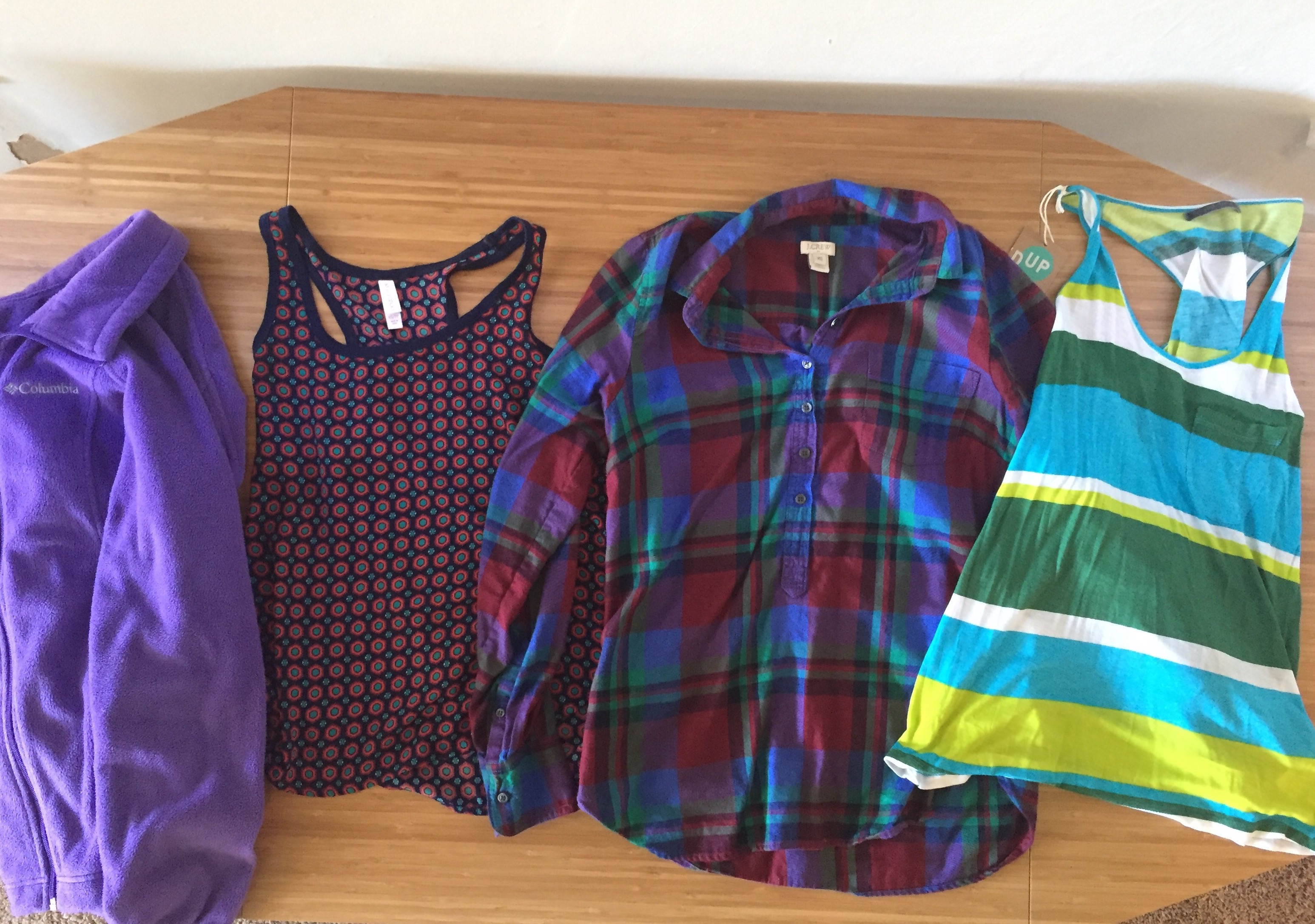 Some of my recent finds! I'm loving all the colors! Spent $21 on all of these combined!
Obsessively Podcasting
When we sold our house, we were super excited about apartment life again… until I realized our apartment takes a shocking amount of work to keep clean. No dishwasher + food intolerance elimination diet = hours of dishes. White tile floors + two dogs, one small closet for two people… the list goes on. Keeping our home tidy and clutter-free has been frustrating.
I've always enjoyed podcasts, but lately they've helped me change my mindset. If I say I don't have enough time to work, I listen to a Fizzle podcast while I mop. If I complain I don't have enough time to learn about something that interests me, I find a podcast about it and learn while doing the dishes or prepping veggies. It's been great for productivity (helloooo, fellow multi-taskers!), and it's been great "me" time. I'm also introverted so headphones plus an interesting topic can be my happy place.
Most of my clients are really busy, and I'd love to recommend this habit to help you feel like you have more time. Chores time is now doubly productive!
Favorites so far
Here are my favorite podcasts so far, and I'd love to hear yours in the comments:
I'd love to add your favorites to my list! When I say obsessively podcasting, I mean it. ha!
Red Tent Series Essential Oils for PMS
These essential oils are meant to help alleviate some of the emotional and physical turmoil that can come along with your monthly cycle. Life has been stressful lately, and my hormones haven't necessarily been on "Team Ali." The words "PMS-rage" were coming out of my mouth pretty frequently… and depression and skipping a day of life each month was becoming the norm.
The Body Blend is awesome for helping with the physical pain, and it also boasts that it helps digestion and promotes peace and relaxation. The All Calm roll on was helpful for the aforementioned rage and irritability. I don't like the smell of the Joyful roll on and will wear it only while at home (too floral for me), but I notice it helps with my sadness. The Peace roll on has been replaced with the Mind Brightening Aroma Stick, which I can't wait to try, since the Peace really helped my state of mind.
I've since seen a doctor and have had food intolerance testing done, been put on Chaste Tree, and have gotten more relief- but I am still using and appreciating these blends even though I'm overall feeling better. And I'm thankful I had them before I was able to see a doctor!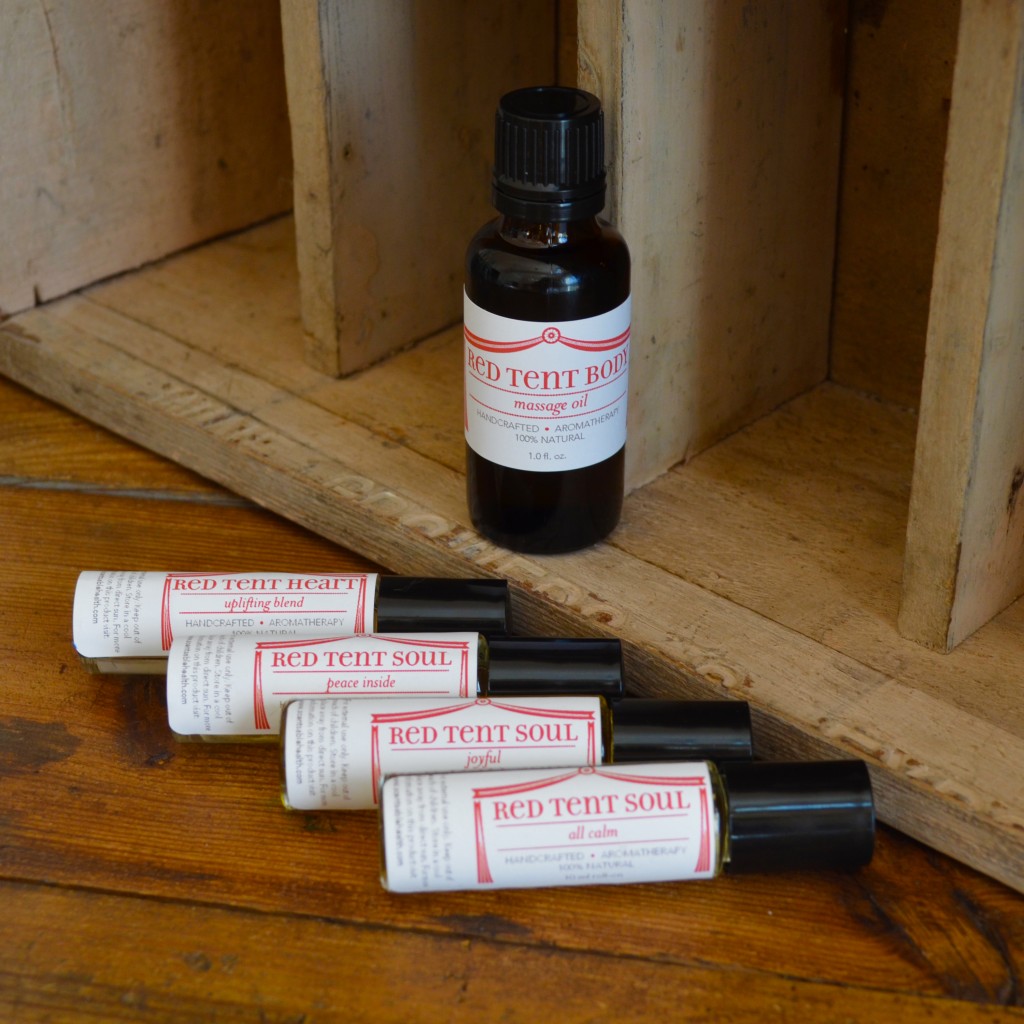 Scentsable Health
I know essential oils are a thing of loyalty, and buying from another brand can be blasphemy. I dare say that I ventured away from my usual supplier of EO's to try Scentsable Health's Red Tent Series and have only good things to say. And Shannon Dennis, the aromatherapist behind this small business, has been awesome at helping me learn more about EO safety in the process!
You can get all of the ones mentioned and a few more I haven't tried for only $55 if you buy them together in the Red Tent Collection.
24 hours of Rest
Ya know that feeling when you get an epiphany? But the epiphany is actually that you are the cause of most of your problems? It's a wonderful, freeing punch to the gut.
This was me and my stress levels.
I know the value of rest.
I write about the value of rest.
I research the effects of stress levels.
I follow Jesus who is all like "chill out" and stop striving all the time.
And yet I listen to none of these sources. Convinced I can do it all, I work too many hours, waste too much time doing dumb things, and try to make time for the 80 million hobbies I want to have – oh and improve at everything because… perfectionism.
The Game Plan
Our new church here in Portland is all about unplugging, and all about the Sabbath. No matter what you think about Jesus, I think you can get on board with some of the things we've picked up from being at our church so far:
Unplug from 9pm-9am

or a set time that works for you
"unplug" could mean 'do not disturb mode' so certain people can get a hold of you
stay the heck off your phone and computer

Take 24 hours off of work in a row

no emails, no chores, no shopping unless enjoyed

side note: am I the only one who is super obsessive about reading Amazon reviews!? so stressful

no work calls or texts, or dealing with anything stressful

REST

do things you enjoy, you find restful, you feel "you" in
exercise or not, read or not, bake or not- what do you find restful? Enjoyable? Do those things.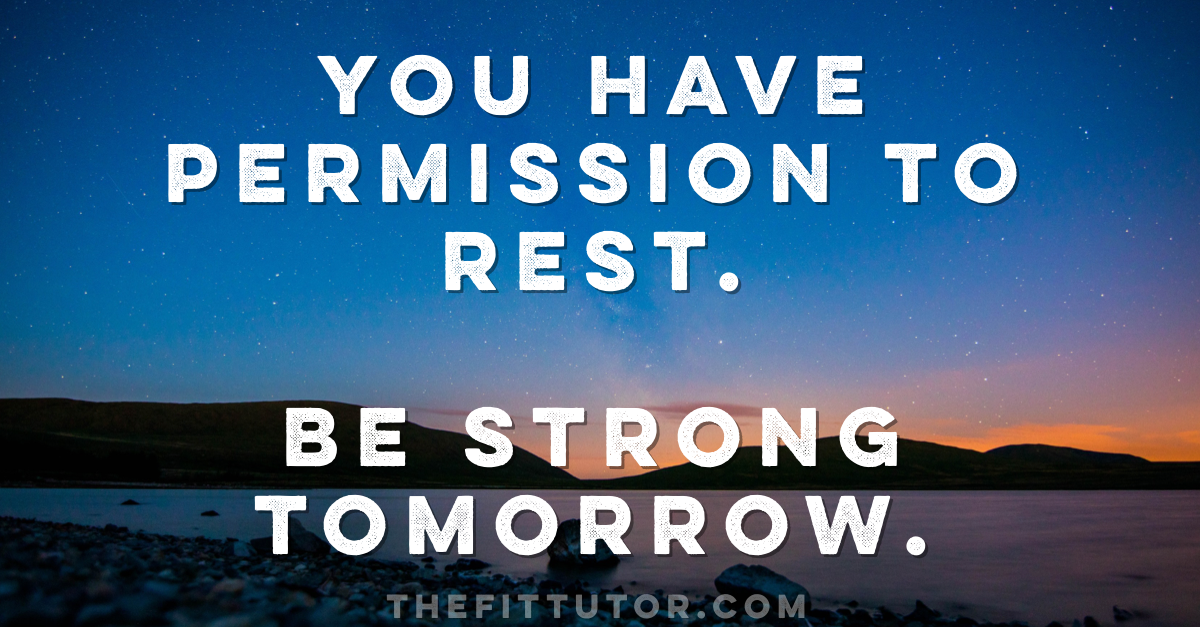 Setting boundaries has been really life-giving to me. We recently went camping and had radio silence for 2.5 days straight. For no good reason but rest. It was amazing.
And it's not like any of this is "law" or rules you need to follow. But I find stress to be a really common problem, and ironically enough, stress can make us gain weight, remember less, and be less productive.
I've also noticed the people who have a hard time making healthy meals or finding time to workout are glued to their phones. For me, it's just always being connected that's so hard. It drains my energy. Finding rest is a constant battle of mine, but one I'm determined to win.
I invite you to take a day off with me, each week, and see how your life changes.
What are you loving right now?
I'd love to hear what you think about any (or all) of these things in the comments! And what's something you are loving right now that I, along with other Fit Tutor readers, should try?
Thanks for reading, and thanks for enjoying the journey with me. One reason I've been working so hard is I've got so much awesomeness in store for my Fit Tutor members. If you're looking to get healthier, see our membership options here!
PS: there are a few affiliate links in here. If you use them, I get a little bonus with no extra cost to you. I promise I'm only recommending things I swear by, and not for the $!