I'm bursting with excitement that you're here, friend. Say hello to the new, stronger, leaner you! More confidence, improved health, and great results are waiting for you on the other side of this program. If your goals are to lose fat, gain strength and muscle definition, and want to workout on your own schedule, this is the program for you!
You don't have to even know how to strength train to benefit from this plan. It will tell you everything to do; all you have to do is show up, follow along, and get results!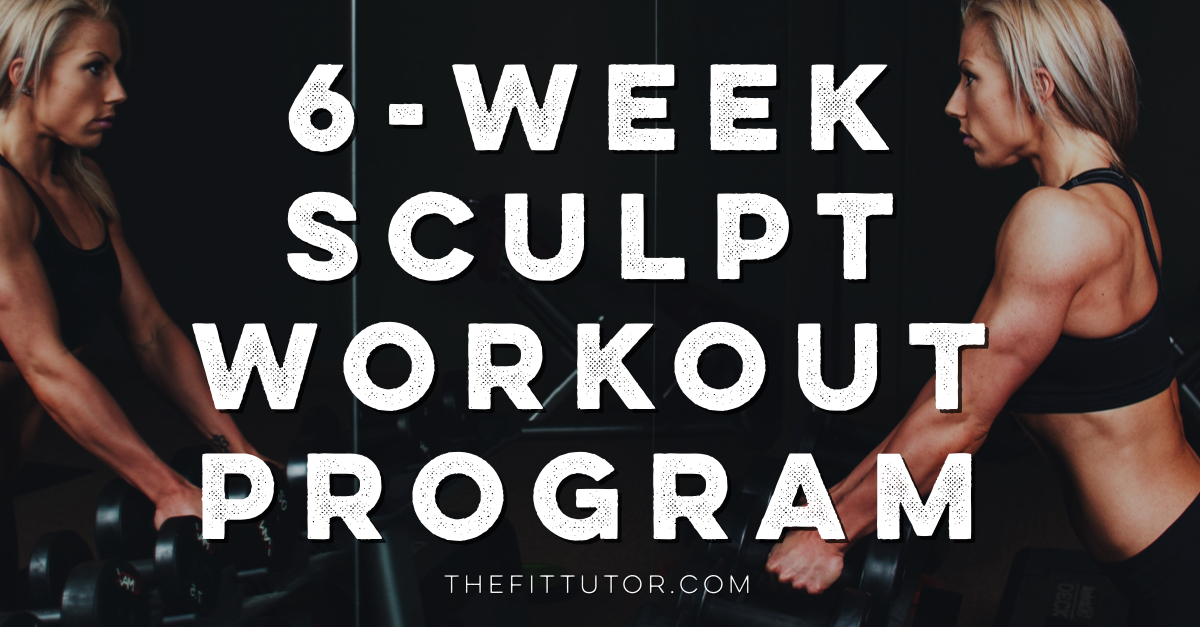 Why the 6 Week Sculpt Program is Awesome
Strength training is one of the best forms of exercise for women. The benefits are amazing, and they include
help you burn more fat
increase your metabolism
change your body shape
help you look and feel strong and defined
fight osteoporosis, heart disease, age-related weight gain, type 2 diabetes, cancers, etc
improve mood, fight depression and anxiety
build confidence
improves body- and self-image
Cardio is still a great thing, but doing only cardio, especially while cutting calories, can cause some of the weight you lose to be muscle instead of fat. This actually harms your metabolism! Strength training is crucial for all women, and this program is here to help.
The 6 Week Sculpt Program alternates an Upper Body Workout with a Lower Body workout, and includes abs as well. This Split Routine style helps you increase the amount of days you strength train, helps ensure you're working every muscle and fighting imbalance, and doubling the benefits you get from lifting because you get to do it twice as much! You can do this from the comfort of your own home or at your local gym.
Who is the 6 Week Sculpt Program For?
It's for any woman who wants to lose fat and gain strength and muscle tone.
No previous experience with strength training needed, as the videos will teach you how to do each move correctly. Your Fit Coach Ali is here for any questions you have as you go through.
If you need accountability, this program is perfect for check-ins, bi-weekly measurements, and discussing with your coach the challenges you face and how things are going! Everything is online for you convenience.
This 6 Week Sculpt Program is best for women who have at least 4 days per week to commit to exercising. You'll see the best results by doing the 6 Week Sculpt workouts 4-5 times per week.
What's Included In the Program
Each workout is comprised of individual exercise videos, with an easier and harder way to perform each exercise. You'll get expert instruction and demonstration, plus a pro has put the exercises together to get the most out of your time.
The program alternates Supersets, which pair exercises that work opposing muscles together, and Compound Sets, which pair exercises that work the same muscles. Each week, you'll get a new Upper Body + Obliques workout and a new Lower Body + Abs workout. You'll get sculpted, defined, leaner, and stronger.
There are three levels of the program: beginner, intermediate, and advanced. You can get fit and sculpted no matter if you've been working out daily for years or are just picking up a dumbbell for the first time.
You can do this workout at home or at the gym. It's available online so you can access it based on your schedule, and all you need is a pair of dumbbells to reach your goals!
It also comes with your own Fit Coach, 6 weeks worth of fat burning meal ideas, and accountability to help you finally reach your goals.
The Value
Doing this program with me in-person would cost you around $1500, but you can have it all in the comfort of your own home for as little as $11.99/month! If you want personal accountability, which is truly a game-changer, you can do this whole program for only $100. (Only $50/mo for 2 months.) What are you waiting for!?
A membership also includes access to The Fit Tutor's research-based Nutrition Course that can teach you how to eat right for your body type and end dieting forever.
You can jumpstart your health and fitness and finally get the body you've been wanting for only $100. Sign up today and start working with your personal fit coach and starting your workouts!
Imagine feeling confident in your clothes, or heck, even in your bathing suit. Imagine ending the cycle of dieting and weight gain. It's possible friend. Having a fit coach and doing this 6-Week Sculpt Program is the start of all of this coming true!
After you sign up, you'll find the 6 Week Sculpt Program in the Courses drop down menu! Grab your dumbbells, and get sculpted.
Shoot me an email with the contact form if you have any questions! So excited to get fit and fabulous with you!
Coach Ali