Dearest reader, I'm psyched for this guest post, and after you read her amazing bio, I know you'll be hanging on her every word!
Dr. Emily Hess is a certified running coach and yoga instructor. She received her education at the Road Runners Club of America, Sage Rountree's Yoga for Athletes and All Yoga. Hess has run 15 marathons (2 Boston Marathons) and, most recently, finished the North Face 50-mile endurance challenge in San Francisco. When she isn't training or coaching or concocting a new smoothie recipe, she teaches American history at Ashland University.
Food. Is. Fuel.
I never really understood this concept until I started running.
Or, maybe I understood the concept—but never really wanted to embrace it? (I wanted to embrace Cheetos. Just Cheetos. And maybe the occasional toasted marshmallow jelly bean).
Anyways, I realized how the food I put into my body translated into fuel or…Mount Rushmore. With the latter, I'd start to feel heavy pieces of concrete mount in my stomach and soon I'd be in the fetal position, nauseous, in some random person's yard. [That did happen. McDonald's double cheeseburger an hour before a run made that episode happen.]
But that was some time ago. I've hurt and learned.
On the flip side, it isn't just what you eat but how much you eat.
I went to the extreme and lived solely out of my garden. While that may be healthy living for some, I wasn't giving my body the nutrients it needed to sustain endurance training.
I became anemic. My body didn't get the iron, protein, and other important nutrients, it needed. So, it went into survival mode and decided to shut down. My energy plummeted. My legs felt like concrete. I became more emotional and started losing coordination. [Because I expected salads to fuel 70/mile weeks. Silly, Emily.]
Now, based off of this information, it sounds like I shouldn't be writing this post…but these lessons, on both ends of the extreme, helped my pendulum swing to the center and stay there for a healthy, balanced diet for my level of activity.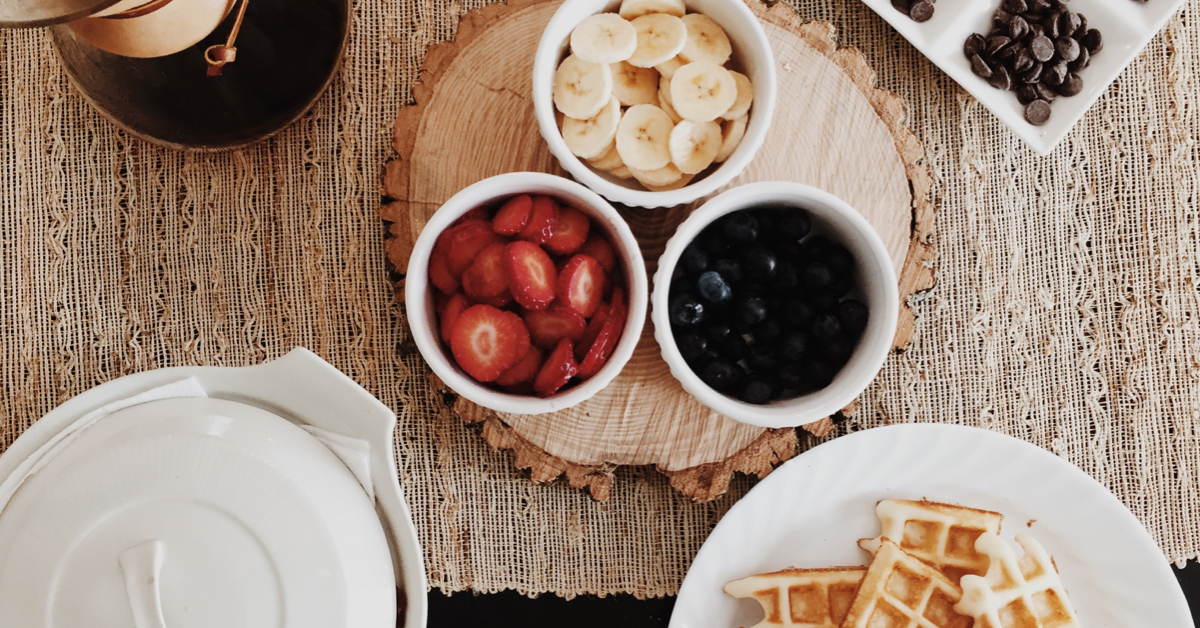 The best advice I can give to runners [that has helped me significantly in my training…and, good ol' life]:
You need calories, good calories—at the right time. Make sure your body is getting what it needs, when it needs it.
Eat at least 30 minutes before a run, and choose something low in fiber and quick to digest.
Within 30 minutes of finishing your run, shoot for something with a 3:1 carb to protein ratio.
Food journal (it works!). I got very nerdy and bought a Moleskine journal (I didn't like the pre-maid journals) and dedicated the left side of my journal to what I ate that day—

everything

I ate that day. On the other side, I log my workout and how I felt during that workout. Although the process obviously takes some time, the journal helped me to see what best fuels my week.
Below, I've listed a few of my favorite methods of fueling as well as when to eat these for optimal running performance.
And, one more quick word to the wise: calories will creep up on you. Be mindful, if you're not logging high mileage, you don't need, for example, a 700-calorie smoothie in the morning. 3-mile runs can quickly be negated by too-heavy a breakfast or snack.
Favorite Recipes
My favorite breakfast: orange juice-based smoothie
Put everything in the blender and…well…blend:
At least 1 cup of orange juice*

1/2 c. blueberries (preferably frozen)

8-10 strawberries (preferably frozen)

1/2 banana (preferably…frozen)

handful of spinach or kale

1 TB ground flaxseed

1 TB hemp seeds (excellent source of protein and hemp seeds also work as an anti-inflammatory!)
*If you're not training for an endurance event, you can substitute the OJ for a lighter alternative, such as almond milk, coconut water, etc.

My favorite snack: homemade energy bites
Thoroughly mix together:
1 cup old-fashioned oats

1 cup of shredded coconut*
1/2 cup all-natural peanut butter
1/2 cup ground flaxseed
1/2 cup mini chocolate chips
1/3 cup honey
1 tsp. vanilla extract
Place mixture of ingredients in the fridge for at least 30 minutes.
After chilled, roll into small balls. Voila!

These should be refrigerated and eaten within the week OR freeze these bad boys and take a few out at a time (!)
*I prefer 1/2 or 3/4 cup of coconut.
Source: Is This Really My Life?
My favorite recovery: Chocolate PB banana shake
There is no need for a picture here, folks. Because then you'd be spending time looking at a picture instead of doing a hard workout to earn this delicious drink! (Try to drink this within 30 minutes of your workout).
So simple.
Blend 1 cup of chocolate milk

1 frozen banana

and 1-2 TB of peanut butter.
This is ultramarathoner Hal Koerner's go to. I might not run as long or as fast as Mr. Koerner, but gosh darn it, I love chocolate milk as much as he does. And that should count for something. Right?
More Recipes!
If these recipes have whet your palate, there are many more available in these fantastic resources:
Thanks, Dr. Hess! So helpful!
See more Running Month posts here:
And don't forget all Weekly Workouts this week are geared towards improving your running- form, speed, endurance, fixing imbalances- all that good stuff! Get two-weeks free and check it out!
PS: I threw in a few affiliate links so I can take Dr. Hess out for some chocolate milk- at no extra cost to you. Thanks for using the links!
Comment below if you have any favorite recipes to share or any questions to ask!