Do you want the recipe to a personal trainer and nutrition coach's go-to weeknight meal? Well, here ya go.
I love fun, new Pinterest recipes as much as anyone, but I'm also as real as anyone who just doesn't have time for that on most nights. Or the energy. And let's face it… the skillz. I come across a lot of recipes that claim to be healthy but have forty-two thousand carbs per serving, but claim immunity because it's "real food". Sigh. I've also tried several burrito bowl recipes out there (because, yum) and have still been left wanting. This recipe came out of a desire to create an amazing food-truck like burrito bowl without all the calories but still all the flavors.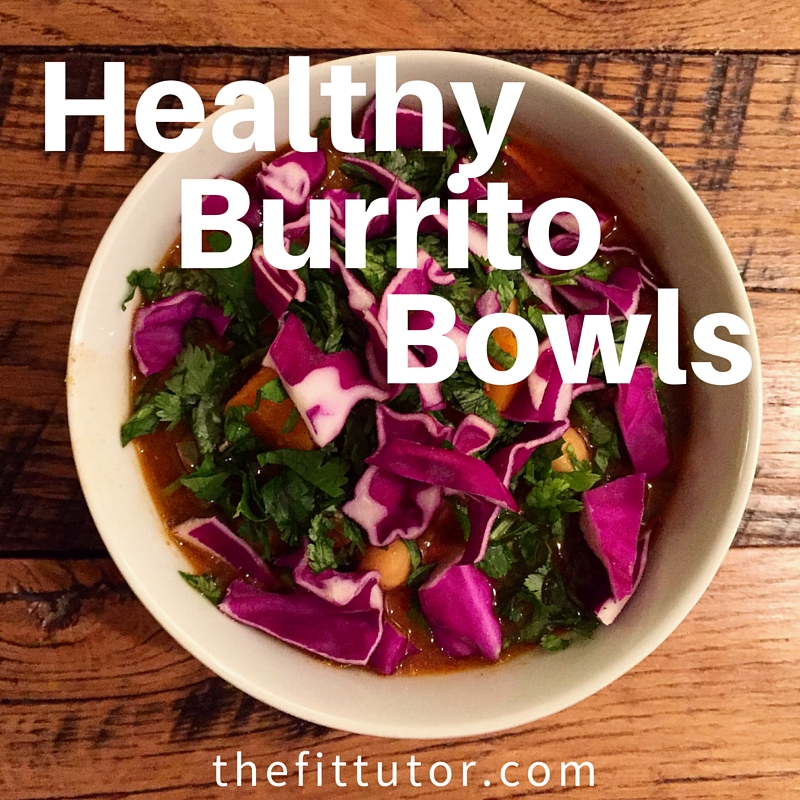 What To Do
This recipe is soooo good, can be super healthy, and can easily be made for a large group or for leftovers. I've mentioned before that the hubs and I will make a big batch of this to last us a few meals. Easy + healthy + leftovers is like a dream come true in my book ;)
I throw 1.5-2 lbs of chicken breasts in the crockpot along with seasoning (cumin, chili powder, garlic powder) and 1/4 cup of broth or water and cook it on low. It's best to do this for only a few hours*, but if you're going to be gone all day then do what ya gotta do. When not pressed for time we have also sautéed or baked the chicken. Pick what works for your texture and flavor hopes and dreams and how much time you have.
While your chicken is cooking (or cooling off) clean, chop, and blend up 1-2 heads of cauliflower for your rice. Pre-heat the oven to 450. Sprinkle salt, pepper, garlic powder, and maybe a dash of cayenne, and put on an oiled sheet. Bake for 5 minutes, flip over, and bake for another 5. You could also sautée this, but I usually have enough activity on the stove that cauliflower's a crowd.
While you're waiting for the oven to pre-heat, chop up the rest of your veggies. We usually use:
1-2 zucchinis
1-2 onions
1 medium butternut squash (or 2 cups of pre-diced b-n-squash) or 2 chopped sweet potatoes
3 cloves of garlic
2 peppers (red, green, yellow, whatever)
and 1 jalapeño (no seeds for me!)
Season the veggies with cumin, chili powder, oregano, and cayenne (optional). I usually do about 1 tsp each, and a few dashes of cayenne. Sautée in a healthy oil, like olive oil or coconut oil, until tender but slightly crisp. Depending on how big your squash or potatoes are cut, you may need to cook them a little longer by adding them first- you'll want those to be soft.
If you like beans, they are a cheap way to make this meal go farther (or even make a vegetarian option with only beans!). We use 1 can/box of black beans, seasoned with 1/2 tsp of cumin, warmed on the stove.
Here's where it gets really good, friends… the toppings.
You can make this any flavor you want with some amazeballs toppings. We choose from this list:
Veggies:
Red cabbage, chopped
Cilantro
Avocado (or guacamole)
Jalapeño
Condiments:
Cheese
Sour cream/Greek yogurt
Lime juice
Jalapeño tabasco
Sriracha
Salsa
Personalize it
How to keep it healthy: Stick with the cauliflower rice or scoop out the goods onto a bed of crunchy red cabbage. It doesn't need cheese or sour cream, so skip those unless you must have them. We don't use tortilla chips anymore and use the cabbage for our crunch.
Substitutions: You can sub practically any meat for the chicken and cook on the stove. Just flavor to your taste. I'm obsessed with cumin and chili powder, if you didn't notice.
We have made this with just about any veggie… seriously. Carrots, spinach, celery, mushrooms, broccoli- sometimes it's a what's-in-the-fridge kind of meal, and it never lets us down.
Less healthy? If you're looking to entertain or you have some picky eaters, subbing the cauliflower for Spanish rice is a party in your mouth, and quinoa can help fill you up. Covering with cheese and sour cream will add some unnecessary calories. Corn chips will too. Oh so delicious calories.
Servings: The recipe listed gets us about 7-8 bowls. It's easy to double or decrease depending on your crowd and attitude towards leftovers ;)
The Layers: The "Lambert Way" is
Cauliflower rice
Sautéed veggies
Beans
Chicken
Cabbage
Avocado
Salsa
Finish with toppings of choice
Stir before you get to your seat because your bowl is full. As your heart will be.
Calories for "The Lambert Way":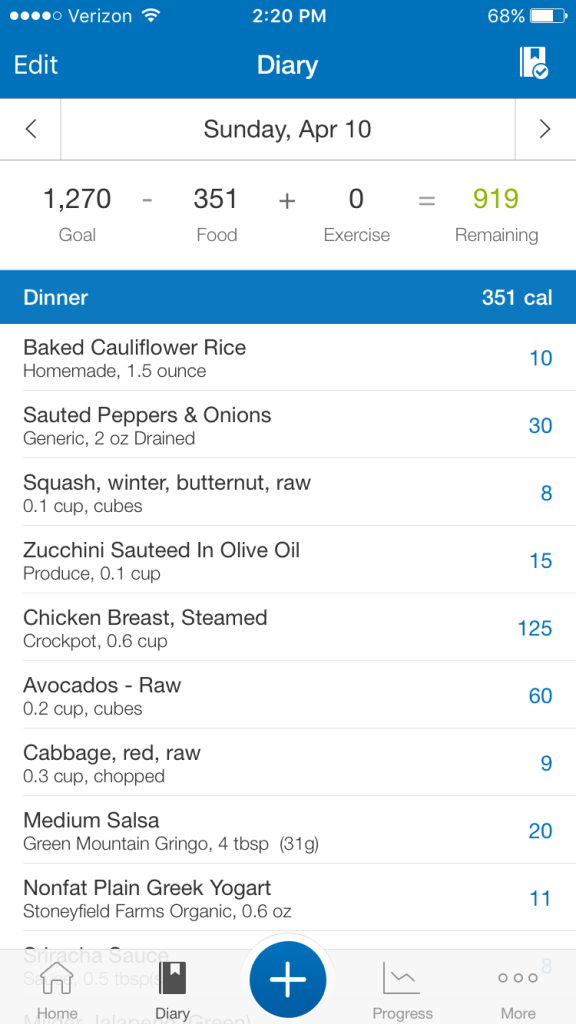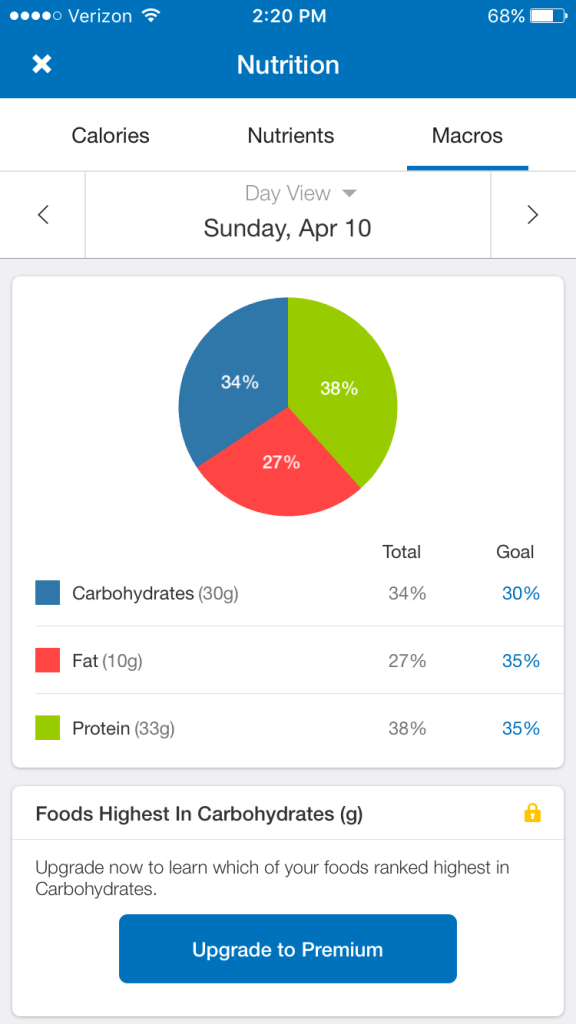 The Rundown
Honestly, we were just trying to be as cool as our favorite food truck, so you can take this recipe any way you want to. What else do you think would be a yummy topping?
And just keeping it real here…. I can talk health and fitness all day, but trying to put a recipe that is in my mind into comprehensible steps to follow isn't my cup of tea. Let me know if you have any questions. I'd love for you to rock this weekly like we do. After you finish you can raise your fists and yell "vegetables!" or something cool like that.
Here's the rundown, which will hopefully be clear as day: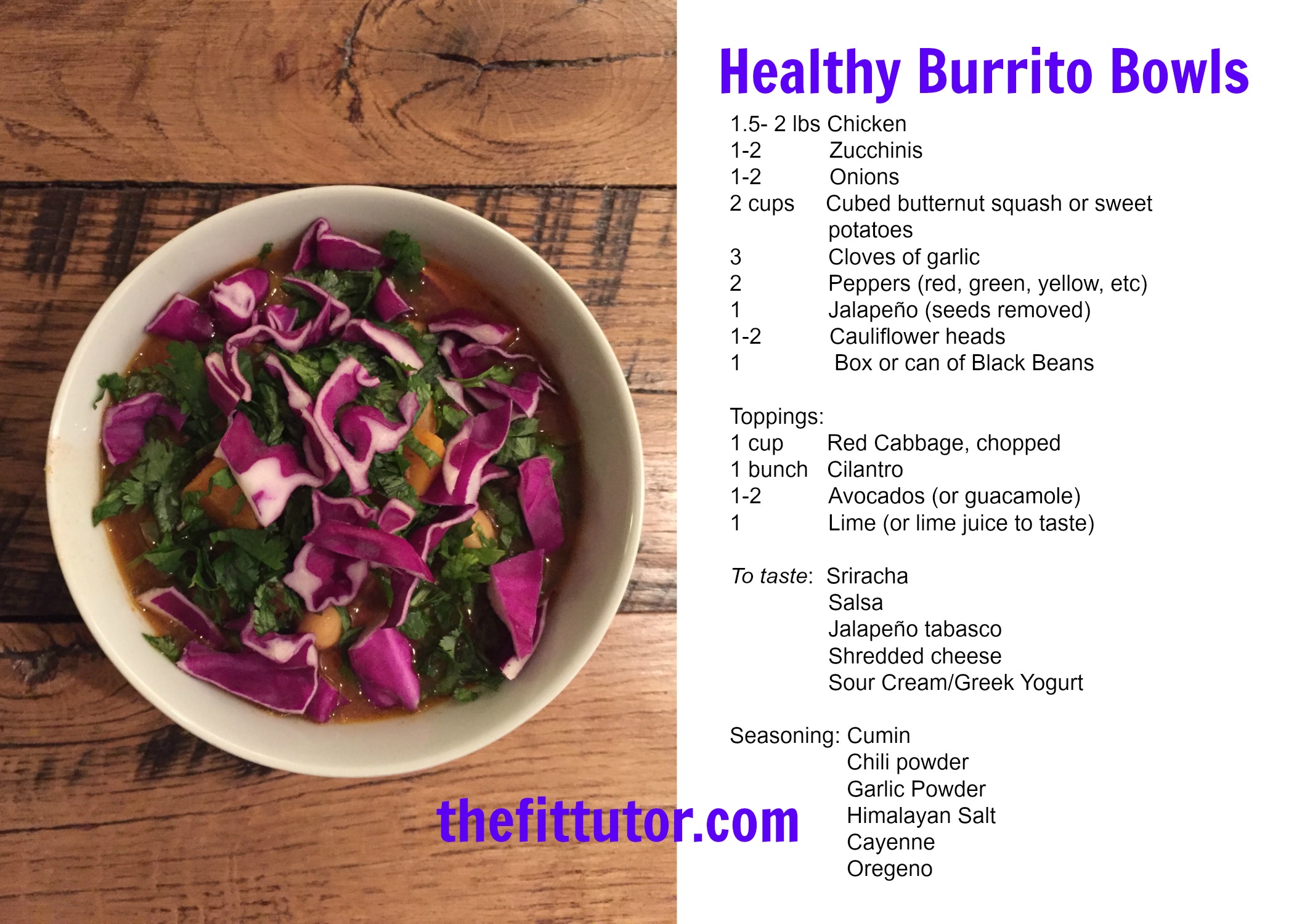 Throw seasoned chicken and water in crockpot before work // or cube and sautée as you cook.
Preheat oven to 450.
Clean, chop, blend the cauliflower until it looks like rice. Put on an oiled pan, spray or toss with olive oil, and season with salt, pepper, garlic powder, and perhaps a dash of cayenne. Put in oven once preheated and cook for 5 minutes, flip over, cook for 5 more.
Chop veggies and garlic to sautée in olive or coconut oil. Season with 1 teaspoon of: cumin, chili powder, oregano; a dash of cayenne; salt and pepper to taste. Cook the squash or potatoes a few minutes before the others to make sure they are soft. Cook the rest until tender but still slightly crisp.
Cook beans on low in a small sauce pan until warm; season with 1/2 tsp cumin.
While everything is finishing up and the rice is cooling, chop up your toppings of choice.
Make your glorious burrito, assembly line style.
Enjoy! Party! Let me know how you like it! Thanks for reading, and if you want to know how to health-ify all your meals, check into going through my Nutrition Course– a non-overwhelming way to change what and how you eat! ;)
Allison
*Many sites suggest high for 4 hours or low for 8. My crockpot would nuke the chicken in that time, so you might need to adjust for your own crock-dizzle!