No matter how good I want to be at meal planning, grocery shopping, and prepping healthy meals, I'm usually coming up short. On weeks where I rock a healthy meal plan and grocery list, I don't make it to the store in a timely manner. Or the opposite happens, and I find myself at Trader Joe's, aimlessly putting random vegetables and organic chicken in my cart. That always means a few more quick trips for forgotten items the rest of the week. And don't get me started on wasted produce.
For Those of Us Who Want to be Good at Healthy Meal Planning but Just Aren't
I want to be good at these things, but I've had to own up to the fact that I'm not. And that it's not worth the stress it causes me. Since not eating healthy isn't an option, I've come to terms that a healthy meal delivery service is the way to go. If you can relate to any of these problems, or if you don't have time or don't enjoy all the work that goes into eating healthily, I think this option may work for you, too!
It's so easy: you select your menu the week before, and everything shows up on your doorstep- perfectly portioned out, healthy, whole food ingredients for a reasonable price. If you're not sure about it, let me explain why I love it, and the few reservations I had, too. I also have a killer $35 off coupon for you if you want to try it!
The pros of meal delivery services far outweigh the cons, but only if you choose the right one. I've been searching and have tried several options. I've finally found one that supports my health and weight loss goals, and addresses my concern about how much waste many of these boxes create. I have loved every meal we've had, and you guys, I don't even like cooking, but it's honestly been enjoyable!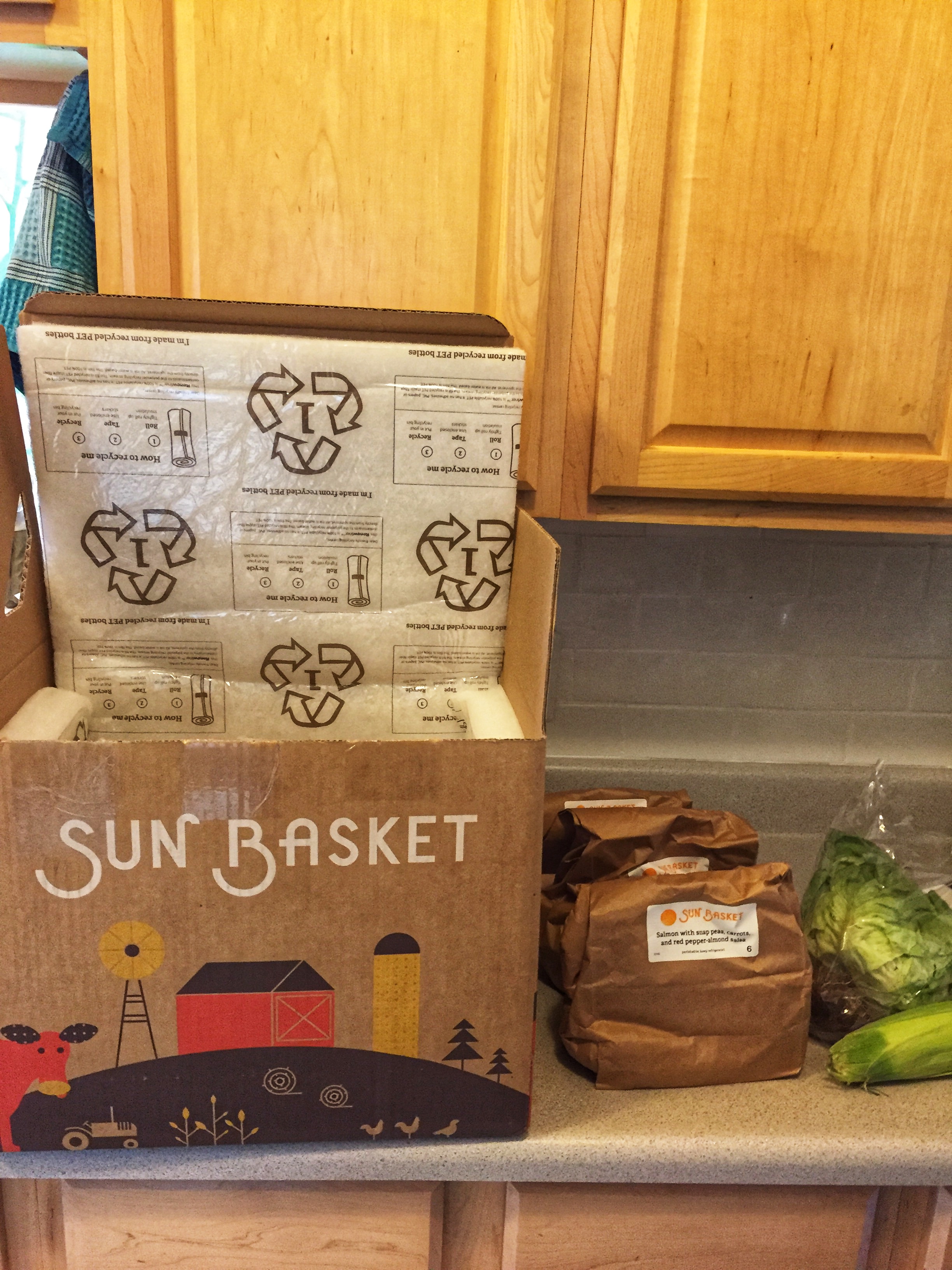 Why I Love Sunbasket: A Healthy Meal Delivery Service
First of all, most of you know me well enough to know I refuse to support something unless I really believe in them. I'm thankful these meals have been so easy and delicious, because this is hands-down the best meal delivery service when it comes to the quality of food, sustainability, and for health!
Let's start there:
The Meals are Actually Healthy
If you're new to healthy eating, let's say there are two types: healthy, nutritious foods and eating for a healthy body composition. The goal is both, which can be tricky to come by. These Sunbasket meals have healthy ingredients that support your weight loss goals. Yay!
The ingredients contain good amounts of protein, healthy fats, a reasonable amount of carbs, and plenty of nutritious, fresh produce. They are also very reasonable calorie- and macro-wise. Other "healthy" services were 500+ calories over what I'd usually have for my biggest meal. I am not about to sacrifice fitting into my jeans for a convenient meal. Heck no. I'm psyched that these meals are nutritious, filling, tasty, and weight loss friendly.
I know many of my clients stress about healthy eating. Having a few healthy and clean dinners (and even breakfasts, if you want!) delivered to your door each week saves so much time and stress. And stress hurts your health and can make you gain weight. Yikes! I'm loving this easy option.
The Meals are Easy and Quick
I tried Blue Apron once and just about had a meltdown in the kitchen. I'm so glad that service works well for some, but for me, each meal took about 30 minutes longer than the sheet said, and one was pretty confusing, so I set the finished product in front of the hubs and said "this is edible, but not good. Don't say a word." Stress level status: high, disappointment with the meal status: also high.
I've been weary of trying meal delivery services since then. That's a big reason I was thrilled when my Sunbasket meals didn't take that long to make and the recipes were easy to follow. I even rocked a podcast while following the instructions and didn't mess anything up. Win!
Although I've improved my cooking a lot over the years, I'm still self-taught and mostly novice (oops). I loved that I was able to try new things and be successful. Prep was easy, the instructions were clearly laid out, and clean up was much easier than when I cook my own recipes. The hubs was pretty pumped about that, too!
The Meals are Delicious and Cautiously Adventurous
So, if food tastes bad or is weird, I don't care how healthy or organic it is- I don't want to eat it. This isn't the case with Sunbasket. We loved each meal. And I'm not saying this to convince you to buy it… we honestly just thought they were so flavorful.
And I loved being able to try new ways of cooking certain things (or, learn how something is actually supposed to be cooked- oops again) and trying new ingredients. There wasn't anything too weird or too "out there", but we did try new flavors and new vegetables! I appreciated the new experience while still having a delicious meal.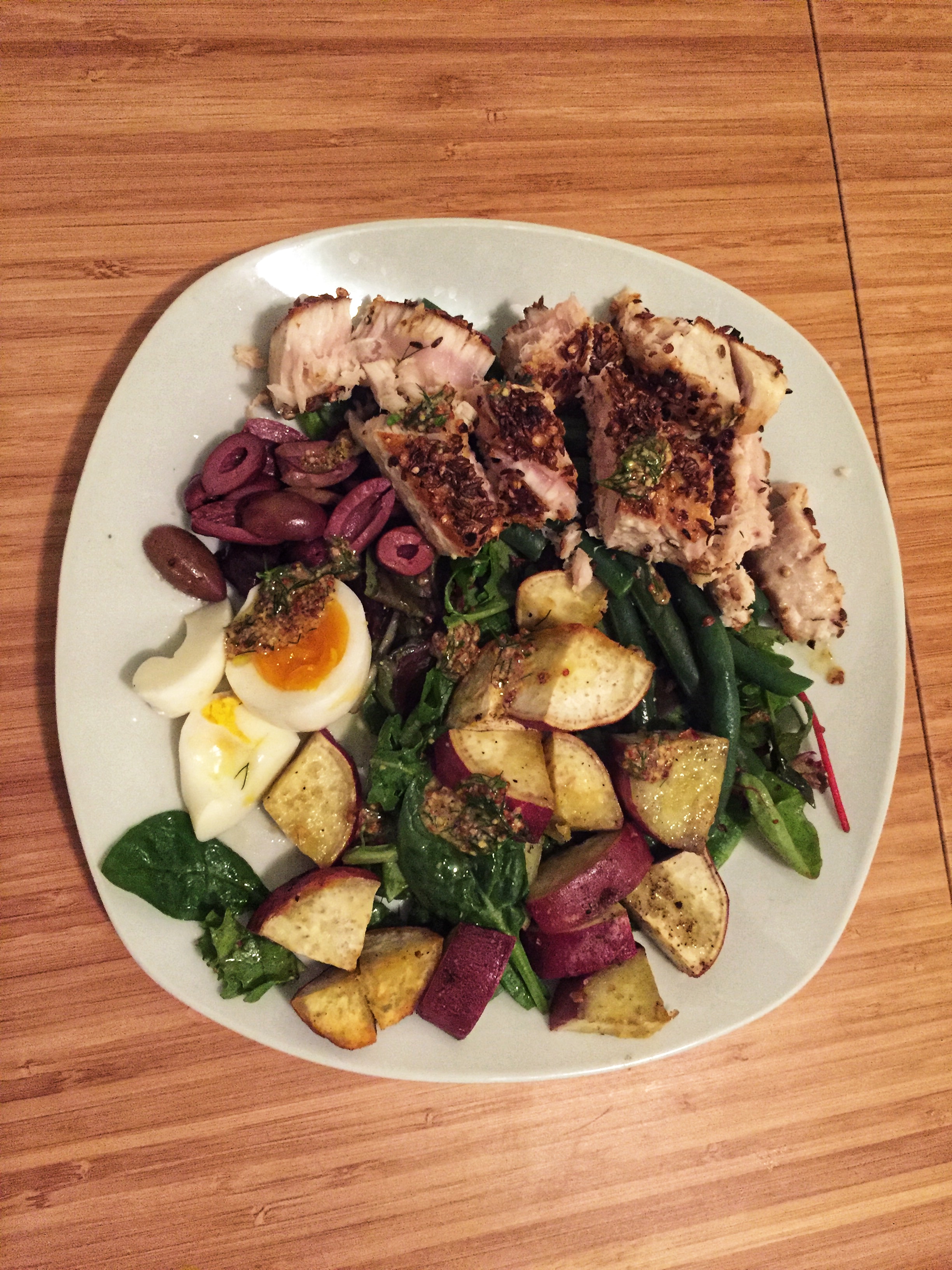 The Food and Packaging are Sustainable
Even if you're not concerned about waste or don't have time to think about it, Sunbasket is an easy choice because you know you're supporting a company who is doing the right thing! Meal delivery services are notorious for producing too much waste, and Sunbasket has solved that problem.
The Packaging
I've tried a few other meal delivery services and was horrified at how much waste a tablespoon of chili powder would create. Sunbasket has a recycling plan for everything they send you. Most items are made from recycled and recyclable materials, and the little jars and containers are even compostable! There are a few items that may or may not be able to be recycled in your city, but they still include how to take care of them.
The Food
I love that there's a plan for everything. No more wasted ingredients, which really mean wasted money. I would feel so guilty over allowing produce to go bad in my refrigerator, and now I don't need to worry about that.
Their values include their animals are humanely raised, hormone and antibiotic free, and the seafood is sustainably harvested. All dairy and eggs are organic. Their produce is mostly organic, and they are working to be 100% soon. It's all non-GMO and sustainably grown, using small or local farms when possible. They work directly with the farmers so you're getting the best food.
Am I the only one who hates talking to people at the Farmer's Market asking details about how they treat their animals? Sunbasket does the investigating for you and makes your life easier.
It Makes Having A Food Intolerance Way Easier
(Insert Praise Hands Here)
I recently discovered I have an intolerance to both dairy and gluten. Going out to eat is now stressful, and changing all of my recipes to no longer include these ingredients has been a chore. I find myself constantly thinking about and planning for what to eat.
Sunbasket clearly lists what the meal is "free" of, so if I'm not feeling the recipes that come with my plan, it's easy to scope out others that would work for me. Food allergies and intolerances are all sorts of inconvenient. This is amazingly easier!
…And they have vegetarian and vegan options, too.
The Best Parts of a Healthy Meal Delivery Service are…
There's way less grocery shopping.
No more running to the store for that one thing I thought I had but I didn't.
There's no more meal planning and trying to figure out balanced, healthy meals.
No more scrambling when the plan fell through.
And no more failed recipes.
The Cons?
It Seemed Pricey
I confess that every now and then I skip a week of Sunbasket because I see the cost, and I think that I could buy a whole week's worth of groceries for that price and save us money.
That may be true, depending on where you live and who's in your household. But for us, it's a total myth  because something will come up. It will be time to grocery shop but I have half a list, or half a plan, and we wing it. A few days later we're back, spending even more money. (And stressful grocery store runs always include cookies.)
Or I decide I want to make a better plan before we grocery shop. Several days have gone by and we've eaten at the Whole Foods hot bar, Portland food carts, or nearby restaurants every day. Cha-ching. Going out can add up fast!
For Sunbasket, the cost is anywhere from $9.99- $11.49 per serving, and a we spend usually between $70-85 for the meals we select.
So although sometimes I do think it's a little too expensive, the ease
+ the convenience
+ I'm consistently a hot mess when it comes to groceries and meals
+ saving money not eating out
+ way less stress
+ healthy meals the hubs actually likes
= it's not really too pricey.
Just on paper it may seem that way, because the benefits totally outweigh the cost. In my experience, anyway!
… Plus, I get yummy salmon, steak, and tuna steak recipes that I wouldn't purchase on my own because they cost so much!
I Also Miss Leftovers
I usually cook four servings so that we can have an easy lunch the next day. I've had leftovers with some of the Sunbasket meals, but it's not a regular thing. Stopping when you're full will help you have some, though! I do miss regular leftovers, but I've found making one larger meal for lunches for the week hasn't been all that bad! And if you're cooking for one, this is the perfect option because you'll have lunch or dinner already made for the next day!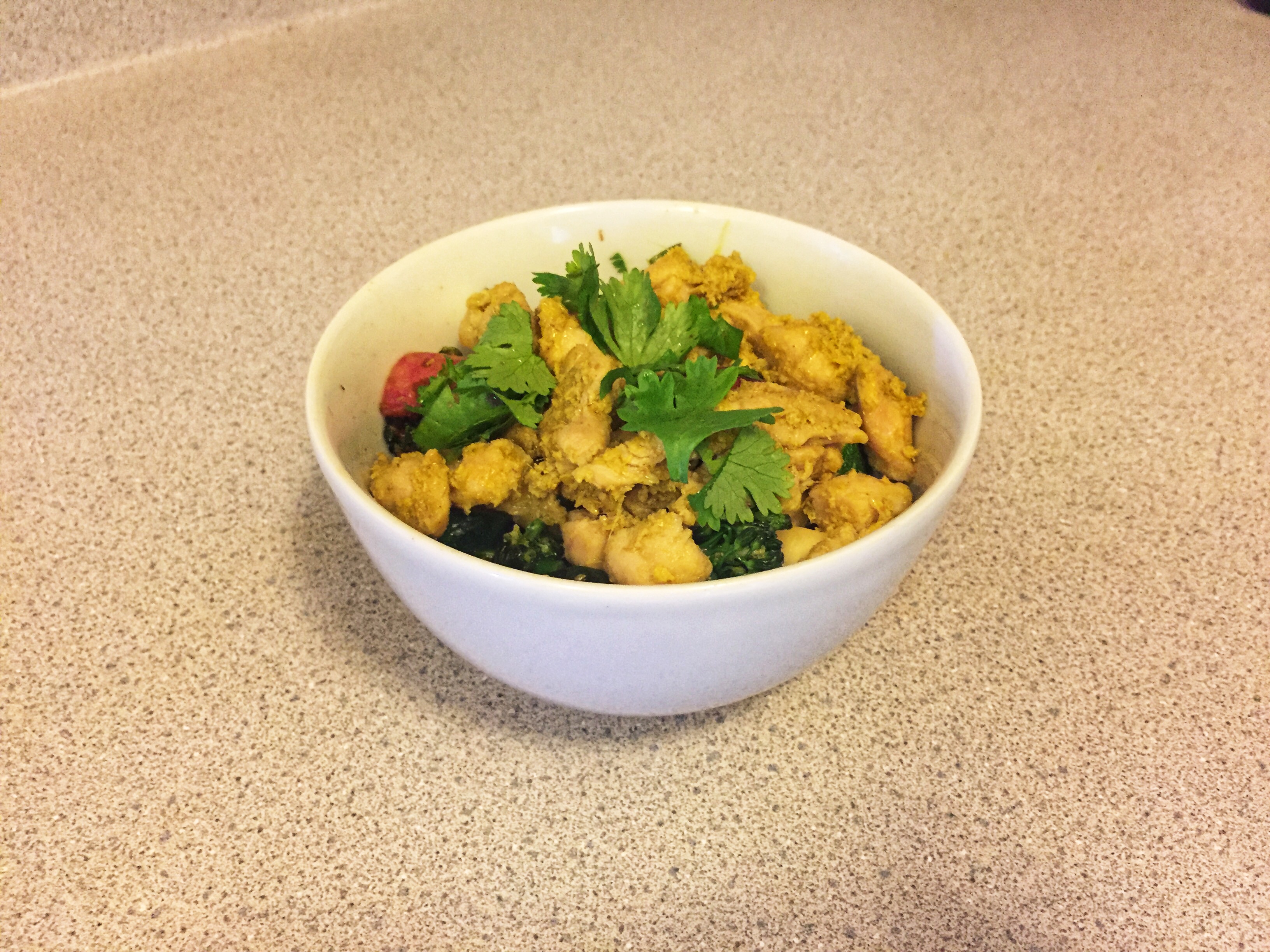 What About Other Meals?
Your Sunbasket plan can come with 2, 3, or 4 meals, and you can even sign up for a Family Plan that includes larger portions with meals designed to be more kid-friendly! You also can add breakfast to your Sunbasket plan and get a few easy mornings, too! But that still doesn't cover every meal…
We do one mini grocery shopping trip per week. I plan out one recipe for lunches (chicken salad, soup, taco bowls, etc- something easy and healthy), get enough eggs to last us the week, and I buy snacks. The Lamberts' snacks look like stocking up on peppers and cucumbers and guacamole. But they also can include tortilla chips, nuts, and stuff for protein smoothies!
Grocery shopping has become so much easier.
How to Lose Weight with this Health Meal Delivery Service
If you're thinking of giving this a try, let me tell you the secret!
Sign up for the Lean and Clean Plan
This meal plan is filling, lower in calories (averaging about 550 per meal), high in protein and fiber, low in saturated fat, and contains macros that support weight loss. The box is always filled with nutritious, clean, whole foods.
Also, if this is set up as your default plan, then if you forget to change your order, you'll at least get only healthy recipes delivered! By the way, forgetting to order or accidentally ordering is super hard to do. You'll get emails reminding you and you can even se up text reminders!
If you're leaning towards a Family Plan, I'd suggest the Paleo one for default healthy meals!
Check out the Paleo Options
Sometimes a Lean and Clean recipe looks good, but another option looks better. If it's from the Paleo plan, I'll scope out the calories, and if they are reasonable I'll make the switch.
Check out the Calories if Needed
You will see photos and cards for each recipe available for the week, for all plans. If you see something you want to try, you can click on it and it will tell you how long it will take, what the ingredients are, how many calories it has, and how much protein the food has. The higher the protein the better.
There's enough variety that I always find recipes we'll like, but not so many that it's overwhelming.
Cook the Ingredients
Just in case this isn't obvious, you won't get the benefits without cooking and eating the meals!
$35 Off So You Can Have Easy and Healthy Dinners Next Week
It won't hurt to give it a shot and experience the benefits for yourself. Then and only then can you truly decide if this is a good fit for you! After discussing the problems most of my fitness clients experience, I believe this will reduce stress and help people eat healthy consistently. The end result: people feel better and reach their weight loss goals faster. Whether you're on the fence or ready to jump in head first, use this link to sign up!
Get $35 off Lean & Clean meals from Sun Basket! Click the photo below to get your coupon:
Although I most definitely recommend the Lean & Clean, if you're a family and know the Family Plan will work better, here's 50% off your first (or trial) basket!
Get 50% off Family Meals from Sun Basket! Fresh organic and sustainable ingredients and kid-friendly recipes delivered! Click the photo to claim your offer: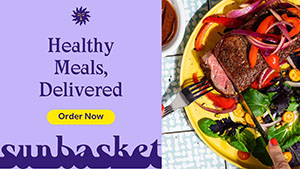 Full Disclosure:
Friends, these are affiliate links, and I make a small commission off of each sale. I appreciate you using them to help me grow The Fit Tutor! It's taken me years to find a meal delivery service I could back, and after trying Sunbasket a few weeks I reached out to be an affiliate. I use them myself and am excited to spread the word. Give it a shot, and reach out if you have any questions. You could also share this with anyone who you think would benefit from healthy meals delivered to their door!