Fall is synonymous with pumpkin patches, gorgeous colors, crisp temperatures, and soup! My husband and I look forward to soup season almost as much as our birthdays. It's so warm, filling, and comforting, and it can be so healthy! I've chosen my favorite, go-to healthy soup recipes to help you make the cooler seasons weight loss friendly, despite always wanting comfort food to warm you up!
5 Comforting and Filling Healthy Soup Recipes
This is also a great place to show off my favorite recipe bloggers' sites! And stay tuned, because my next post will be on how to make (just about) any soup healthy!
Chicken Zoodle Soup by Damn Delicious
I was hesitant to try this because I wasn't sure if the zoodles would be filling and the hubs would be disappointed. We both loved it and it's in our regular rotation! If you need a heartier version, adding some rutabagas would be lower carb, filling way to add some more substance, but we loved the flavor and how filling it was, as is! It's filled with protein and veggies and you won't even miss the regular noodles. You can make the zoodles easily with this spiralizer.
On busy days I've even made it in the crockpot and just added the zoodles before serving. Click the photo to see the recipe.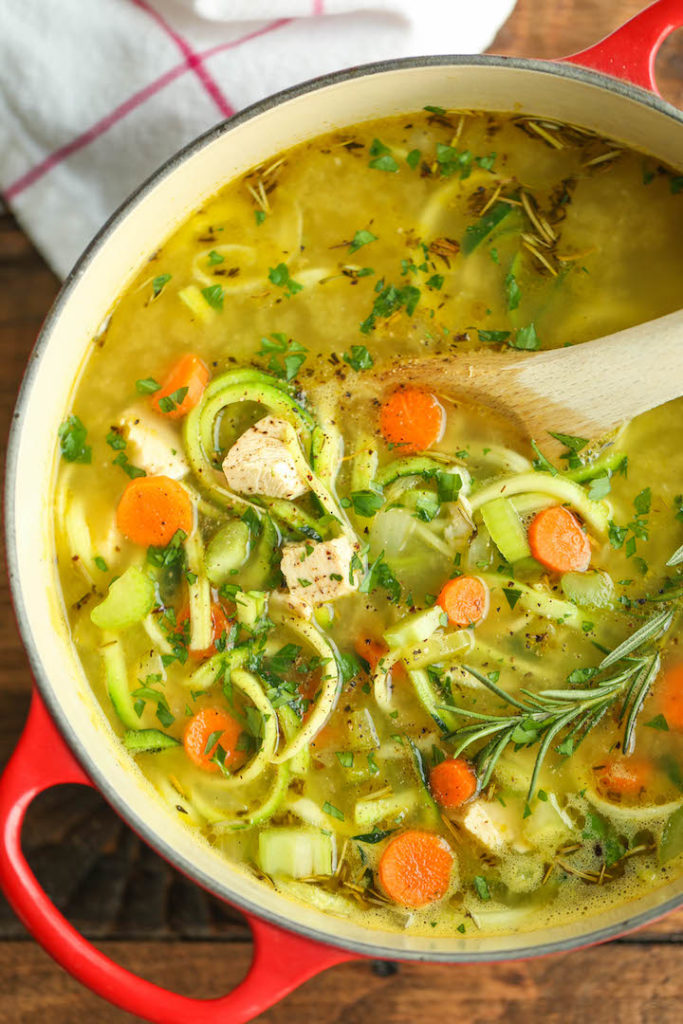 White Chicken Chili by A Spicy Perspective
This is one of the most flavorful and healthy white chilis there is! I usually double the recipe when I make this so it can last us longer through the week. It's perfect for a cold fall day! It's paleo, but it gets it's creaminess from arrowroot powder and some coconut milk. I've made it with and without and it's awesome both ways! Click the photo to be taken to Sommer's recipe on A Spicy Perspective. I've loved everything I've made from her site!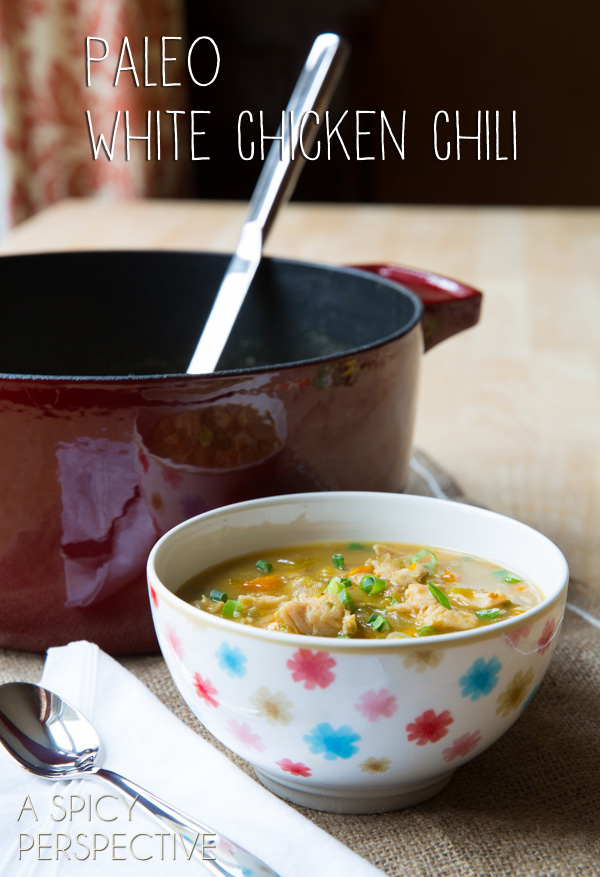 Thai Coconut Curry Butternut Squash Soup by Host the Toast
Truth be told, I have 10+ other butternut squash soup recipes saved, but I can't bring myself to make any of the others because the hubs and I are afraid they won't be as good as this one. We are obsessed. The curry and the lime and the creaminess is a combination straight from heaven.
It's vegan and gluten free so it would be great for a meatless monday or plant-based meal. I'm always concerned about getting protein in at every meal, so we used to eat this soup with grilled cheese on sprouted grain bread. My recent food sensitivity journey has nixed that from my repertoire, but I am determined to find a easy and healthy protein to pair with this, although it's very filling on it's own! Click the photo to see the recipe.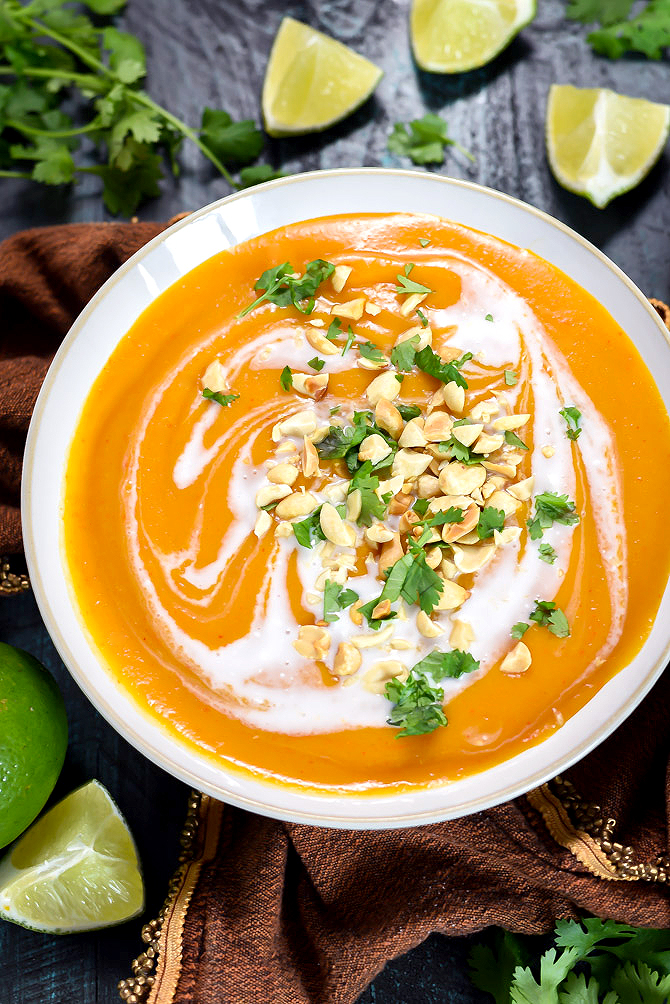 Slow Cooker Enchilada Soup by Gimme Some Oven
I love pretty much everything I've tried from Ali at Gimme Some Oven, but this one works it's way into our home just about every other week when it's cold. It's so easy, flavorful, comforting, and healthy! I sometimes get a little wild and add a green pepper, too. I prefer Frontera brand Red Enchilada sauce, but make sure to read your labels if you're not going to make your own. This soup has black beans, which add protein, fiber, and help keep you full. Oh my, you're going to love it!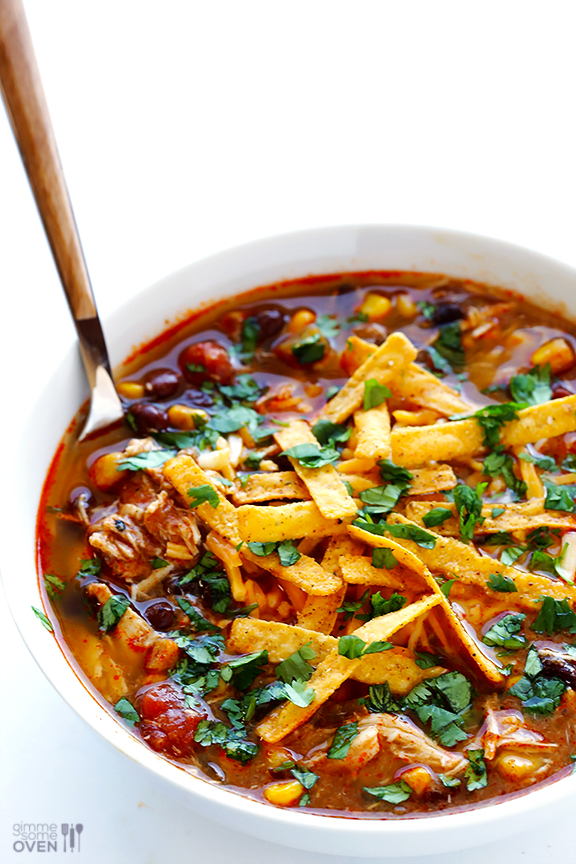 Best Chili on Earth by Pip and Ebby
I am not the best at following recipes when it comes to chilis, but I base all beefy chili off of this recipe. And I've made it for many people and have always gotten rave reviews. I swap the tomato juice for vegetable broth, and add it in only as needed for a thicker version of the chili. Mmm… thick, hearty chili! I also use whatever vegetables I have, and love zucchini in this as well. The seasonings Megan chose are so delicious, and this has meat and beans so it will be a good, filling option! Click the photo to see the recipe.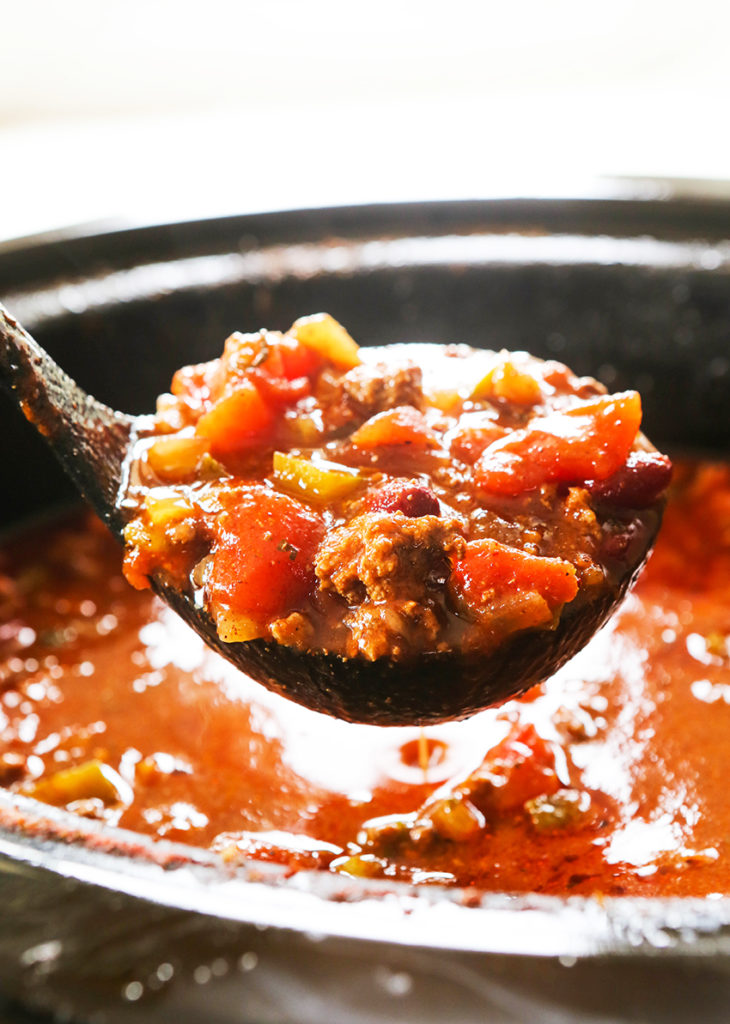 Let Me Know How You Like Them!
Am I the only one who's drooling after reading this?! I'm so excited for warm soup belly, and to eat hearty, comforting foods that make my pants fit a little looser! My next post will address how to ensure you're not ruining the health benefits of your soup with crazy unhealthy toppings, and how to make sure your soup is filling and weight loss friendly!
I'd love if you share this, plus tell me your favorite healthy soup recipes in the comments!
Happy Fall!
Allison
PS: If you're concerned about healthy eating, I've got a Nutrition Course for that! Plus, The Fit Tutor now offers free weekly workouts, or you can pay for a membership for results-driven workout programs and accountability! Contact me with questions!