Hi friends! I've put together a month of meals for the hubs and me, and wanted to share in case it makes your life easier, too! It's based on The Fit Tutor's Nutrition Course but also leaves out dairy for the most part (we are giving up dairy, sugar, and alcohol for January! Booooo!). I will confess, this is for us- people who eat mostly chicken, Mexican food, and soup, but you can easily swap out some of the meat for a bigger variety or more vegetarian meals. Even if you don't love the same foods we do, I'm hoping this can inspire you!
I hope to create a shopping list to go with it, but one of my main goals for 2016 is to learn how to rest, so we'll see how that goes! I hope your 2016 is off to a great start. I would be honored to help you on your health and fitness journey. I'm here to help you how to eat healthy or get into an awesome workout routine. And don't forget the accountability to make sure you stick with it…! Check out what we offer and message me if you're interested!
Here's the meal plan: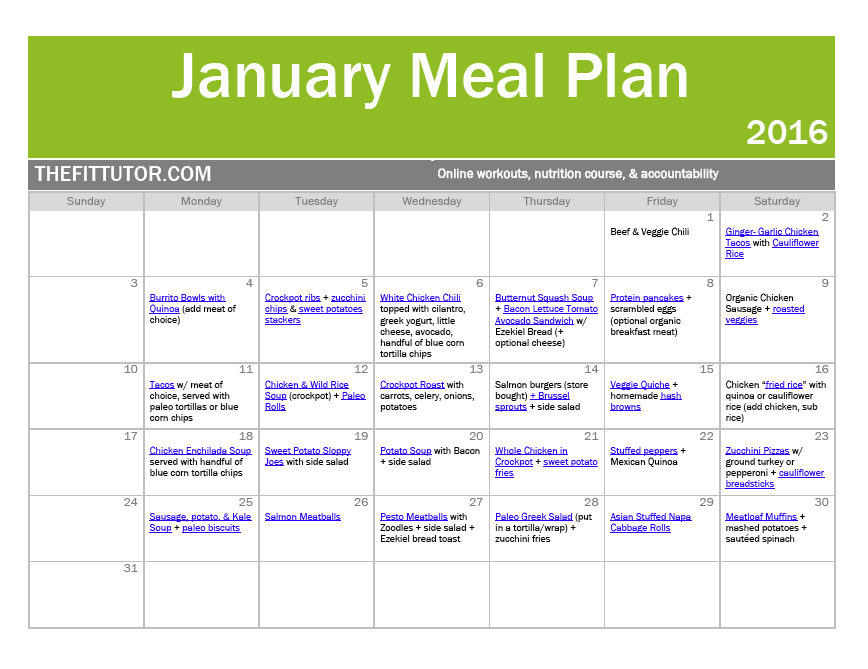 And you can download it here to get access to the links:
Follow me on Pinterest for more healthy recipes and fitness advice!
I hope you enjoy!
Allison