My Favorite Non-toxic Deodorant
I've written before about my beloved homemade deodorant. I used it for several years before I got too lazy to make it. I also mentioned that my only complaint is that it doesn't hold up well to travel, which I do quite a bit. I've dedicated the last year and a half to finding a natural deodorant that works.
Enter Native. I've tried several brands, but Native is the first to stand up to the different types of sweat- nervous, working out, and being outside on a really stinkin' hot day. Others weren't able to stand up in every category, but Native did.
I love that it's shipped to me every other month so it's one less thing I have to forget at the store. I also love that it's made with quality, clean ingredients. It's Paraben-free, Aluminum-free, and Talc-free. It holds up to all types of sweat, goes on clean and smooth, and smells so nice! It's also hand-poured in the US of A!
Pro tip: I have incredibly sensitive skin, but I found their sensitive skin kind doesn't work as well as the regular. BUT- the regular doesn't irritate my skin whatsoever! I'm a big fan of the "lavender and rose" scent, but you can try a variety pack first to pick your fave!
They also offer free returns so you can try it without worry.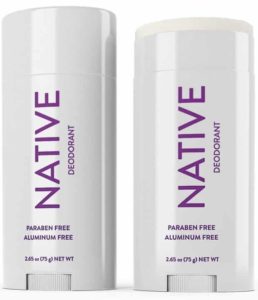 Image Source
My One Complaint?
Look, everyone has a different pH levels and different deodorants will be more effective on certain people. All I'm saying is you should give Native a shot. I wanted to give it a try through all four seasons before telling you about it, and I'm sold. So glad I found it!
My only complaint is that it does leave some white on the inside of my shirts, but it always washes off – and honestly that's just part of the natural deodorant life! I'm not worried about it and it doesn't stain my shirts like other brands.
Give it a try if you haven't already!
Yep, this is an affiliate link and I may make a little money if you purchase through it. Thanks for helping to support The Fit Tutor, and I would never recommend something I didn't love! My favorite thing about trying this is it's risk-free! :)