It's almost Christmas, and you're running out of time to buy presents. In a few short days you won't even be able to Amazon Prime something to your house- yikes! If you're still searching for an amazing present to give, but you're short on time (and patience for the stores) then I have the perfect gift for you!
The Perfect Gift for Your Friend, Mom, Sister, Aunt, Teacher…
Why not give the gift of an online personal trainer? The Fit Tutor helps women get fit, healthy, and confident- all within their own schedules. Gifting her a membership will give her access to an online personal trainer's workouts and instruction whenever she needs or wants them. What does a membership to The Fit Tutor community include?
Workouts she can do at home or at the gym and on her own schedule
Safe exercise instruction, designed to get results
Several workout programs to choose from, designed by a nationally certified trainer
Workouts to fit even the busiest of schedules
Accountability for workouts and nutrition
Access to an encouraging group of ladies to help cheer her on along the journey
A Nutrition course that will help end dieting forever
A relationship with a personal trainer and nutrition coach, available to help answer questions, give advice, and tweak workouts as needed so they meet her goals, strengths, and weaknesses
Bonus: if she's a mama, I have a postnatal workout that will help her stop peeing when she laughs!
Giving a gift to weight watchers is a hint. Giving the gift of a personal trainer? It's empowerment, confidence, community, and encouragement!
Side note: if this lovely lady is your spouse, it will make your marriage so much better when her trainer is the one asking her if she worked out today or why she ate that donut, not you. ;)
Effective Workouts at an Affordable Price
Face to face with a trainer would cost around $50 per session, so to really see results it would cost you a few months worth of sessions. A year's membership to The Fit Tutor is only $100 total, and it gives her access to advice, accountability, and workout programs that get results year-round.  And she doesn't have to get up at 5am to go to a bootcamp; she can workout when it fits in her schedule, and from the comfort of her own home!
If she's a bargain hunter, you can brag that you got a killer deal. Training with me three times per week would cost you $120. A week. Going through all the information in my Nutrition Course in coaching sessions would cost about $1,000. This is $100 for the year. And you get all that and more!
An Easy-to-get Gift She Will Love!
The best part for you is you can buy it, print out the card, put it in her stocking (or in a card, if you're an overachiever), pour some eggnog, and watch Christmas Vacation! I love to show the people I care about how much I love them, but shopping stresses me out. This is such a win-win gift.
You can buy it now, you can have them buy it Christmas morning with your credit or debit card, or you can give them cash for it. I of course recommend just buying it now! ;)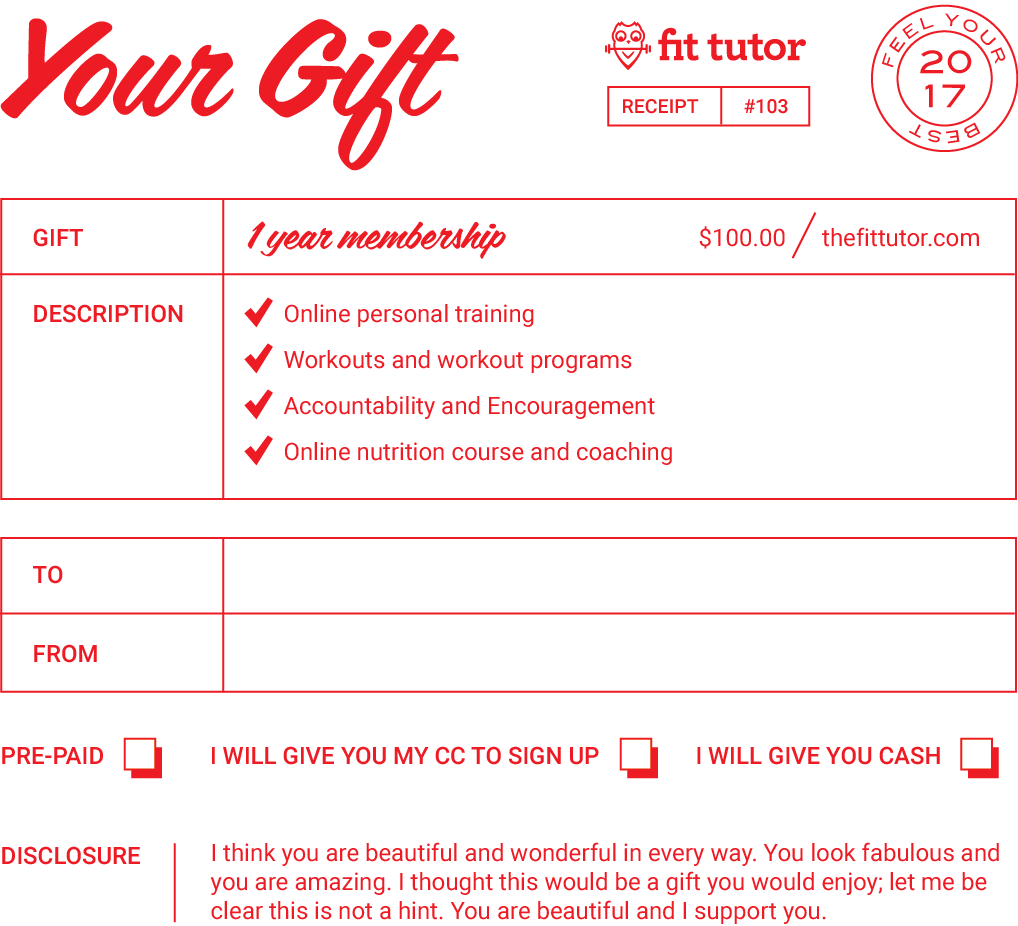 You can download and print this by clicking here —> the perfect present for any woman
She'll get great results, and I'll see to it that she does her workouts. ;)
Click the button below to be taken to the checkout page.
Not sure if it's a good fit? Feel free to email me any questions you might have.
Merry Christmas, you great gift-giver, you!
Allison