Before we get into the meat of this, can I confess something to you guys? I'm so embarrassed, but even though I'm a personal trainer I've always hated ab and core work. Hated it. Skipped it. Complained about it. Turns out, I just needed to find the right kind of workout to motivate me, make me feel like a badass, and get me fast results! Now that my core is strong, I feel much more confident and my clothes fit better. I wish I had been doing these killer ab workouts for years!
I took a course on 6 packs- yes, when you're a trainer you get to do these cool things- and was inspired to created these two workouts. And I can't stop doing them. I've got many of my clients joining in and loving them too (my words, not theirs *wink*). In case you're new to my site, The Fit Tutor specializes in workouts for busy women, so these workouts don't last long, but they'll get you the biggest bang for your buck! Bonus: they are easily customizable… my fave. Check out the 500 Rep killer Ab Workout and 250 Abs and Plyos Workout below!
First, a Little Science
Yes, spot-reducing fat is a myth; however, when you work a particular part of the body, it tends to pull energy from the surrounding cells. So although *only* doing ab work to lose belly fat is bonkers, adding in these core workouts will definitely help you lose weight around your stomach and love handles.
Most people walk around with weak cores and tired backs, and wonder why they're in pain all the time. Having a strong core is crucial to your health and keeps you free from injury during workouts and daily life. Don't be dumb like I used to be and neglect your core. Work those abs not only to feel stronger and get more definition, but to stand up taller and protect yourself!
500 Rep Ab Workout
This workout makes me feel like a badass, and I love people's responses when I say I did 500 reps of core work. I recommend doing 100 reps of 5 exercises, but if your form gets bad or you have workout ADHD, go ahead and do 50 reps of 10 exercises.
How to Design Your Own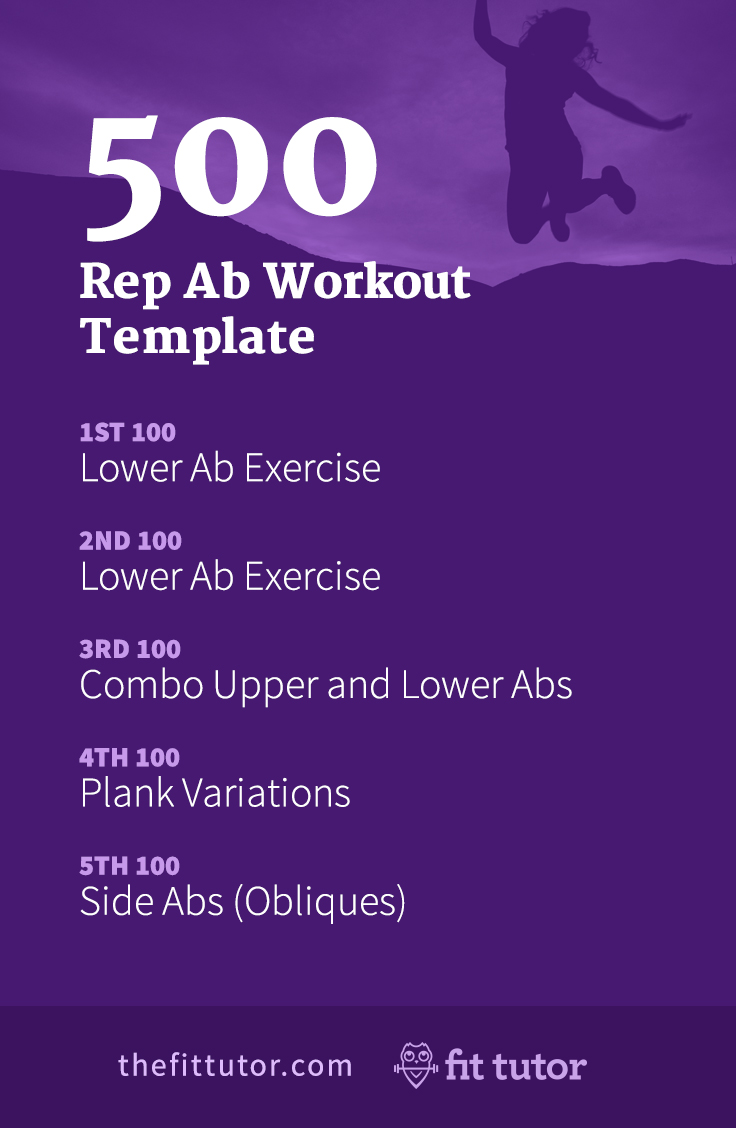 You want to work your lower abs first while you're still fresh! This area is a "trouble zone" for most people. Then move on to planks for a flat belly. Another confession: I have workout ADHD when it comes to planking, so I do 25 reps of 4 different planks. Finally, finish off with your obliques. If your goal is a 6-pack, you can add in crunches for definition, but if that's not a realistic goal for you right now (or your back isn't in great health) just skip the crunches.
Do This, Get Results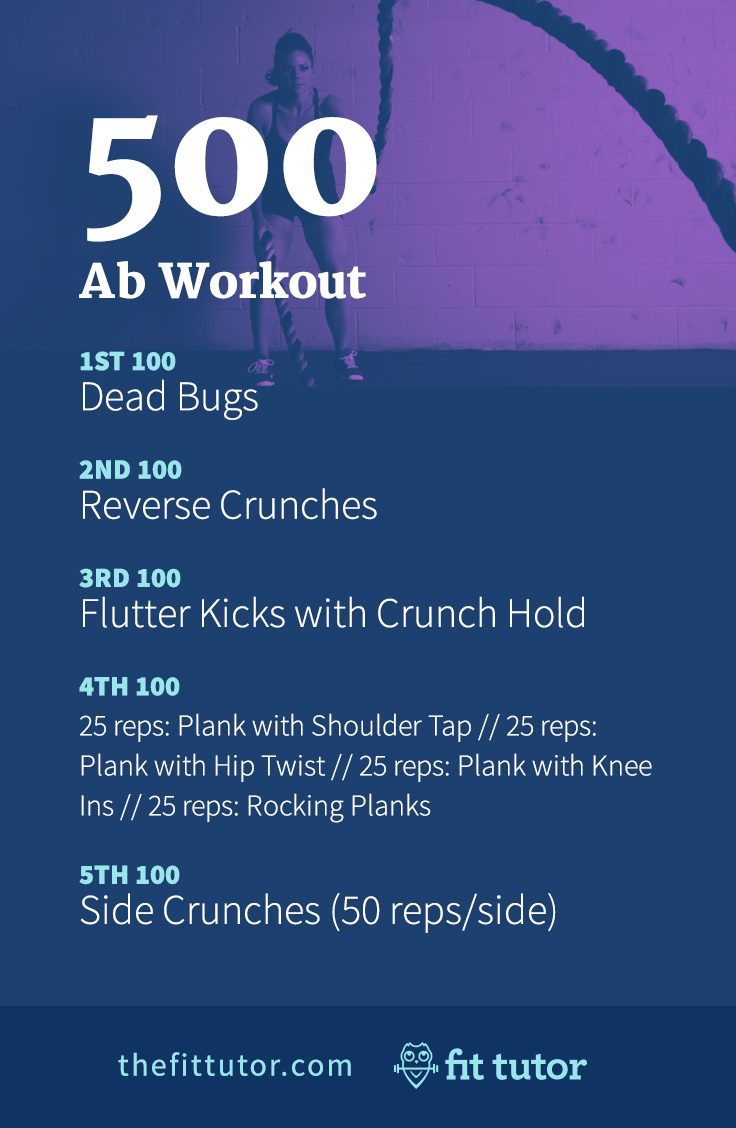 Pro Tips
If your abs are screaming, break at 50 or 75 (or earlier) if you need to.
Keep this workout short and sweet by not resting more than 1-2 minutes between exercises.
Make sure each rep is controlled- if your form is sloppy you're wasting your time and not working your abs.
If you're not in great shape or haven't been working your core, this will leave you really sore… Start with 25 reps of 4 different exercises, and work your way up so you're not too sore to function. Trust me. Or, try this workout instead and reduce the reps if needed:
250 Abs and Plyos Workout
This is an AMRAP-style workout; AMRAP means "as many rounds as possible" in case you're not familiar with it. Basically, you set a timer and do your workout as many times as you can before it goes off!
For this killer ab workout, you'll set a timer for 20 minutes (or the time of your choosing) and alternate through the following as many times as you can:
50 reps ab exercise
1:00 minute plyometric exercise
For me, this usually adds up to 250 reps, but sometimes I have time to finish off with a plank hold! It's fun (is that the right word?) to race against the clock and your past performances, but don't let your form get sloppy!
The Template For a Killer Ab Workout
My workouts usually look like a variation of this: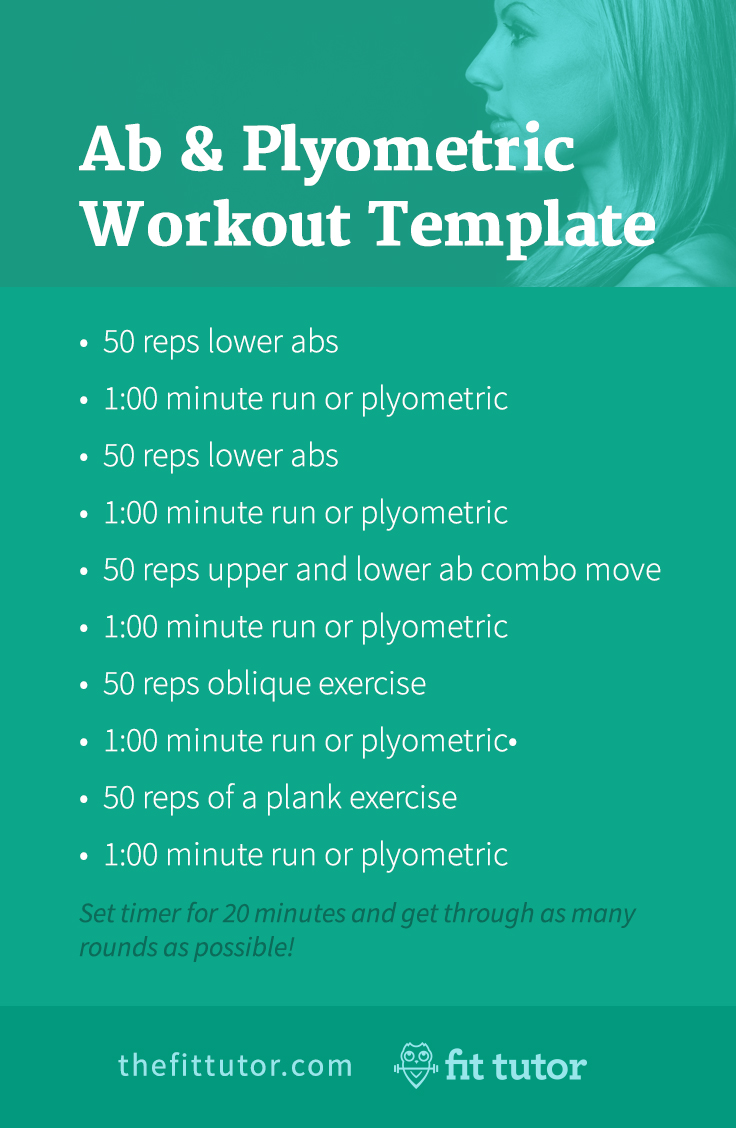 Blast Fat With This Killer Ab Workout
Try this at home- you can replace all plyos with a run, sprint, or running up and down your stairs ;)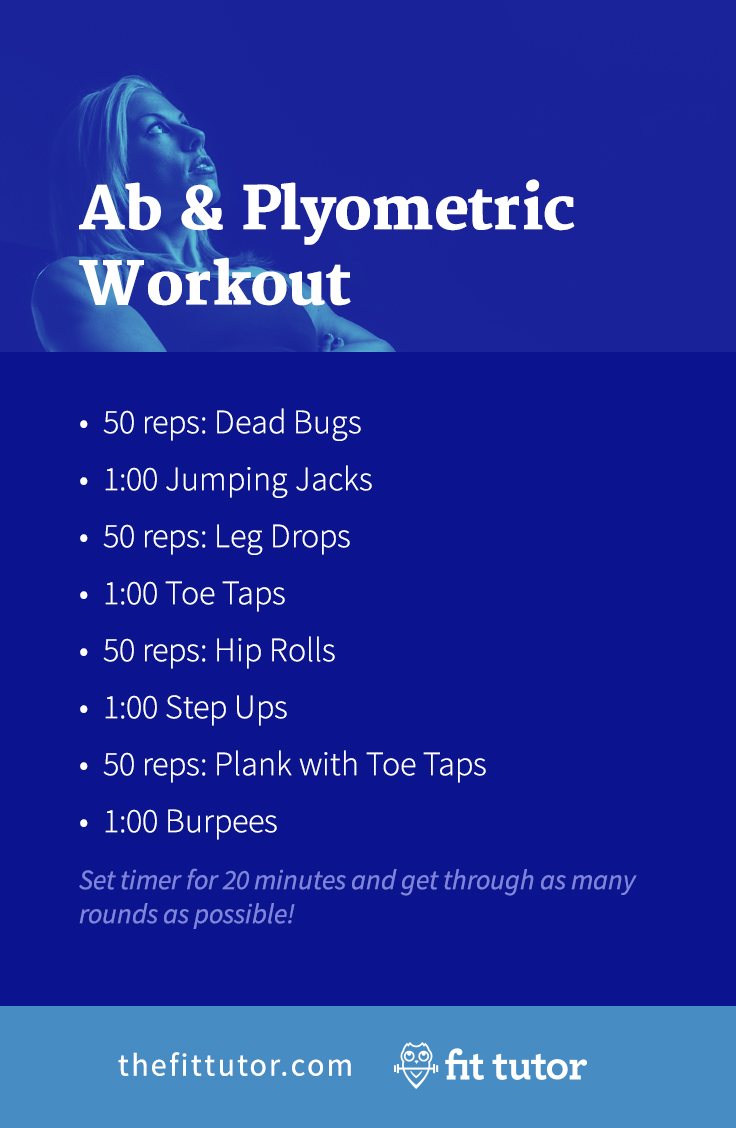 I've loved adding these into my workout routine, and it's easy to swap out exercises and increase reps to mix things up so you don't plateau. I've seen great results by alternating a strength training program and a core workout each week day. Try it and let me know how you like it!
If you're not sure what these exercises are, how to do them correctly, or you want a full body workout program, check out my fitness product, The Fit Tutor! It has instructional videos, exercise modifications for every level of exerciser, accountability, and a nutrition course!
—> Since abs are made in the kitchen, the nutrition course is crucial ;)
Try It. Rock Your Core. Tell The World
Try either one of these killer ab workouts and either tag The Fit Tutor or use the hashtag #fittutorCORE to spread the word. Thanks friends! Excited to hear how much you love it!
I'd love to help you reach all your health and fitness goals, and cheer you on along the way. Give The Fit Tutor a try- sign up for a membership, and get an online personal trainer for as little as $11.99/mo! Cancel anytime!
A Note To My Pregnant and Postpartum Friends
If you're pregnant or have had a child recently (or not so recently but feel like your core has never been the same), there are a few adjustments you can make! First of all, no crunching and no planks (planks avoided in third trimester). Core exercises that are safe for you might not seem like core work, but trust me on this! I've got some sneaky ab exercises that will help you gain strength without pushing your abs farther apart.
Replace any plank or crunch variation with any of these:
Side Plank (or variation)
not an exhaustive list, but will definitely get you started!
(Instructional videos will only work for Fit Tutor members – sign up today!)
And if you're pregnant, definitely check with your doctor before doing anything like this, just to be safe.
If you've somewhat recently had a baby and are concerned about safely rebuilding your core, check out my Postpartum Strength Program!
Let me know if you have any questions,
Allison :)