Friends, I have lots to tell you, but let's start with the most exciting: my new 30 day workout program: the Dirty Thirty.
It combines strength training with cardio, high intensity intervals, and active rest and recovery. I just finished the program, and I was so happy with how I looked and felt. It's such an awesome feeling to look in the mirror and feel so impressed with what your body can do!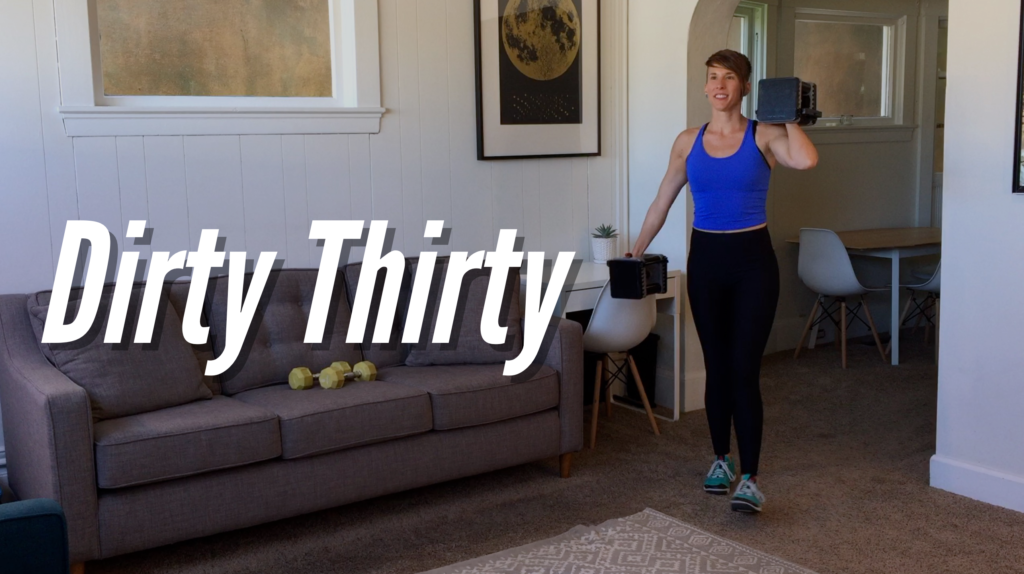 Who's the Dirty Thirty 30 Day Workout Program for?
Anyone who has at least three days a week to workout and wants any of the following:
burn calories
gain strength
get leaner
lose fat
perform daily tasks more easily
manage stress
enjoy looking in the mirror
become more flexible
prevent overtraining
The Workouts: What to Expect
For the lifting days, you'll alternate three types of workouts each week:
Heavy + Power: you'll perform an exercise with weights that feel heavy to you. Then, you'll perform an exercise that taxes your "power" system! It will help you burn calories for days! Finally, you'll go through a HIIT (high intensity interval) circuit
Big Lift: you'll perform one or more lifts with ideally heavy-ish weights, and then move on to another circuit!
Circuit: your third lifting day of the week will always be a different type of circuit! You'll grab lighter weights for this day!
Each workout is different so you'll never get bored! The other workout days will alternate cardio, yoga/foam rolling, and activities of your choosing!
Ideally, you'll have a variety of dumbbells, and at least one pair you think of as heavy or kind of heavy. This isn't necessary, though, and you can still get great results with only one pair of dumbbells!
The workouts are a variety of lengths, but I've included tips for how to make them fit into your schedule, because real life doesn't stop because you want to get in shape, am I right?
It's Perfect for You
Each Fit Tutor workout is made up of individual exercise videos, each with a beginner, intermediate, and advanced way to do the exercise. You can choose what works best for your body, and even newbies can rock this workout!
You can adjust the length of each workout, choose which modification works best for you, choose the weights you want to lift, and even swap out exercises if needed. It's your body, and you can do what works best for you. I'm sure you have your own goals, but I'd love for you to feel strong, capable, and proud of yourself after this month is over! I know you will after this 30 day workout program!
Let's GO!
Choose your path and let's get started!
Click here to sign up for a membership to get access to the Dirty Thirty Program + all other Fit Tutor Programs + Nutrition Course + Ali's Weekly Workouts, Workout Creator, and Exercise Library for a one-time payment of only $50!
All memberships have access to my Facebook Accountability group!
What are you waiting for? Get in great shape at home. Push yourself to new limits. Have safe instruction that includes modifications for all levels of fitness. Empower yourself. Take time for you.