This week I am so excited to share a fun, lighthearted post with you and give you a little sneak peak into my world. I want to share with you a few of my favorite things- simple, everyday fitness/health-related things that help make my life better, however trivial they may seem! In the comments, I want you to share with everyone a few of your favorite things! It's the little things in life, right? :)
1. My Protein Shake Mix-ins!
Two weeks ago I shared with you my go-to protein shake recipe. Today I'll tell you how I doctor it up to make it extra delicious! I add these simple mix-ins after a killer workout, when I know it will be awhile before my next meal, or sometimes as a meal replacement if necessary! Here's the recipe: 8 oz Silk Dark Chocolate Almond Milk, 1-2 scoops of Dr. Mercola's Pure Power Whey Protein (Chocolate), 2-3 ice cubes, 1/2 or 1 whole banana, and 1 big spoonful of Skippy Naturals Peanut Butter! YUM. My hubby absolutely despises bananas, so I add a few fresh or frozen strawberries for him (instead of the banana & peanut butter), or I just add the peanut butter. The other day he said it tasted like a Reese's Peanut Butter Cup! I'll call that one a WIN.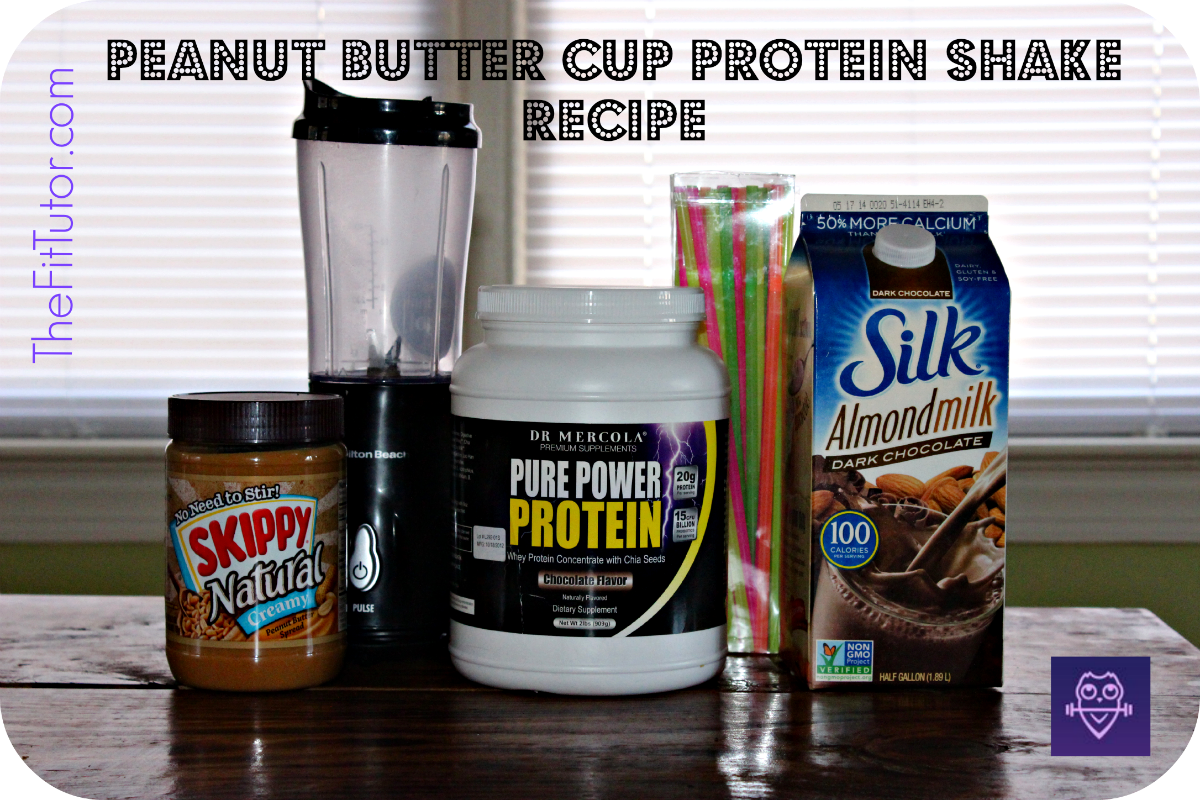 2. My New Reeboks!
I'm always a little (OK… a LOT) behind on trends and what's new out in the stores. I happened across these amazing Reebok RealFlex Scream 2.0 shoes at Shoe Carnival – they were on sale for $49! [Fun Fact: When I was 7, I won a plastic water gun at Shoe Carnival for naming 5 of Santa's reindeer into the microphone… #ballerstatus.] Apparently this style has been out for awhile, so I'm not sure how long the purple/yellow will be around, but I love the colors, how lightweight they are (7.8 oz… being under 9 oz is a must for me!), and they have amazing support! I haven't run in them yet, since I've been doing more HIIT, but for strength training, plyometrics, and rocking out at my standing desk during my work days they have been a dream! New and fun shoes make working out more exciting! Also, Reebok gets a high score when it comes to ethical treatment in their overseas factories. It's always nice to know your stuff wasn't made by slaves, or people forced to work long hours in cruel conditions for not enough money. (Check out my Antislavery Pinterest Board for ethical studies and more good brands!)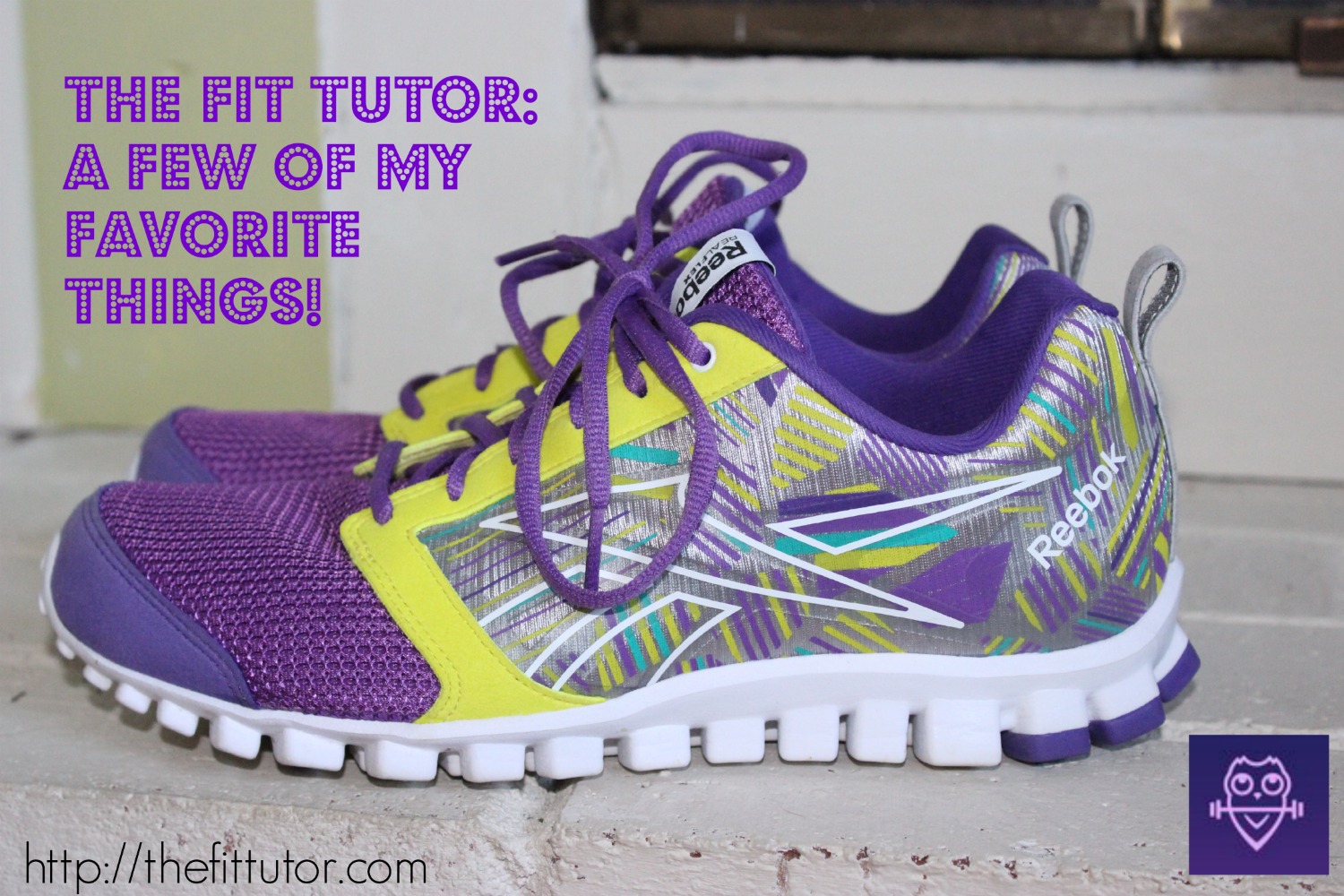 3. My New To-do List!
I've mentioned before that I love Pinterest, and that crossing things off a list is my anti-drug. I'm a little scatterbrained, so this pinterest craft find (via One Good Thing by Jillee) was something I just HAD to make! Mine's not this pretty, but it does the job- I'm getting more done, and getting even more satisfaction crossing off what I've done. Here's the weekly template I printed out for mine (instead of just using it as a dry erase board), and here are some examples of what's on my list:
Monday: work on blog, sweep, vacuum, organize finances, laundry, Fit Tutor workout
Tuesday: Post/promote blog, dust, clean mirrors/windows, personal training research day, foam rolling/posture exercises
You get the idea. I also put the names of clients I need to see, or people I need to contact for accountability! I freaking love it so far. I'm trying to encourage my clients and some of The Fit Tutor members to make one to help them be more consistent with their workouts! If you choose to get high on life as well as crossing off tasks, then you should make this. It's even simple enough for the non-crafter (check out my latest pinterest fail here).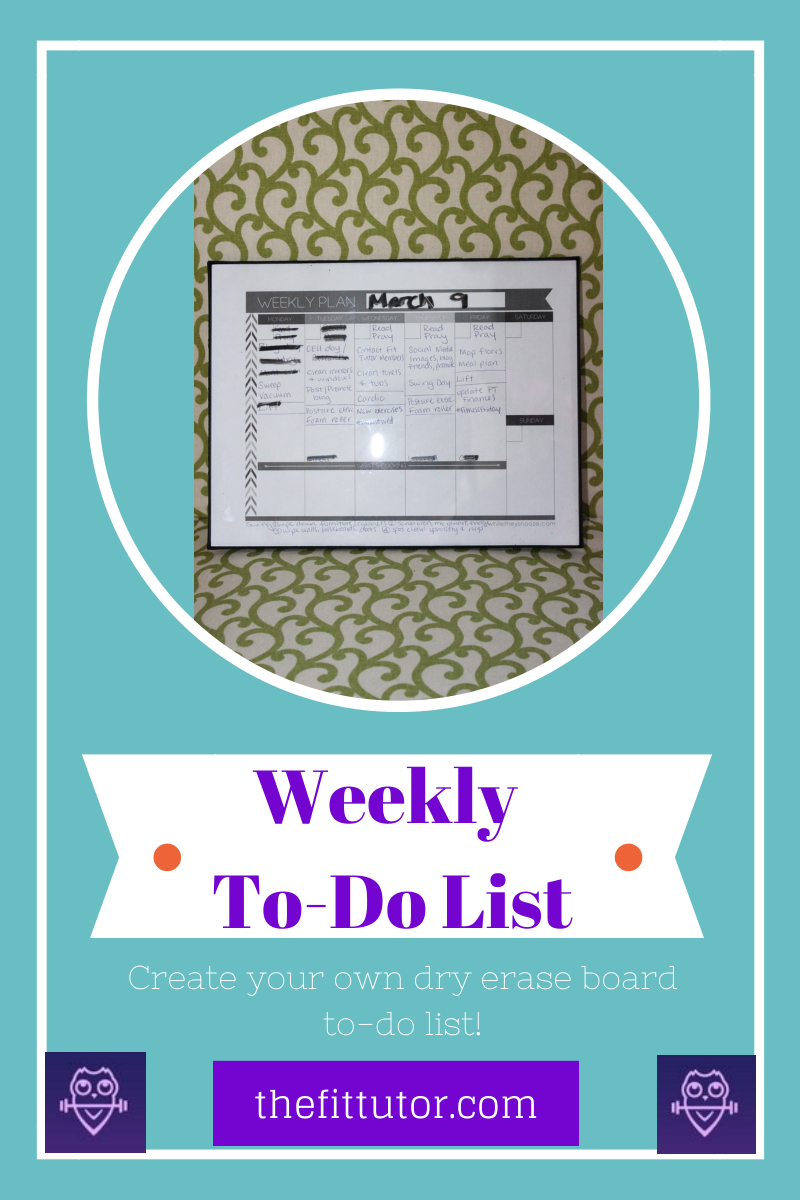 4. My Homemade Granola Bar Recipe!
What would I do without this? It's a go-to healthy snack, an easy breakfast option, and it's chock full of nutrients! My only issue is once I make them it's hard for me to resist them. I always make sure I record in MyFitnessPal as I eat on those days, so I don't go overboard! The recipe comes from an ahhh-mazing blog by New Nostalgia. Here's the original recipe via Heavenly Homemakers:
1/2 cup nut butter
1/3 cup honey
1/4 cup coconut oil
1 cup oats
1 cup total of mix ins.
Melt the first 3 ingredients in a medium sauce pan, and then remove from heat and add the mix-ins. I usually use mixed nuts chopped in the food processor, flax and chia seeds, raw sunflower seeds, and add dark chocolate chips on top. I also always double the recipe and never measure the oats or mix-ins, and it always turns out fine. It's comforting to have a good snack that you know is minimally processed. I confess that I use Skippy Naturals PB because I cannot find a healthy nut butter that doesn't make me gag. It's pathetic.
5. My new favorite way to do PUSHUPS!
I hope you don't revoke my personal training license, but I hate pushups. Hate them. No really. Despise. Can you relate? :) Maybe my fellow flat-chested ladies can, since nose-to-the-ground just plain sucks! They are SO GOOD for you though, so I've been playing around with variations to find one I like. A frustration for me was that pushups never seemed to get easier! I started doing them in this new format, and I have noticed them getting significantly easier, much more enjoyable, and I am getting stronger! I start out by doing a pushup, then add a twist (lift one hand straight up over my side), come back down to plank position, and do a squat thrust. Then repeat on the other side, starting with a pushup. The squat thrust adds a cardio boost, and the variation allows me to do more pushups than I ever could before! WOO!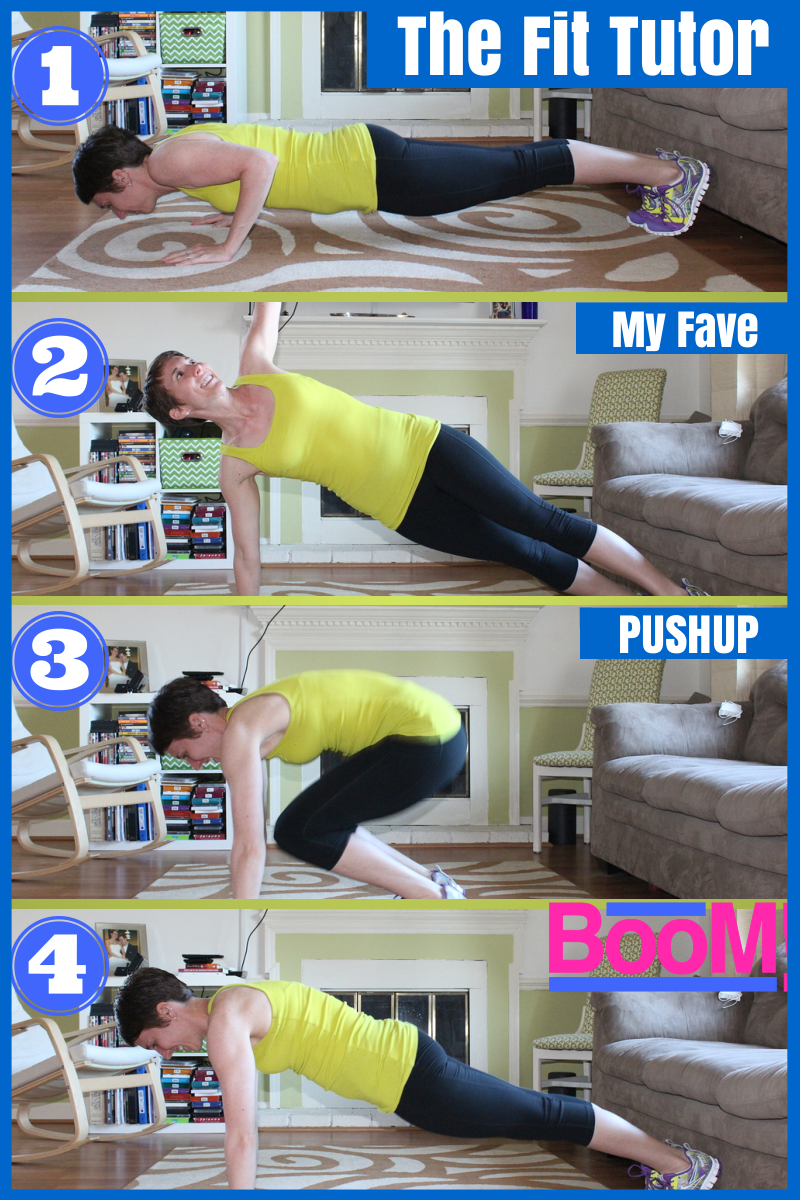 I'm excited to eventually add this exercise into The Fit Tutor's library! If you want specific instructions, check out the tutorial videos for the pushup, the plank twist, and the burpee (a squat thrust is the first part of a burpee, but instead of jumping up you jump back into the plank!). Try it and let me know what you think! Is it more enjoyable (if you dare use that word) than the pushup? Beginners, this specific version may not be for you, but we have beginner modifications for all our exercises on The Fit Tutor website!
I just wanted to share with you a few things I've discovered that rock my world. What are some of yours? Hint: You should add workouts with The Fit Tutor to your list;) Especially now that Spring is around the corner! Who wants to pay the price of a gym membership when you can do cardio outside? You'll still need to strength train though, so sign up for your 2-week trial today!
Allison
Here's a little present for ya: My amazing pup Chainsaw photo-bombed my pushups! He craves the limelight…