In your attempts to dominate 2017, have you spent any time reflecting on 2016? Social media is barraging us with messages about how awful last year was, but I dare say there were some good things that came out of it. It may have been a hard year, but it's important to look for the gold in everything!
I encourage you to take the time to examine what habits you picked up that helped (or hurt) your happiness, peace, health, goals, etc last year. What could you change? What made your life better? Be intentional, friends. Society tends to put us in a whirlwind, and if we aren't paying attention we'll end up somewhere we never intended to go.
I'm sharing mine below, and I highly recommend you steal any you aren't currently doing that could improve your 2017!
I decluttered our house
I read the Life-Changing Magic of Tidying Up by Marie Kondo, and let me tell you, it really is life-changing! It took me awhile to get through our house, but I ended up decluttering everything- from the kitchen spices to my sock drawer to our closet full of random stuff to our filing cabinet filled with old bills/statements/God-knows-what!
It was worth every second. I'm sure you've heard of it: get rid of everything that doesn't bring you joy. I discovered I had a lot of stuff that, even though I liked it, just brought me anxiety. I was stressed "managing my blessings" and we were being owned by our possessions.
If you haven't tried it, it's worth a shot. At the very least, you'll be able to look into all your drawers and see exactly what's there, which is pretty nice ;)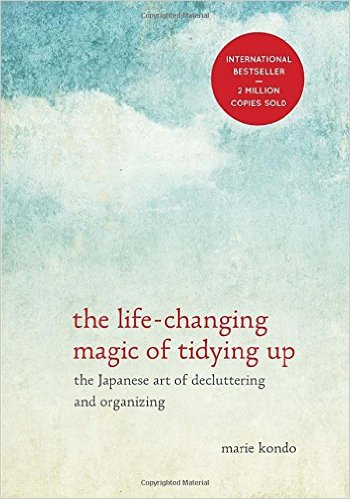 I traded stuff for experiences
2016 was a really hard year for the Lamberts, mainly because I had just lost my dad, with whom I was very close. We found that life was much better when we had something to look forward to, even if it was a short day trip for a new hike.
We stopped buying a lot of material things, and started spending any disposable income we had on trips and experiences.
It was so freeing.
We had less stuff to manage, and although I wouldn't be sad if I had a new pair of boots, going on these adventures with my hubs was good for our souls… And great for our marriage, except for a handful of times we were lost!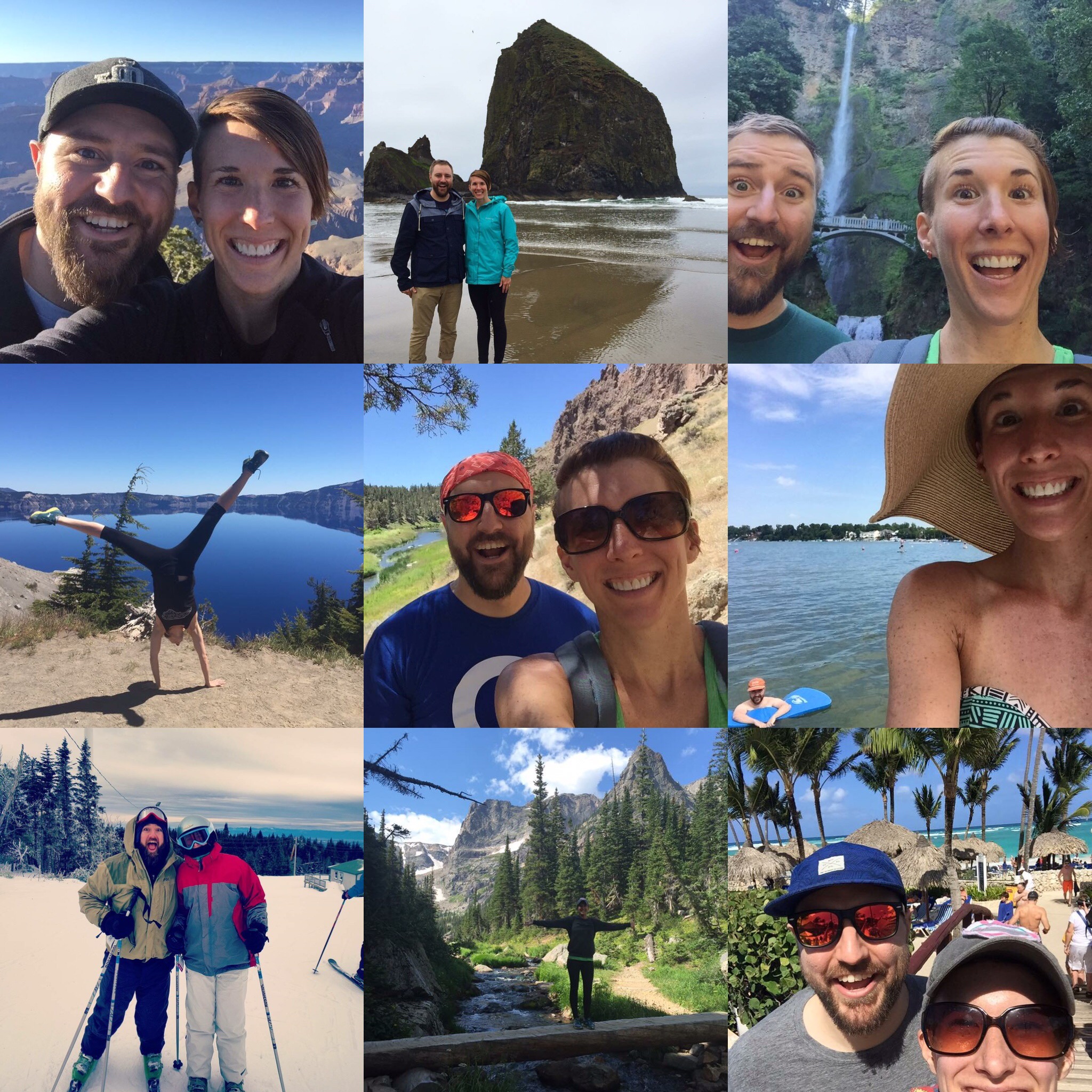 I know a lot of people think you need to be rich to travel, and we've had seasons where it just wasn't possible, so I understand. However, we have learned to live beneath our means, rent out bedrooms in airbnbs or stay with people we know, use airline miles from our credit card, and make it a priority. I encourage you to look at your budget and see what you can stop spending money on to save up for some more adventure– even if it's gas money for a fun local escapade!
I bought powerblocks
In the name of downsizing our possessions, I realized it was worth the money to buy a set of powerblocks and get rid of all the dumbbells I've collected over the years. What are powerblocks? They're adjustable dumbbells that I always though I would hate, but it turns out I'm obsessed. I thought they'd be too blocky, but the benefits far outweigh the cons. Here's the scoop: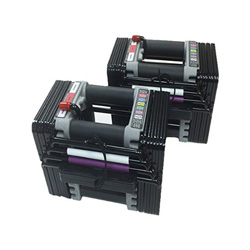 Pros
The benefits of them only taking up about a square foot + enabling me to lift heavier far outweigh any con. My legs are the strongest they've ever been; I can really challenge myself; I won't plateau by lifting the same weight all of the time, and they're easily portable when I travel. You guys, I cannot emphasize enough how awesome it is to be able to lift heavier at home without a home gym. My metabolism is up, my results are better, and I can rock a pair of shorts. It's January, so no one knows this, but I can.
Cons
Although it doesn't take that long to switch between weights, sometimes it takes more than my rest time in a circuit. I have to rearrange some workouts or pause my timer on occasion, which I don't like. Some exercises are a little tricky, like tricep extensions, and front squats are doable but they're a tad bit harder. And they're super ugly, and not very dumbbell-ish. None of these have been deal breakers, and my thighs are thankful I made the switch.
Info
You can get them in varying weights: they have a pair that goes from 3-24 lbs each and a pair that goes from 5-50 lbs each. I got the one that goes up to 50, and you can buy an extension kit if you outgrow it! I can't testify for the 24 lb pair, but the other one seems very safe, stable, and I haven't had any issues with them.
No, I'm not an ambassador (is that a thing? can I be?) but I love this product enough to put it on my top 6 list! They aren't cheap by any means, but if you workout at home and have outgrown your weight set or have excess workout clutter, this option is top notch!
You can buy the ones I have here
You can buy a cheaper, non-expandable version of the 50 lb pair here
And you can get a 24 lb pair here
I started practicing mindfulness
I'm no pro, but I've read enough to know my stress is a huge health problem. I'm an entrepreneur, and my workload isn't going away. But I can change, even if that doesn't. My mind had been trained to be in overdrive at all times, and I became unable to enjoy any R&R that my mind and body really needed.
What I did was simple: I downloaded the Calm app, and went through a 10 minute session about three times a week. It was difficult to get in the habit, and I'm still not as consistent as I'd like to be, but scheduling it in my week has been really helpful.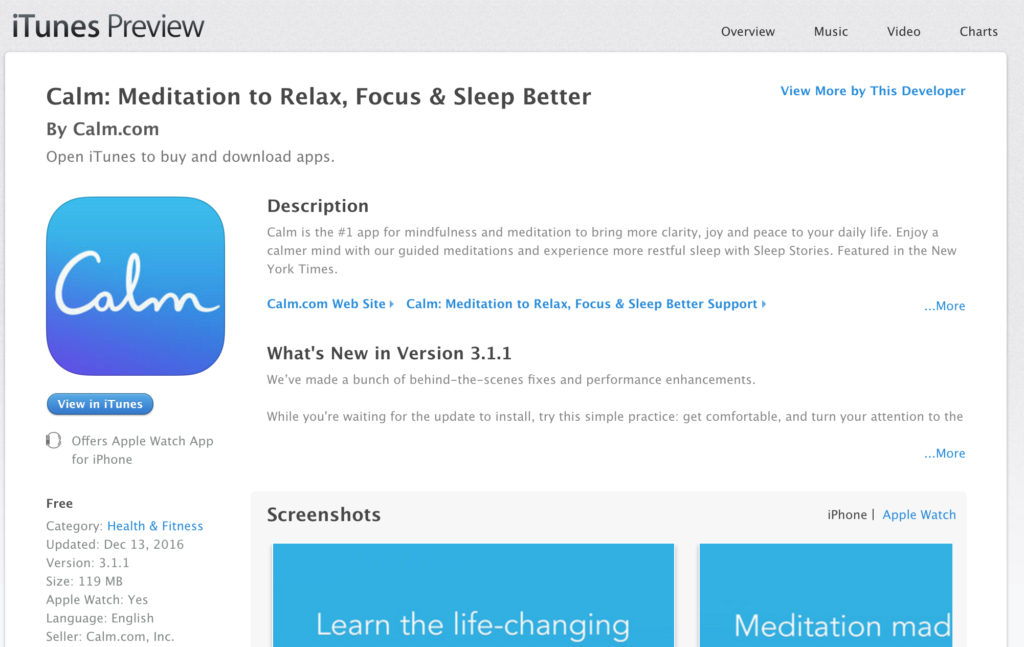 You can also use their website to bring some calm into your cubicle!
Here's how I've benefitted: I'm much more aware of when my body is tense. Now I'm able to pick up on this right away and help myself relax, which saves me discomfort in my neck and shoulders later. I'm better at analyzing and catching my thoughts, so when I'm thinking toxic and stressful things I can step back and analyze the situation and seek the truth about it. This is much better than just mindlessly jumping into the rushing river of anxious thoughts and worry that was constantly flowing in my mind.
We were designed to rest. You cannot go full on 100% all day every day. The busyness in our society is toxic. This is a practical way to fight it.
I started a supper club
Well, I co-started one. I listened to Jen Hatmaker's For the Love and was wrecked in every possible way. It's my favorite book of 2016. She suggests forming a Supper Club to address the issues of people being busy, lonely, and true connection falling through the cracks. You get friends together and commit to monthly rotating dinners. The hosts do everything, the guests bring wine and enjoy. It won't be easy to fit into your schedule, but it will be worth it.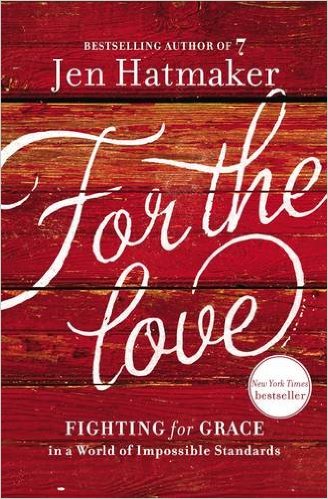 My hubs and I have been in such a weird season. Most of our community has kids; only a few actually hang out. It's been lonely at times. Supper Club sounded perfect. I kindly forced my friend to read the book, and we got some couples together who thought they could swing it in this season of life. It has been amazing, to say the least. We look forward to this guaranteed amazing night out with our friends each month, and it hasn't let us down yet.
The intentional connection has been wonderful, the friendships strengthened, and the group texts hilarious. Getting everyone's schedules together is a little crazy, but again, worth the trouble.
We call ours Supper with Friends, or SWF. We decided not to use "club" because we have the most amazing friends who maybe can't commit to what we're doing right now, and we in no way want them to feel left out. We aren't exclusive. Well, technically it's exclusive in the sense that if I have to cook for more than 8 people I will break out in hives… but you get the idea. Limiting the number also helps you get to connect with everyone there, which is great!
We hope that ours is the first of many amongst our friends, and I encourage you to start your own!
Make it work for you
If you're in the crazy "we have littles and can barely keep track of when we last showered" season of life, create your own version of SWF.
It's not limited to couples, weekends, or big budgets. Have your friends bring over cheap wine and you provide the cheese. Or Solo cups. Who cares– the point is intentional connection, and not letting "we should get together!" take 10 months to make happen.
Mamas, have a standing monthly date at a Chic-fil-a play place with a friend or start a Stroller Derby group. Solo ladies, have a girl's night out at your favorite happy hour. Get a group of rockin' ladies together and make that time sacred.
There's a lot of lonely people out there, and we're busy doing "things." The things we should be focused on doing are loving and doing life with people. Even if your budget is small and your house is a disaster area.
Find some friends who are willing to commit to this with you. You can read Jen's list of rules here– my personal fave is "all you can bring is wine, and you better bring some of die trying." I'm telling ya friends, highlight of 2016!
If you're lucky, you'll have a large collection of blurry self-portraits, too!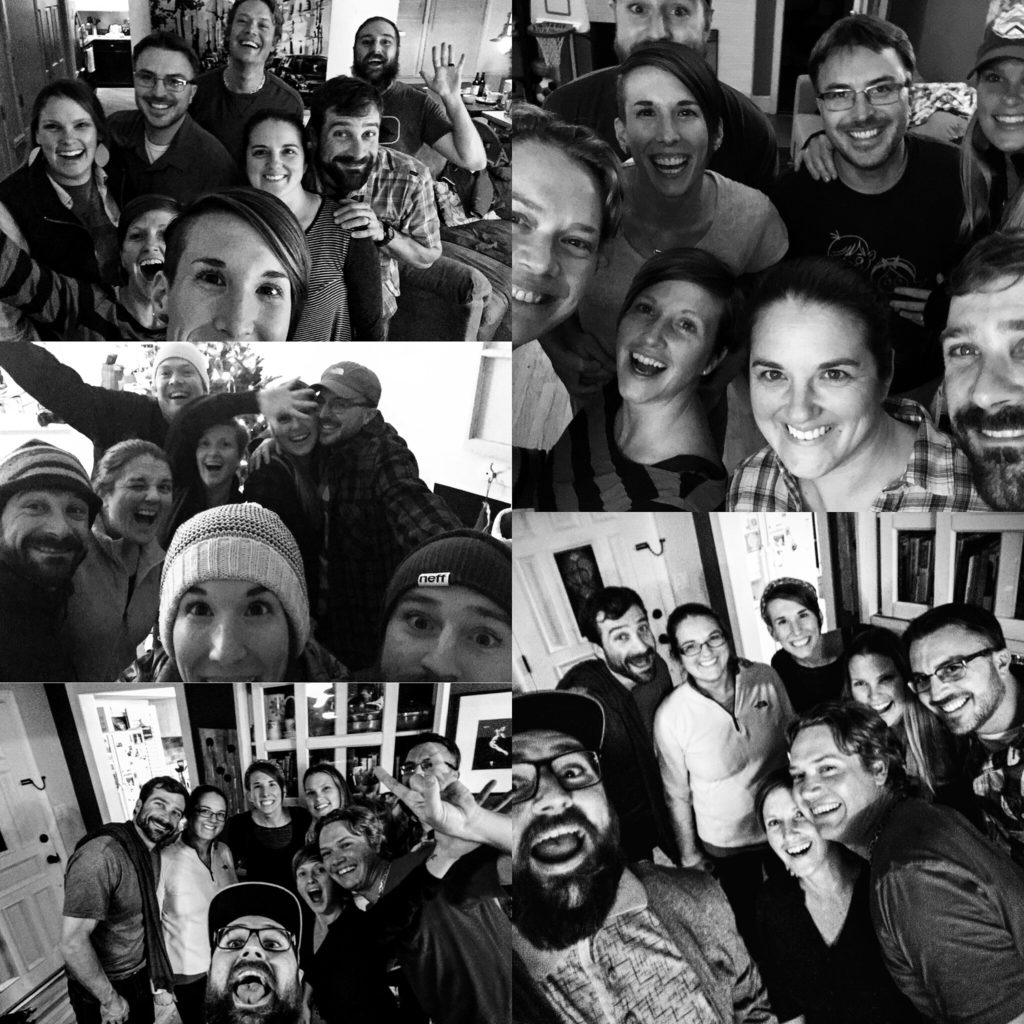 I changed my morning routine
First off, hear me out. I am not a morning person: my husband has been literally dragging me out of bed for 8 years. His patience is enormous.
How did I start getting up [early] on my own? This little phrase: "I'm going to be just as miserably tired in an hour or two- get up!" And it's worked for almost a year now! Miracles happen, folks.
I realized a lot of my stress was coming from my long lists of things I need to do and want to do… and usually I ended up only doing the "need to" list. I decided to set my alarm 1.5 hours earlier to try to take control over my day. Who knew it would be so amazing?!
My morning routine consists of coffee, reading, praying, and mantras/declarations. I hinted earlier that I'm a worry-wart and tend to drift towards pessimism, and this helps me create the attitudes and mindsets that I really want for my life.
Side note: Christians, you need to buy any book Charles Capps wrote on God's Creative Power or Confessions. Seriously.

And everyone should read You Are a Badass by Jen Sincero. One of the top books of 2016, and it deals with taking control over your life and attitude. I can't wait to re-read it!
Now, I'm starting work, already fueled by coffee and eggs, before my old alarm would even go off! I get so much more done, I don't feel as rushed, and I feel less guilty about enjoying my evenings because I'm accomplishing more than I was!
I feel like I get to set the pace for my day, which is empowering. Setting my alarm stings a little every night, but it's been more than worth it. Although your schedule might be different than mine, is there something you could intentionally change in your morning routine to help you dominate your day?
Bonuses: Beautiful sunrises and epic coffee mugs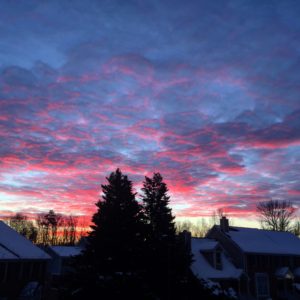 The highlight reel
Some other top things from 2016 include:
In store for 2017
My 2017 goals are pages long, so here's the gist:
set and work towards marriage goals with the hubs
reflect at the end of each work day and diffuse any unnecessary stress fires
stop eating before I'm stuffed
encourage at least one person every day
set my to-do list in time segments instead of tasks
Now it's your turn!
What were your highlights of 2016? What are some things you changed that rocked your world, or what are things you want to work on for this year? Post in the comments!
Share your tips with me, and please share this post if you benefitted from at least 1 topic :) Happy 2017, friends!
Thanks for using my affiliate links! I'm recommending these products anyway, I may as well get some chump change for it! ;)