I'm not going to lie. I would rather have titled this post "How to Dominate Your Vacation" but that could be misleading. I also wanted to title it "How I Only Gained 1 Pound on Vacation" but I thought I would receive hate mail. I'm excited to share with you what I did on my last trip to help avoid the seemingly inevitable weight gain- and yes, I drank wine, ate donuts, and even a whole pizza.
Tips for Avoiding Vacation Weight Gain
Everyone's summer vacations will be different, but hopefully you can take some things that I do and apply them to your own. We went to my family's lake house for a week. We drove with our pups, Chainsaw and Samurai Warrior Princess, 600 miles to Indiana. We were excited about the very affordable vacation, despite the long drive. I was determined to stay on top of my goals, since the last few trips caused my clothes to fit more tightly. Several pounds more tightly…
Road Trip
My goal is to always workout pretty hard the day before traveling. I want to be a little sore, and have my muscles repair and burn extra calories while I sit in the car and take for granted the wonderful modern convenience of automobiles. Even if I'm stressed and rushing around, I prioritize a 20 minute workout to get those muscles going.
Healthy road trip snacks are crucial. We wanted sweet, salty, filling, and the necessary chocolate covered espresso beans. We made coffee the night before and put in the fridge so we could grab and go at 4:30am. This helps to avoid the latte temptation while on the road. We snacked on unsalted mixed nuts until we stopped for breakfast. If you can, plan out your stops in advance around good restaurants or gas stations. We love Sheetz and try to stop there if we can, but couldn't this time. I ended up with a nasty breakfast sandwich that I ate half of, and then snacked on our healthy snacks when I was hungry again. Bringing a cooler and pre-made healthy meals is always a great choice, too!
What else did we bring? Annie's Cheddar Bunnies and Grahams, Pirate's Booty, 365 Breath Mints, and Kirkland Unsalted Mixed Nuts. The chocolate covered espresso beans from Earthfare were used sparingly. ;)
Workouts
Yes, I bring my dumbbells on vacation. It's not convenient, but they don't take up that much space. Since I didn't gain 5 pounds, it's worth the trouble. The only time I ever workout in the morning is on vacation. Please understand, these were not pretty workouts! I don't wait until I feel awake, warm, or ready. I just do it. I suck it up, power through, and then enjoy the rest of my day and my boosted metabolism. One day I didn't get to do that since we had early plans, but snuck in a 20 minute workout before dinner. No time is probably that convenient while on vacation, but pick what works best for you and consider that time sacred, not to be interrupted.
I believe you get the most out of your time by strength training, so consider that if time is a luxury. You could design a split routine so you can strength train every day, or alternate strength training and cardio, which is what I did. Body weight workouts are great if you can't bring dumbbells.
I just tried to stay active on my cardio days. I walked our dogs, paddle boarded, kayaked, and one rainy day I did 20 minutes just stepping up and down on our stairs. I hate running, so I didn't do that, but it's obviously a good option, too! Splurging is fun, but so is being healthy, feeling good, and fitting into the clothes you packed.
I recommend learning how to strength train instead of just watching DVD's for many reasons, but for vacation it's not always possible to workout in a room with a TV, DVD player, or Netflix. I used The Fit Tutor's Workout Creator on my phone and worked out in our driveway, which was kind of fun!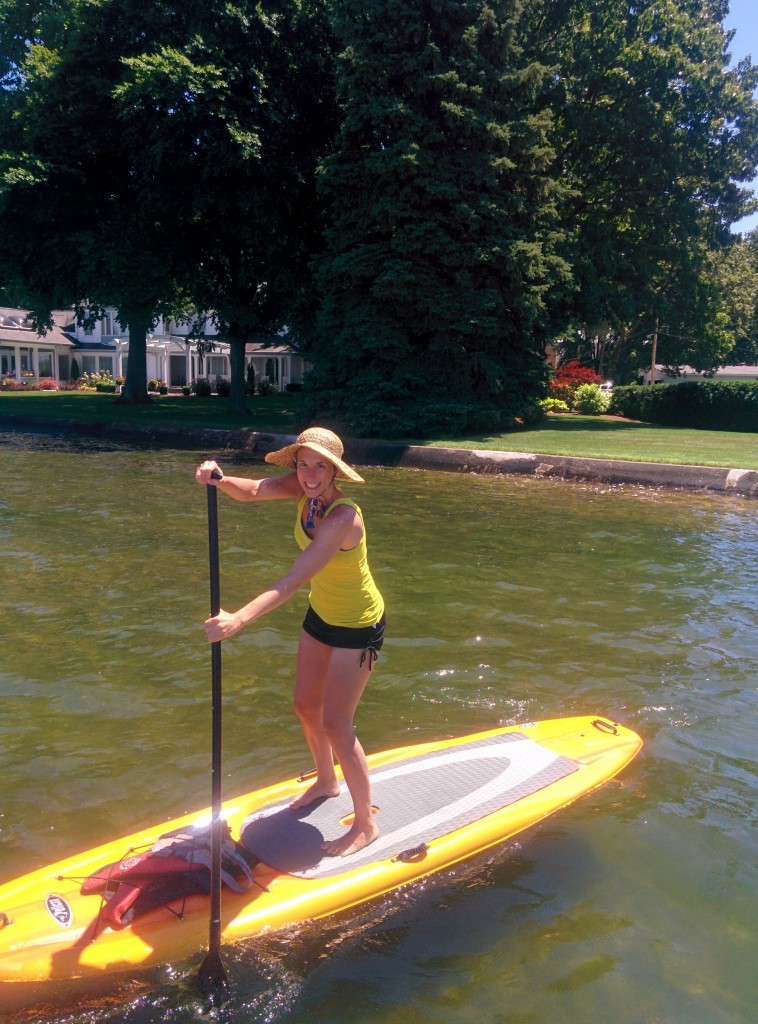 Food
I was disciplined for breakfast and lunch: I ate eggs, greek yogurt, or protein shakes for breakfast. I scooped a week's worth of protein powder and flax and hemp seeds into a plastic baggie to bring with us. I had donuts a couple days, but I made sure to also eat eggs with them (no sugar rush, please) and to workout that day.
Since we had a fridge, I loaded up on salad items: spring mix, tomatoes, avocados, cucumbers, cheese, and turkey lunch meat. If I got hungry before dinner, I had a smart snack, like string cheese. I made sure I went to dinner hungry, but not starving, so I didn't overdo it! If you have a fridge, stock it with healthy food. Don't eat every meal out. 
I was strict for those two meals because my family always goes out for dinner. You could pick your splurge meal around your schedule. I mentally prepared myself that I was going to mainly splurge at dinner. I had an occasional beer during the day, but consumed most of my liquid calories at night. I had 1-3 glasses of wine with dinner and hanging out. I also ran a train on some cream cheese dip one night. Oops!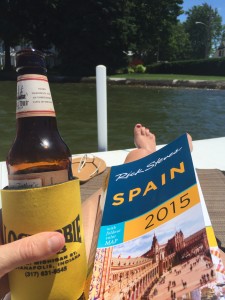 You better believe I ate burgers, an entire pizza, and gelato. I confess I cheated a little, and I totally recommend it. I wouldn't really recommend you do this on a daily or weekly basis- I believe you should learn how to eat right and practice self control. But to help with damage control, I took a Fat Fighter before dinner, which helps you to not store the extra carbs and fat you consume.
I didn't do anything crazy. I just prioritized exercise, exhibited self-control on 2 out of 3 meals, and although I relaxed a lot, I wasn't lazy. I think this is doable for everyone who stays in a vacation home, but you have to commit. Vacation workouts don't usually just happen. What can you take from my experience to apply to your own travels?
Home Sweet Home
Usually, we bomb the ride home. We forget to replenish our healthy snacks and are at the mercy of gas stations in rural Ohio. This time, we made a grocery run the night before we left and got some good snacks. I also ordered groceries to pick up the evening we got home. On trips past, we usually order Chinese or pizza when we get home, exhausted. I wanted to get back to eating healthy ASAP, so I planned out three easy meals, picked out some staples we usually have in our home, and ordered them online from Harris Teeter. If you know you won't want to cook after your trip, order your groceries for the next day, or buy something healthy and pre-made to pick up that night. I hope you have a place to do online shopping because it's a lifesaver!
I hope I don't sound like I'm bragging or oblivious to the fact that this won't work for every vacation. It's taken me awhile to avoid vacation weight gain, so I thought I would share what's worked for me! :) I hope you can take some of this and apply to your upcoming adventures. And if you really want to lose weight, plan a trip to Europe and just walk everywhere. Or join The Fit Tutor for workouts, accountability, and nutrition coaching. Just slightly less expensive than a Europe trip for as little as $11.99/mo!
Happy Travels,
Allison
PS: I hope it's clear this is for vacation, not every day life. Although compared to the typical American diet, it's probably still better ;)