Friends, I promise I have not fallen off the face of the planet. I have been busy. Too busy. And things are finally slowing down. I have plenty of good news to come from this crazy season of life though, and one is that I perfected my go-to running out the door meal! It's healthy, tasty, has a great macro profile, and is chock-full of nutrients! It keeps me full and has helped fuel my workouts and busy days the last few months! I'm so excited for you to try it!
I've been up to a lot lately and have learned a lot of lessons! I don't love busyness, and I don't think it's healthy for us to be busy all the time. My goal is to slow down, enjoy every moment, and be in control of my stress. I had to throw that dream out the window and go heads-down and work my tail off for a few months, though! I am learning to say "no" to things and figuring out the hard lesson that not all "good" opportunities are best for me. The best news is that I took a quick step back from blogging to finish up studying for my nutrition certification! I'm now a certified nutrition coach, and I can't wait to add a nutrition component to The Fit Tutor memberships! More on that later…
On-the-go Meal Recipe
OK, let's stop the yammering and cut to the chase. You want to try this recipe!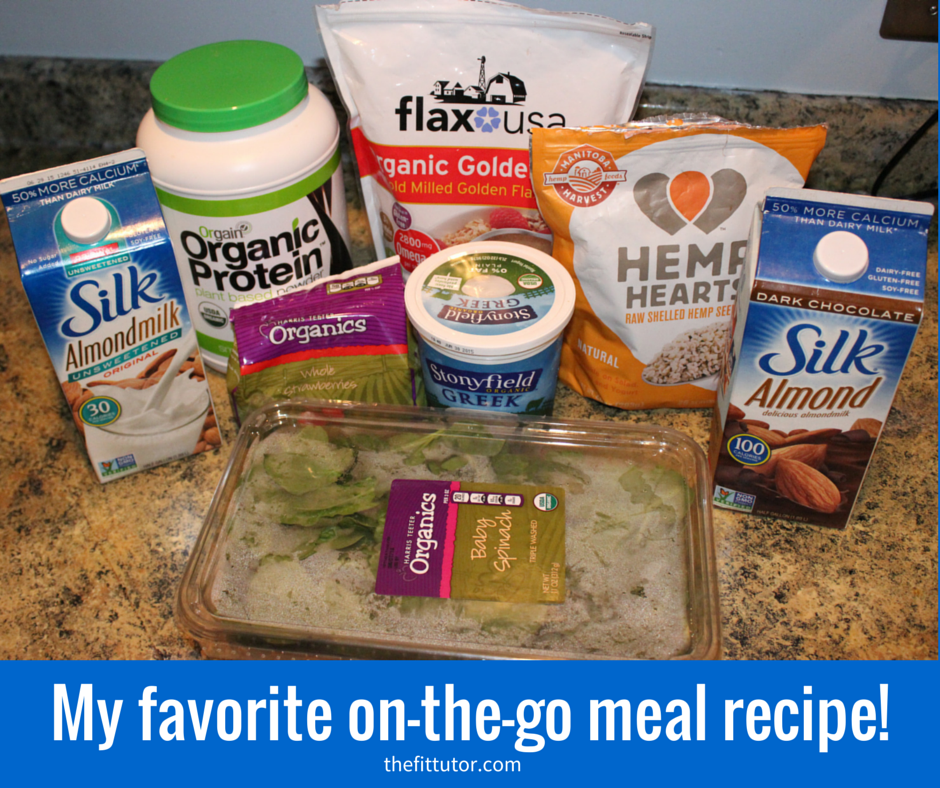 I know it looks like a lot of ingredients, but it seriously takes me 2-3 minutes to make this. You will need a decent blender. I have a cheap Ninja food processor that words fine, though it's not much to look at. You will also need:
3/4 Cup Regular (or Vanilla) Almond Milk (30 calorie kind – I use Silk)
1/4 Cup Dark Chocolate Almond Milk
2 Scoops Orgain Chocolate Protein Powder
1/4 Cup Organic Plain Greek Yogurt
1 Tablespoon Hemp Hearts
1 Tablespoon Flax
2-3 Frozen Strawberries
1 Handful Organic Spinach
Step 1: Dump everything into the blender and puree!
Step 2: Pour into your to-go cup and run out the door to dominate your day.
Click here for step-by-step photos of the recipe: Step by step, oooh babay….
I've used this for breakfast, lunch, and even dinner depending on what my schedule is like. It's tasty but low in sugar and high in healthy fat, fiber, and protein. Here's some more info about its profile: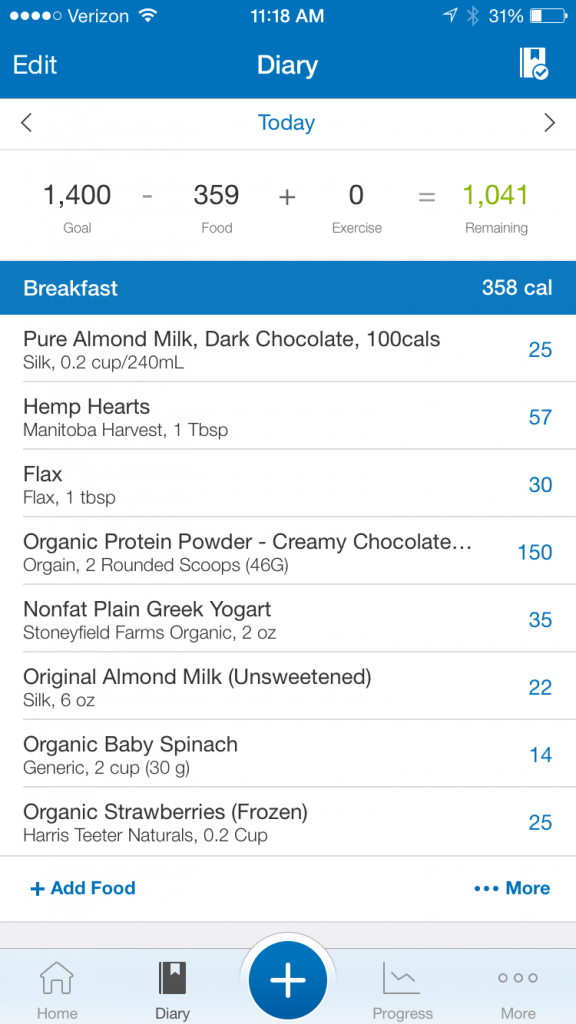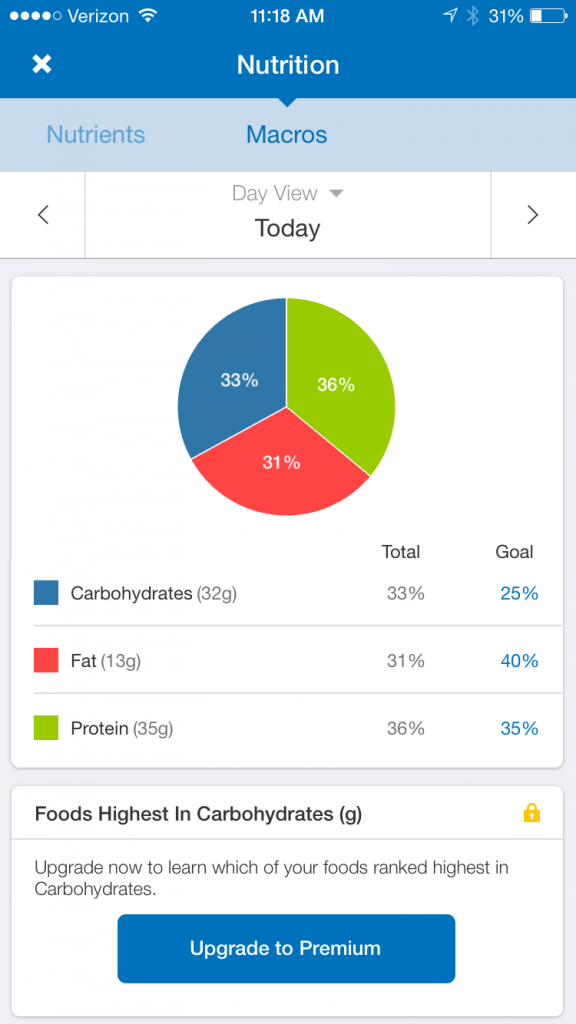 Make It Yours
It's easy to make changes to as well!
I used to use a pre-made meal replacement drink, but I started to gain weight because it had a lot of carbs. With a little extra effort I can still have this easy meal but have it help me lose weight instead of the opposite! Here are some ideas on how to make it different but still healthy:
Add 1/8-1/4 cup Bob's Red Mill Oats (post-workout or for really active days)
Use a different flavor of protein powder and add a splash of juice instead of chocolate almond milk
Swap out flax or hemp for chia seeds (or use in addition to)
Swap out strawberries for coffee ice cubes
Add in coconut oil
Depending on the day I'll add in a greens powder or turmeric powder (buy here)
After a workout I'll make this shake but skip the hemp and flax and add another strawberry or two (you don't want a lot of fat post-workout)
What's your favorite super shake ingredient? :)
Get Fit No Matter Your Schedule
Hopefully life will slow down a bit and I'll be able to make more real food meals instead super shakes. If you're in a busy season of life, I encourage you to give this a try! If you aren't sure how to squeeze in workouts during your busy days, The Fit Tutor specializes in at-home workouts for busy women. We'll teach you how to exercise, and you'll have an arsenal of fat-blasting moves and quick workouts to help you look and feel your best, no matter your schedule.
Sign up for your free-trial! I know have a full Nutrition Course up and running- try it out and see if it's right for you! Accountability included ;)
Thankful to run this race with you,
Allison
Shoutout to Precision Nutrition for the awesome course, knowledge, and for posting this article on super shakes that lead me to create this recipe to share! 
Also, there are some affiliate links I've included for my favorite products. Follow the link to Amazon and buy, and I get some pocket change as a "thanks for the recommendation" gesture :) I appreciate it!