I'm excited to share with you some of my journey learning to handle setbacks. I'm focusing mainly on my health and my fitness routine, but the coping strategies span across all aspects of life! I've helped lots of clients through various types of setbacks, and have learned the mental battle is often the toughest!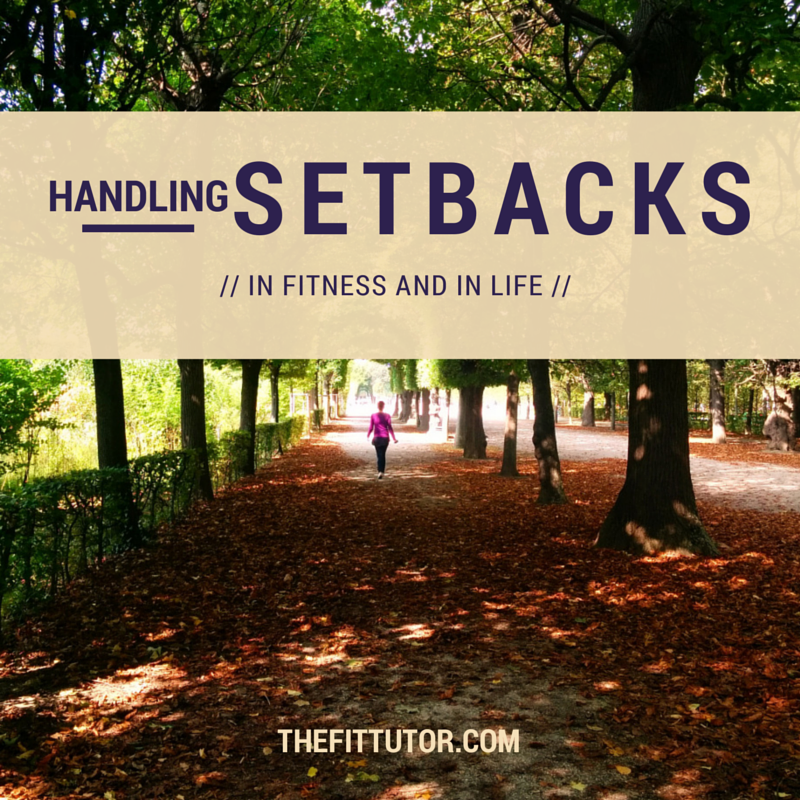 My Story
My biggest setback was a car accident on 10/25/2013. I'm still in pain, even as I type this. My husband and I walked away from the accident with "only" whiplash and a nasty knot on my knee. Wow. Had we left just a few seconds earlier we could be telling a much different story. Although we have a lot to be thankful for, we have dealt with a lot of pain, anger, frustration, and both physical and financial setbacks.
There's hardly a "good time" for a car wreck, but we were in the middle of filming The Fit Tutor videos– that we needed to get done to launch by late December. Yeah that didn't happen... I was forced to rest due to my constant pain, and during that time I lost about 8 pounds (all muscle, unfortunately). I went from being in the best shape of my life to the worst in a matter of weeks.
And so it began: a year's worth of starting and stopping exercise, new therapies, and seeing results only to lose them shortly after. I was almost always in pain, and traveling destroyed me. Thankfully, 10 months after our accident, I discovered Bowen Therapy. I'm not pain-free, but I was able to travel to Europe and back with only taking about 4 painkillers and some Deep Blue Rub! I consider that a success.
Because of this experience, I've learned a lot about handling setbacks, especially when it comes to my exercise routine. Here's what I've learned:
9 Strategies for Handling Setbacks
1. Keep Perspective
This is probably the biggest battle you will face, and all of the other strategies deal with this in one way or another. There were days it would've been so easy to feel sorry for myself or to be angry with the person who caused the accident. I had to intentionally focus on what I had- not what I lost, and the things I was thankful for. I reminded myself that this was only temporary. This wasn't easy! I encourage you to write these things down where you can see them, and to designate a go-to positive, perspective-keeping person to talk with when you struggle.
2. Daydream About the Future
Yes, I daydreamed about working out, being healthy, and pain-free. Perhaps more importantly, I thought about what the future would look like if I gave up. Those were scary thoughts, and I knew there was a lot of regret ahead of me if I chose to quit. I know some of you reading this are currently on that path. You gave up and now have the daunting task of re-starting. Let me encourage you that you CAN do this, and you are worth it. You aren't too far down that path to turn around and start living a healthier life.
"I thought about what the future would look like if I gave up.  I knew there was a lot of regret ahead of me if I chose to quit."
3. Be Thankful
It's very natural to complain and to allow your feelings and frustrations to take over. Your complaining makes nothing better, and it brings down those around you. Remember the episode of Friends when Janice dumps Ross because she thinks he's too annoying and whiney!? We never want to be there… ;)
Our situation could have been much worse, and constant neck and muscle pain was a small price to pay to have my hubs here safe and sound. Thankfulness was a choice I made daily. I chose to be thankful for the accident. For the person who hit us. For all the lessons I learned while going through this trying time. I chose to be thankful for what I could do, instead of focusing on what I couldn't. That was hard and involved forgiveness, but it was life changing.
4. Surround Yourself with Positive People
I hid complainers on my Facebook feed and spent less time with negative people. I only talked about my pains and frustrations with people whom I trusted and I knew would be real and positive. I avoided people I knew would allow me to turn the conversation into a complain-fest, which only feels good for so long.
5. Celebrate
I chose to celebrate each and every victory, no matter how small. I celebrated every time I started up a new type of therapy or workout program, even if I had to quit after a day or two. I celebrated being able to build up our chiropractor's business, heated seats in my new car, when I had a migraine but didn't get sick, the days my pain was lessened, etc. When you are always celebrating the little things, you have less time to get down about what's not going right. I also celebrate how I have grown since walking through this circumstance. I am not the same person I was a year ago.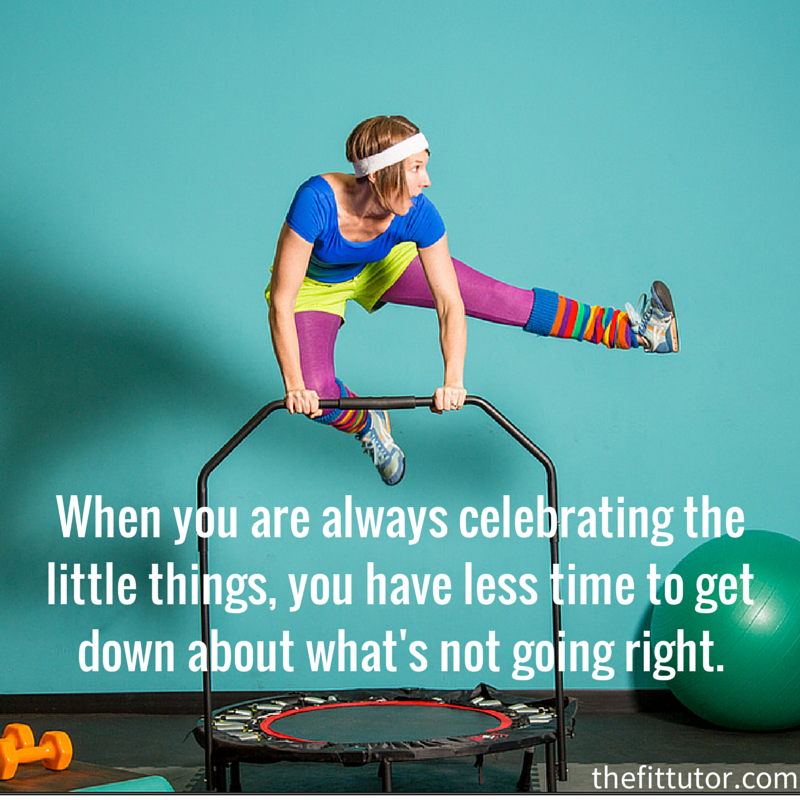 6. Enjoy the Journey
Having the mindset that I was on a journey to healing and had a lot to discover really helped me. I appreciated the knowledge, stories, and people I encountered along the way. I stumbled upon information that enabled me to better help my clients, which was invaluable! I also learned to empathize better with others, especially those who struggled with flashbacks. There's a lot to learn, and I had a lot of room to grow. Had I not gone through this I would have missed out on all of these opportunities to mature, learn and share.
7. Work Out When You Can
If you're dealing with an injury that affects your workout routine, I know you feel my pain. Even if you don't like exercising, it's awesome to know your health is in your hands. The key was doing what I could when I could, and not passing up an opportunity on those days I felt good enough. I prioritized rehab exercises, even though deadlifts were so much more fun! You may have to change what you consider is a "workout" and lower your expectations, but remind yourself it's only temporary. Try new types of exercise to find something that doesn't aggravate your injury, and follow your doctor's orders to a T!
8. Set Clear Boundaries with Food
When you are struggling with discouragement it's easy to eat your feelings. I had to be mindful of this and enlist the hubs as my accountability partner. When you aren't working out, you need to adjust your food intake. I focused on portion control and eating until only 80% full. I made a point to only keep healthy food in the house, and have plenty of fruit when I wanted sugar to cheer me up. I channeled my frustration into something beneficial, like learning to cook new healthy recipes, studying, working on my business, etc. It might be helpful to meet with a nutritionist or pick up a book about healing foods for your type of injury or setback.
9. Journal
I saved this one for last because it includes all of the others I mentioned! I have a journal full of my frustrations, thankfulness statements I wasn't feeling at the time but trying to believe, updates on progress, setbacks, workouts, meal plans, etc. My journal was a great place to release my thoughts, fears, frustrations, etc. I'm sharing with you my workout side of the story, but I also struggled with fear, having flashbacks, financial stress, and forgiveness. Not to mention the giant threat it posed to launching The Fit Tutor! I hate when circumstances define me. I'd rather be in the business of defining myself. But if circumstances are going to define me, they might as well make me stronger and define me as an overcomer.
I encourage you friends if you are going through a setback, try some of these strategies. Don't give up. Keep fighting. Your health, both physical and mental, is worth it. Every time you get knocked down, get back up. And find a friend to encourage you along the way.
"If circumstances are going to define me, they might as well make me stronger and define me as an overcomer."
The Fit Tutor has workouts for beginner, intermediates, and advanced exercisers. If you're new to exercise or are overcoming an injury or health issue, you might want to try our beginner modifications. If you're looking for a great way to exercise in the comfort of you own home, come check us out, whatever your stage of life and workout experience!
An update on where I am now, just a year after the accident: I'm halfway through an 8-week Workout Program, which hasn't increased my pain! I've kept off the 8 pounds, and am focusing on gaining muscle and eating clean! Excited to be working out consistently and hoping it lasts. I celebrated the year anniversary of our accident by starting to film 20 new exercises to add to The Fit Tutor.
An update 10/25/16, 3 years after: Wow. 3 years. I still battle a lot of pain from my whiplash. It's really triggered by my anxiety now, so I go to an upper cervical chiropractor and am practicing yoga, mindfulness, and kicking ass with weight training. I can do just about any workout, but things like pushups make my neck scream the next day. What a slow journey, but thankful to be on this side!
A big update 2/2018: I've experienced great relief through my Upper Cervical Chiropractic care, and I was diagnosed with some serious food sensitivities (you can read about that here) and that has helped with chronic inflammation, and was probably part of the reason I wasn't improving!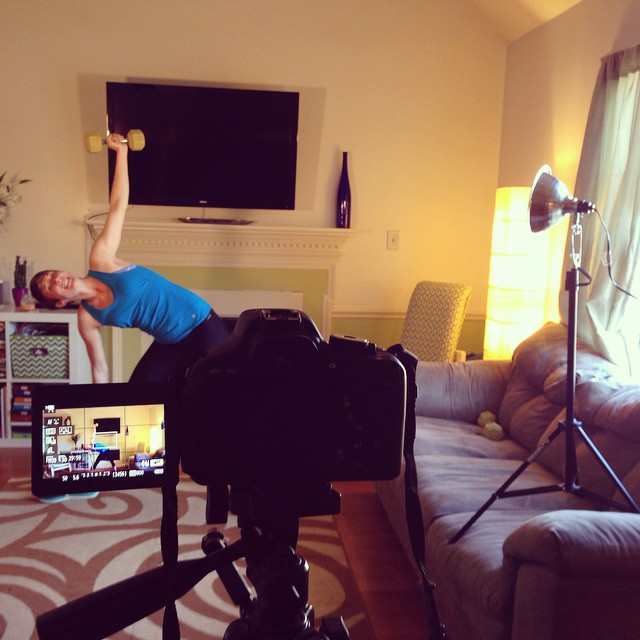 Cheering you on!
Allison
*I would like to add my faith has played a significant role in my journey as well. I shared these principles without tying them into my faith so all others could benefit, even if they don't share my beliefs. :)