Great news! It's possible to decrease the carbs in comfort foods and your favorite carb-heavy dishes. It usually involves replacing at least part of the carb-heavy food with a less carb-heavy food. You know, typical rocket science. Here's how to love low carb livin'!
Here are some examples, but this is totally not a complete list!
Warning: this involves some cooking and weight loss!

How Lower the Carb Count of Your Favorite Foods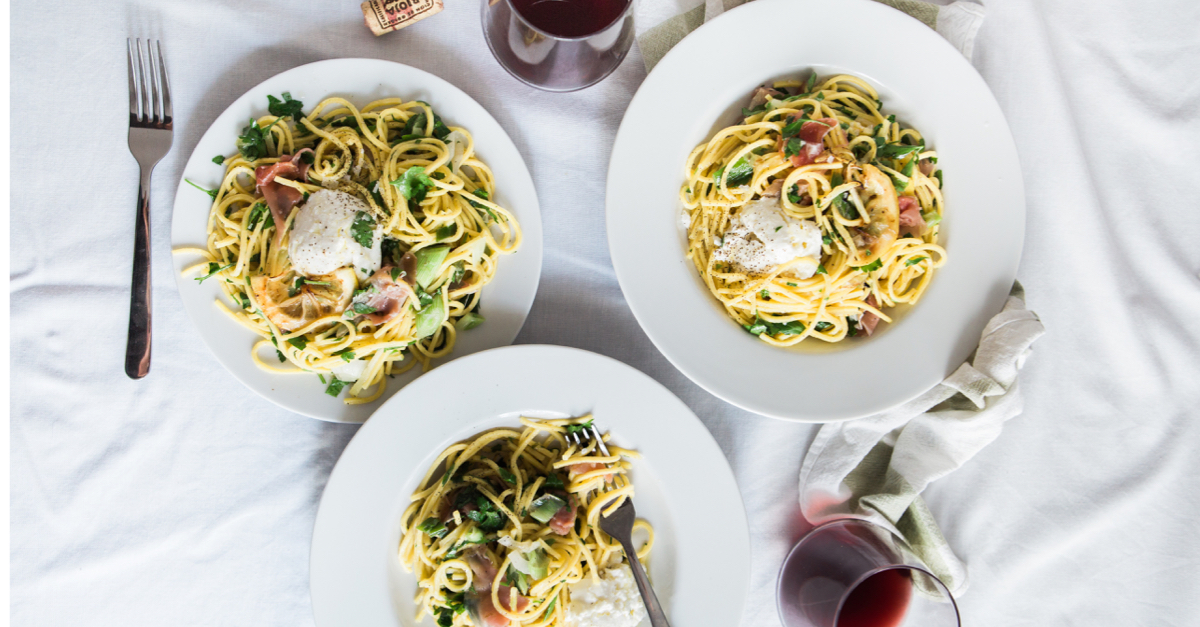 Pasta
By using a spiralizer, you can make things like zucchini, squash, sweet potatoes, carrots, cabbage, etc into noodles for your favorite pasta dishes and soups!
Not ready to commit?
Go half regular pasta- half healthier pasta and cover with your favorite sauces. This is what I affectionately call the "halvsies rule."
Even doing things like adding cheesy cauliflower to mac n cheese (replacing some or all of the noodles) can reduce the carb content without sacrificing flavor!
Grocery stores are now selling veggie noodles in their produce section if you don't want to make your own. You can also buy "low carb" noodles, and Shiratake Noodles or "Miracle" Noodles are great low carb replacements that don't require you to have a spiralizer.
While we're on the subject, thinly slicing vegetables like zucchini or eggplant lengthwise can make an excellent low carb lasagna noodle alternative.
The possibilities are endless. Use fresh herbs and spices to make sure your dish still has plenty of delicious flavor, even though some of your comforting noodles are missing.
Chips
You can turn veggies into "chips" by using a knife or mandolin slicer. 
Popular ones include zucchini, sweet potato, beets, kale, carrots, etc. Spray with olive oil, season, and bake until crispy. Make sure they are thinly sliced and the same size so they bake evenly!
Fries
Same premise as the chips, but use a sharp knife to cut the veggies into fries or wedges.
You can make these healthier by using a heart-healthy cooking oil, like Avocado Oil or Extra Virgin Olive Oil, instead of the questionable cooking oils used in deep fryers. Bake these veggie fries in the oven, and dip into sriracha or an aoili to help make them extra flavorful if you miss your golden, deep fried butatas. 
Try zucchini, turnip, rutabaga, sweet potato, or carrot fries instead of potatoes. Potatoes aren't evil, but if your goal is to lower your carb intake, then at least mixing your homemade, healthier potato fries with some zucchini fries will help reduce your carbs!
Tots
Tots are my favorite late night bar food. Making my own would save me hundreds of calories and carbs! Like fries, baked tots are much healthier.
Try broccoli, zucchini, or cauliflower, or mix and match with potatoes to lower your carb consumption with healthy veggies.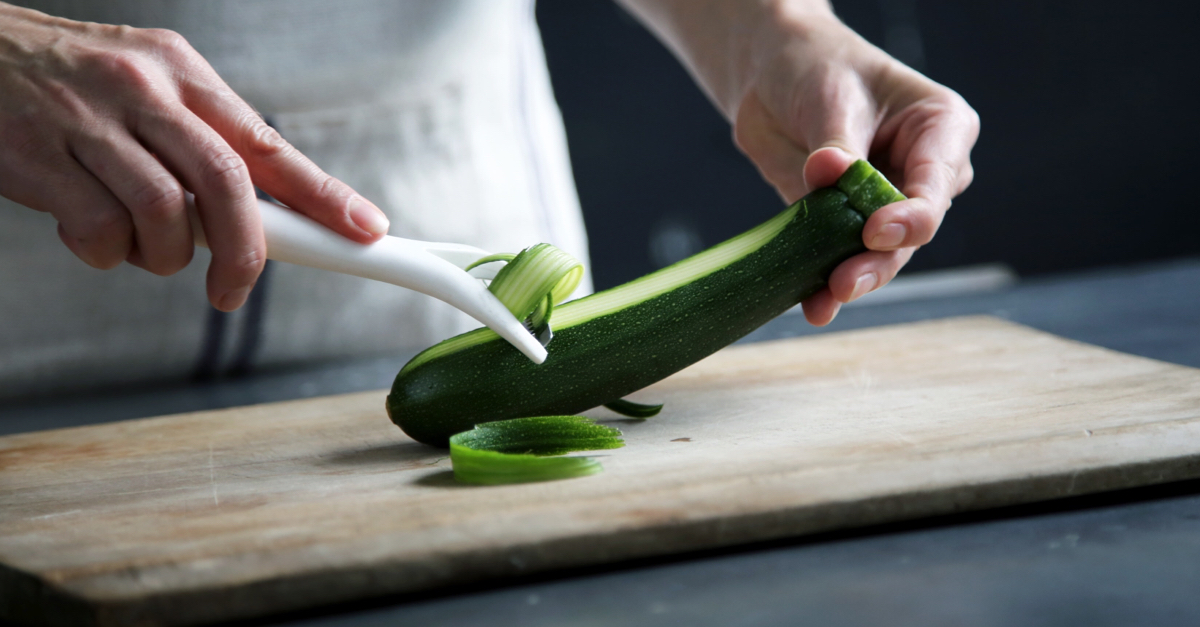 Pizza

Cauliflower pizza crust and garlic bread are a real, delicious thing. Other "pizza crust" options include zucchini and spaghetti squash!
You can even find some that mix with regular flour, so the veggies are snuck in and not the main component! This would still definitely lower the carb count when having pizza. 
Pro Tip: Cauliflower is stinky. Buy frozen or pre-riced to save your nose.
And while we're talking about pizza, you can purée veggies into pizza sauce and add them as toppings to increase the nutritional content of your pizza. You can also put pizza toppings, seasonings, sauce, and cheese over zucchini boats, spaghetti squash bowls, or even over lentils or quinoa!)
Soup Thickeners
Instead of always adding flour to soups to thicken, try taking a cup or two of the soup, blending it, and adding it back in. Whisking an egg yolk or some arrowroot powder instead is another good option. Look this up before adding to your specific soup for tips and tricks to make sure it will work well.
My personal fave is adding blended butternut squash. Squashes are higher in carbs than other veggies, but they are packed with nutrients, and it doesn't take much to make your soup a little thicker!
Rice
Cauliflower rice is my favorite rice replacement. Sometimes I'll go half-quinoa half-cauli rice or half-brown rice half-cauli rice if I'm craving hearty carbs! This is also something the hubs can get on board with as well. 
Other options include cabbage, broccoli, spaghetti squash, and plantains, although I'm sure the list is relatively endless!
Nachos
Repeat after me: I do not have to give up nachos to be healthy.
I love to make a nacho base with homemade rutabaga chips instead of tortilla chips!
…Or dare I say shoot for a taco salad-style nacho plate with lettuce? Sweet potatoes, kale, and butternut squash would also make a great base for nachos. Think about what you want to put on top of them, and choose your base. Remember, the halvsies rule (half chips, half veggie chips) can work with most of these options!
Swap Potatoes with…
Another way to lower your carb content of your meals is to swap potatoes for lower carb vegetables. 
My go-to's include cauliflower or rutabagas, or go halvsies so you still get the potato taste you love. I think these actually taste kind of like potatoes, so I don't feel like I'm missing out.
Mashed garlic cauliflower is to die for, and my husband doesn't even notice when I replace potatoes with rutabagas in soups or chowders! It's worth a shot if you have a picky fam… just hide the evidence. 
Veggies as Plates
OK.. so this category is kind of vague, but it's awesome.
You can use low carb vegetables for your plate for a creative dinner idea. This requires no extra work besides chopping up some veggies!
You can make things like eggplant parmesan on eggplant slices, fancy cracker appetizers on sweet potatoes or cucumbers instead of crackers (or opt for lower carb veggie-based crackers), and pizza bites on zucchinis instead of bagels. 
…or Bowls
Try adding your favorite chicken parmesean, burrito, or chili recipe to a spaghetti squash bowl instead of pasta, chips, or cornbread!
Don't forget the stuffing! Stuffed portabellas and peppers make for great controlled-carb meals, too. Fill with your favorite meat, sauces, and cheese, and enjoy. Veggie bowls are genius and easy. 
Bread Alternatives
In addition to the "crusts" we mentioned before, cauliflower can be subbed as "bread" in grilled cheese. Mind blown.
Portabellas can be delicious buns for sandwiches, and you can bake your own "paleo" breads or buy pre-made by brands like Know Foods.
For anything grilled, like burgers or sausages, we opt for bun-less and go crazy with delicious toppings. Making an open-faced sandwich and eating with a fork is a great way to get your bread fix, but cut the carbs in half. 
And we can't forget the infamous lettuce wrap. They're not exactly that filling, but they leave room for more protein and veggies! I've actually had some really filling ones from Sunbasket that made me re-think my stance on lettuce wraps. 
Toppings
I frequently sabotage a healthy soup or taco bowl by piling on tortilla chips. If I'm in weight loss mode, this will just not do. I turn instead to crunchy purple cabbage! It adds the crunch you would miss by leaving out the tortilla chips.
(I only use chips as toppings. Tell me your fave toppings and I'll see if I can find a low carb option!)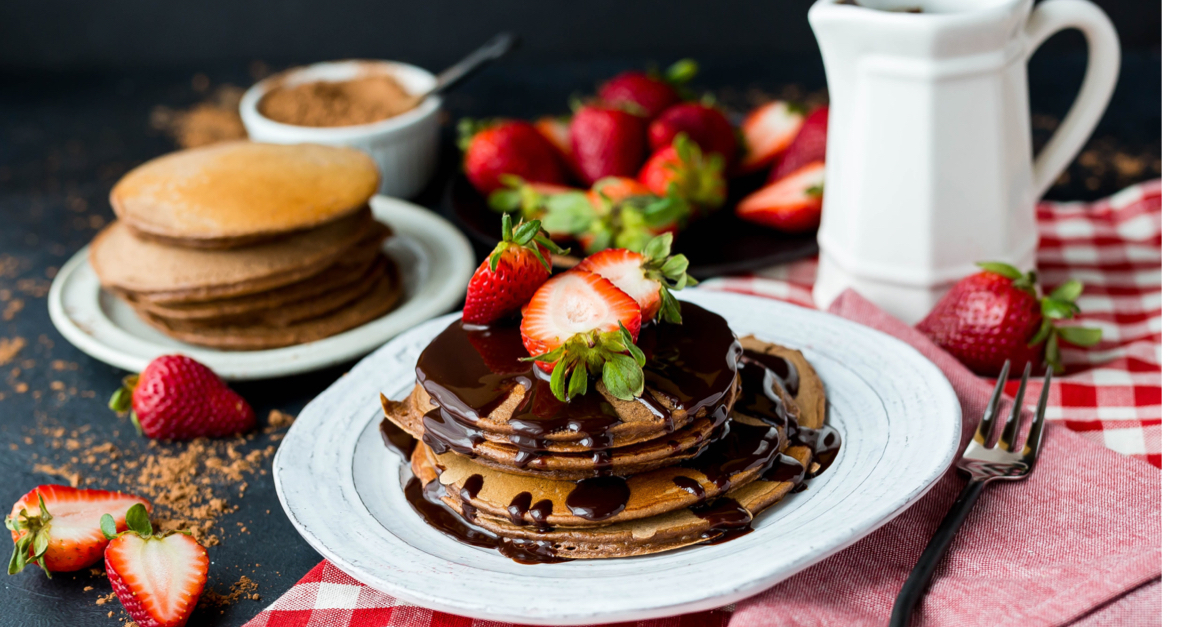 Pancakes and Waffles
Trying a healthier flour alternative is an easy way to make a lower carb pancake or waffle. Almond or coconut flours are popular, and even bananas can still be lower in carbs than regular white flour. Oat flour can add more protein and is often lower in carbs than regular pancake mixes. 
With the rise in popularity of these flours, you can easily find recipes for your favorite foods. Some brands, like Know Foods and Bob's Red Mill even sell pre-packaged pancake or paleo bread mix!
Dessert and Baked Goods
Disclaimer: I would only recommend doing this with a "healthified," low-sugar version that uses only healthy ingredients. I wouldn't suggest making this the only way you get your veggies in, nor is something actually low carb if it's high in sugar ;)
There's plenty of ways to sneak healthier foods into your baked goods to not only decrease the carb count, but also up the nutritional value! Examples include muffin recipes where you sneak vegetables in, brownies made with beets, black beans, zucchini etc.
Personally, I've not tried many of these but I've made (and enjoyed) some muffins with veggies and an avocado mousse. You'll find a variety of ideas on this Pinterest Board!
Do I Need a Low Carb Diet to be Healthy?
Woah. This requires such a long answer, but let me do my best here: No.
But it's helpful.
Many people, especially Americans, consume more carbs than they use. If you don't use them, they are stored as glucose or converted to fat. They can cause you to carry water weight, and eating too many can also interfere with your body's blood glucose levels and decrease the effectiveness of insulin.
I'm not writing this post to say you need to go on a low carb diet, but I'm suggesting that controlling the carbs you eat can help promote weight loss. There are ways to enjoy your favorite foods with lower carb options if you're not currently training for a marathon. And eating more nutritious veggies can help you feel fuller, improve your health and body composition, and they are just darn good for you!
Get to Cookin'
If you can come to terms with the fact that cooking isn't the devil, then I think losing weight won't be as difficult for you as it is for some people. And if you're not really sure what healthy eating looks like, or your sick of articles that tell you only part of the story and you don't feel like you're piecing them together well, I've got something for you.
Sign up for my Nutrition Course, which will teach you how to eat right for you – your body, your taste preferences, your lifestyle. You won't need to diet anymore; you'll know how to eat right for life! And, you can get coaching and accountability with it, too!
Oh… and the course comes with optional workout programs, so you can help your body use those carbs you love so much!
Email me with questions or sign up now while you're thinking about it! It has changed lives- why not yours?
If you have any favorite foods I didn't mention, leave me a note in the comments! And if you didn't already notice, there are tons of recipes linked up here… share or save this so you can come back to them later! I've included a few affiliate links to some of my favorite products. At no extra cost to you, I can make a little extra money to put back into my business if you use them. Thanks, friend!
Controlled Carbin' it with you,
Allison