Starting off your day with a well-balanced meal is one of the kindest things you can do for yourself and your body! This smoothie has fruits and veggies and packs 20+g of protein. Its fruity and tart punch is everything you need as the sun comes back out and we venture out of hibernation. The raspberry lemonade smoothie flavor is my favorite, but it's versatile and is also delicious as blueberry or strawberry lemonade! It should keep you full until lunchtime and has a nutritional profile that will help you lose weight and/or gain muscle- whatever your goals are!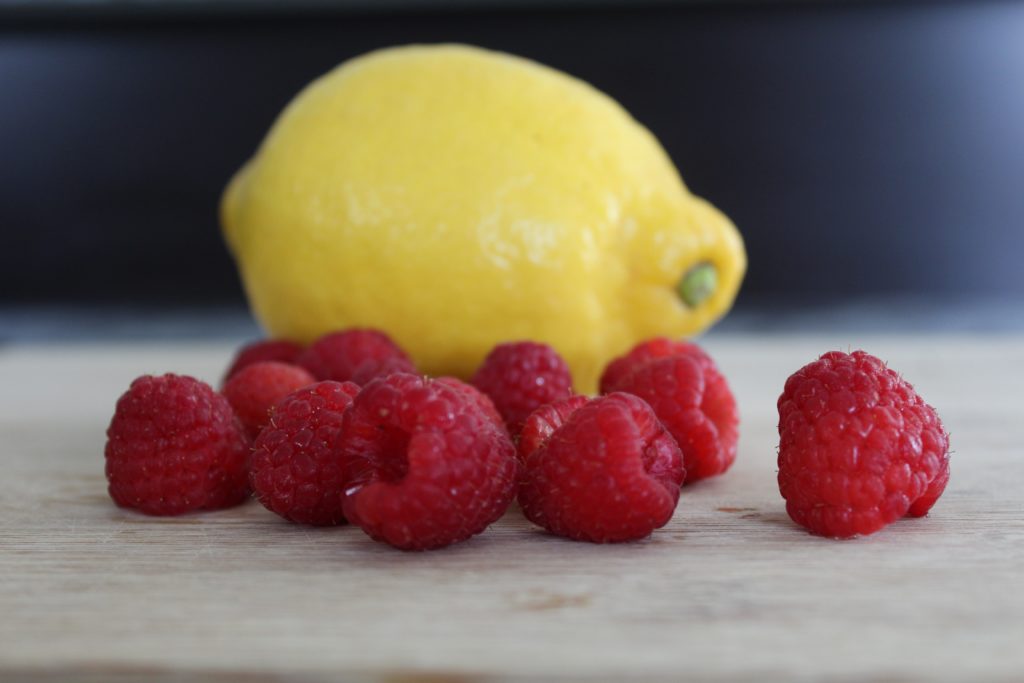 Raspberry Lemonade Smoothie Recipe
I get so annoyed when food bloggers tell their life story and make you scroll for ages with endless pop-ups to get to the recipe. This one is worth waiting for, but I like you too much to make you endure those shenanigans. Let's get to it.
1/2 Cup Milk or Milk Alternative of choice (I like Ripple or Organic Almond milk) – more if needed
1-2 Frozen Zucchini Sticks (Zucchini is the most tasteless smoothie veggie ever, more on that below) Could also sub with spinach, kale, frozen cauliflower rice…
1/2 Banana or Apple – if you're watching your carbs, choose an apple! Try both and see which keeps you full for the perfect amount of time. I love them both; it's hard to choose.
2 Scoops Orgain Vanilla Protein Powder – 2 scoops = 20g, so try to get at least that much in if you're using a different brand. Vanilla is a great flavor for this smoothie.
1/3 or 1/2 Cup of Frozen Organic Raspberries or blueberries or strawbs, as mentioned above. Buy these fruits organic if it's in your budget.
The juice of 1 small lemon or 1/2 large lemon – if you keep your freezer stocked with lemon cubes, I think 2-3 work well! Try it and add more if you're looking for more pucker!
1/2 tablespoon of healthy fat like coconut oil or a small slice of avocado.
*there are some affiliate links throughout this post. If you purchase off them, I get a small cut at no extra cost to you that helps me keep the fit tutor's prices so low. Check out other recs in my shop!
Tips for Making the Raspberry Lemonade Smoothie
I make this almost every morning and I just eyeball everything. Not helpful, I know. Here are some tips to make this perfect and easy!
Frozen Zucchini Sticks
I buy several zucchinis every few weeks and cut them into sticks and put them in a freezer bag. To cut into sticks: cut the ends off, then slice in half, and then quarter the two halves. You should have about 8 sticks that are a few inches long and not super thick. This is tasteless in my smoothie in my opinion, but you're welcome to swap it out with your favorite. We sneak in veggies for those we love, including ourselves ;)
Lemon Cubes
These days I'm a bit too lazy to do this, but you can juice your lemons and freeze them in ice cube trays! This saves you the step of cutting and juicing your lemon if your time is precious in the morning. I do looooove fresh squeezed lemon juice, though!
Other Tips
Really, your taste buds are different, so add or subtract fruit as needed. Add or subtract milk as needed. Freeze your bananas. Add an extra scoop of protein. Or a scoop of berry greens. Add in some greek yogurt. Sky's the limit, friends.
Don't leave out the fat. Healthy fats are crucial for ensuring your body absorbs all the nutrients in this smoothie. Fat moderation is important, but going fat-free is a fad that died and won't comeback, unlike Hammer Pants in 2021.
Finally, if you haven't invested in a good blender, I'd highly recommend it. I got my Ninja 4 years ago and it's still going strong. It's around $120. It's one of those adult investments, like good knives, that you'll kick yourself for not getting earlier. Fun fact: this recipe fits perfectly in the Ninja's smoothie cups.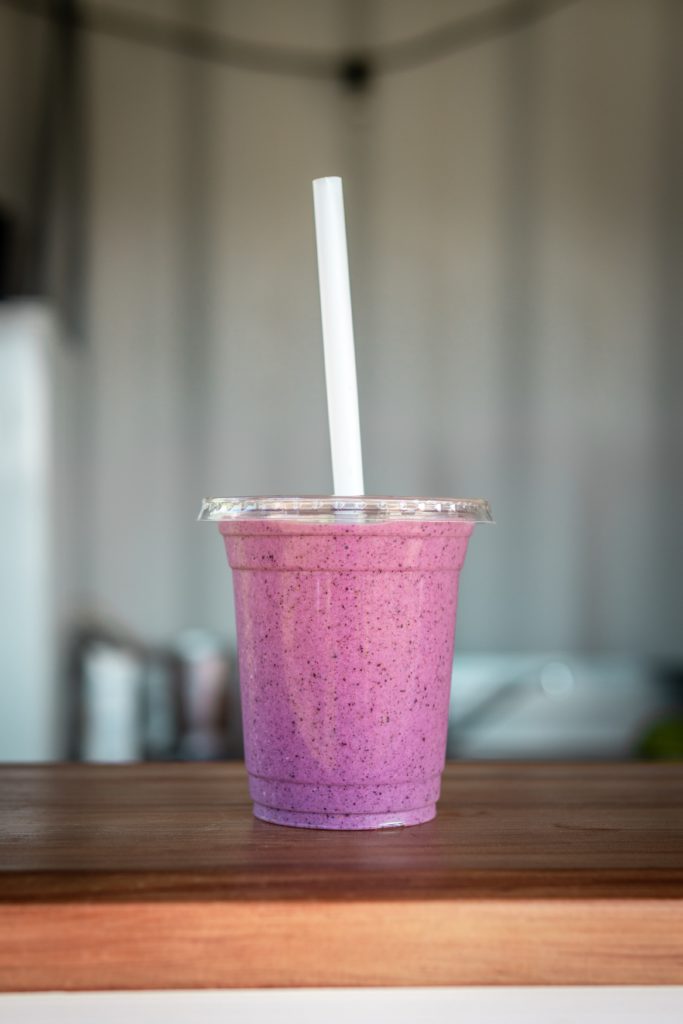 Raspberry Lemonade Smoothie Nutritional Profile
The calories add up to about 350, including 24 grams of protein, which is great way to start your day. Giving your body nutrients (vitamins and minerals in the fruits and veggies, protein to help you build muscle and stay full, etc) is such an important way to take good care of yourself.
If you're nervous about the calories, I added the banana (or apple) in just to make sure it kept me full for 3 hours. I try to eat about every 3-4 hours and try to prevent myself from feeling too hungry. You could try it without and see how that goes!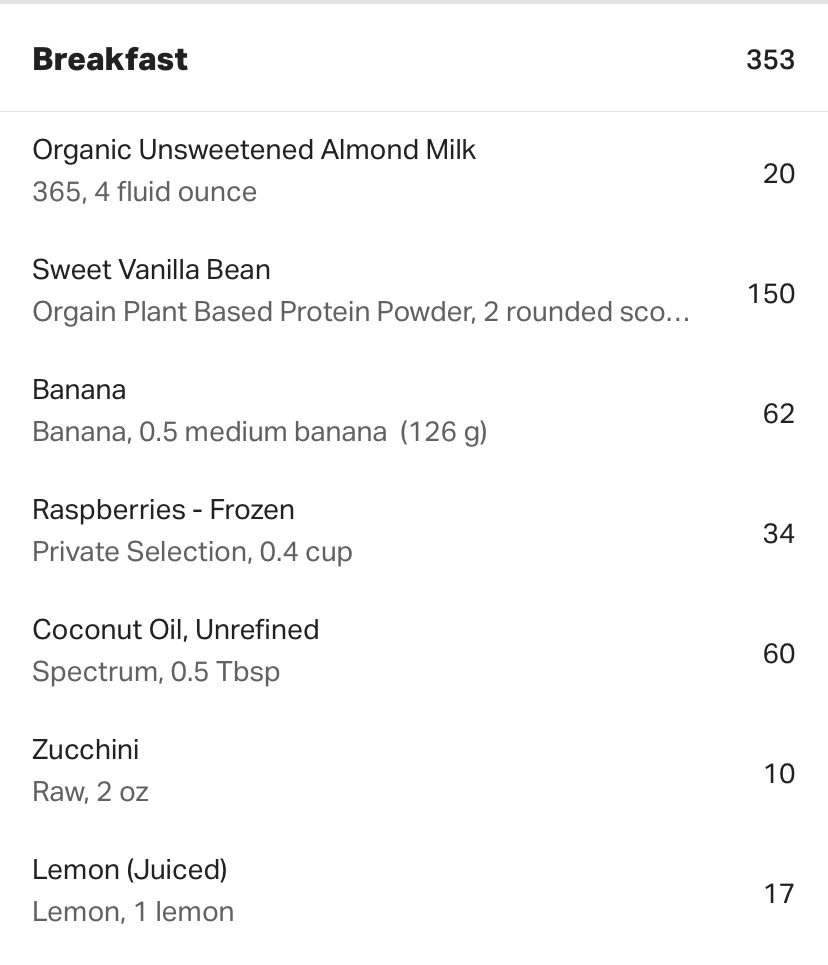 Although I don't keep close track of my macros, I set my goals for what works for my body and on days I log my calories, I check my "nutrition" on MyFitnessPal and see how what I'm eating measures up. This smoothie does quite well. (You can see my goals are the percentages in blue.)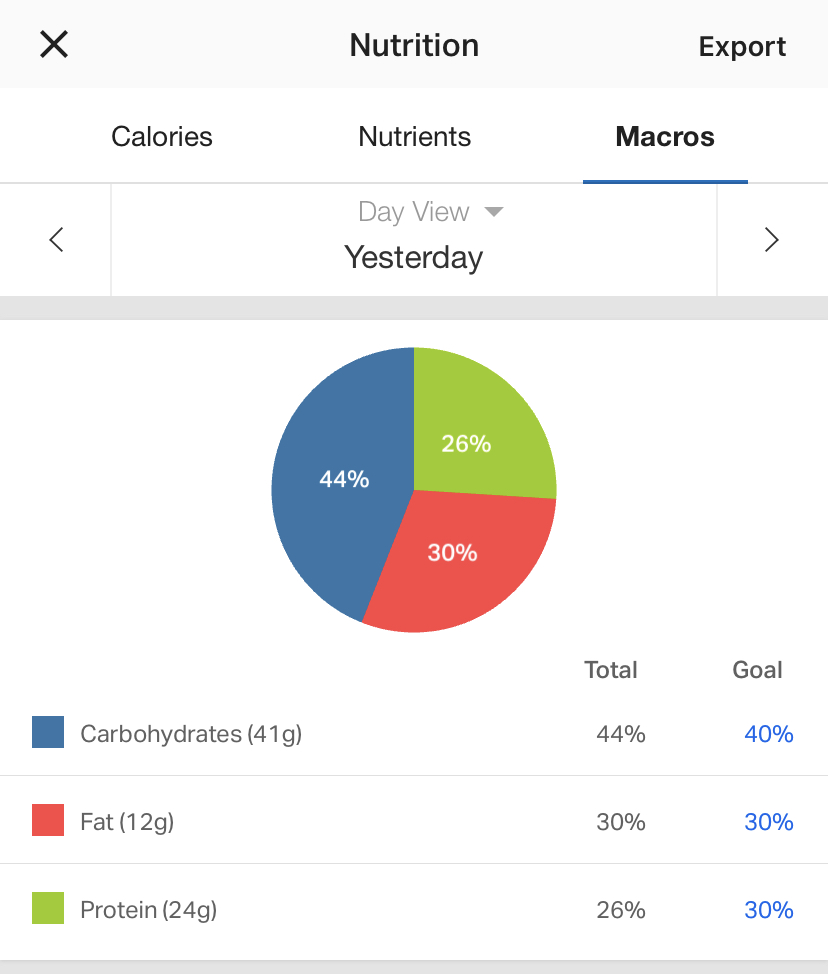 Some of the superstars are
If You Want to Know More About Calories or Macros…
I think tracking food is totally optional and not crucial to weight loss or gaining muscle! However, if you're feeling like you're doing all the right things and you're not even inching towards your goals, I think these can be excellent tools to make sure you're on the right path. I've written extensively about this in the past, so check out these articles:
Cheers!
After the year+ we've had, we deserve to enjoy summer and take better care of ourselves! Make this healthy raspberry lemonade smoothie recipe and let me know how you like it or what tweaks worked for you!
I think it pairs nicely with at-home workout program, like the Dirty30 that I'm finishing up this week!
Cheers, my friend. To your health!