I'm on a mission to help you on your journey to find ethically made and sustainable activewear that works for you! You've heard me talk about Satva before in my ethical workout leggings post as well as my ethical activewear guide! I'm stoked to partner with them to introduce their new 2019 Spring Collection. They sent me a few samples to try out, but I'm giving you my honest review and haven't received any other compensation from them. I hope you like the styles as much as I do!
Bonus: they're giving you 30% off with the code FITSATVA30 !
Satva: Sustainable Fabrics & Ethical Practices
Satva is a woman-led clothing company whose mission is to create a "symbiotic balance between people, planet, production, profits and social stewardship." They focus on transparency and a fair trade business model. They work directly with the farmers, cutting out any middle man, and they make up to 40% more than conventional Indian farmers.
They also extend support to the farmers' families by sponsoring the education of their daughters and supporting their livestock with immunizations and medical assistance.
Sustainable Fabrics and Non-toxic Dyes
Satva cares deeply about the environment and health of their farmers and their customers, which is why they use organically grown non-gmo cotton. It's free of pesticides and fertilizers, which prevents pollution and prevents risking the farmers' health. Satva means "pure" in Sanskrit, which is evident in their sustainable farming practices.
The other main fabric they use is recycled polyester, which is much more sustainable and environmentally friendly than creating new.
These fabrics are also free from bleaches, toxic waxes, and heavy metals, which is not only good for the garment workers, but for us who sweat in their products! Using only non-toxic dyes prevents pollution in the production town (especially in their water supply), and is better for you and me as well, producing an allergen-free garment!
Ethical Practices & Empowering Women
I love supporting companies who take care of their workers and communities. As mentioned before, Satva is woman-led and part of their mission is to empower women. They are also very invested in their farming communities, minimizing pollution, promoting education, and improving quality of life. They take their influence very seriously which I love, and am happy to support them.
Now, let's get down to their new spring line! It's gorgeous and fun, and I've gotten a ton of compliments on it already.
Satva Clothing Favorites: Spring 2019
Here are the styles I was sent to review, including photos and my honest opinions. I also included a wish list so you can check out other highlights of the spring collection.
Citta Full Length Legging & Kosha Bra Top
These leggings are ultra comfy. They are perfect for traveling, lounging, yoga – of course – and they also work for a high intensity (HIIT) cardio and strength workout. I was skeptical about the organic cotton giving me the support I needed for a HIIT workout, but I was impressed.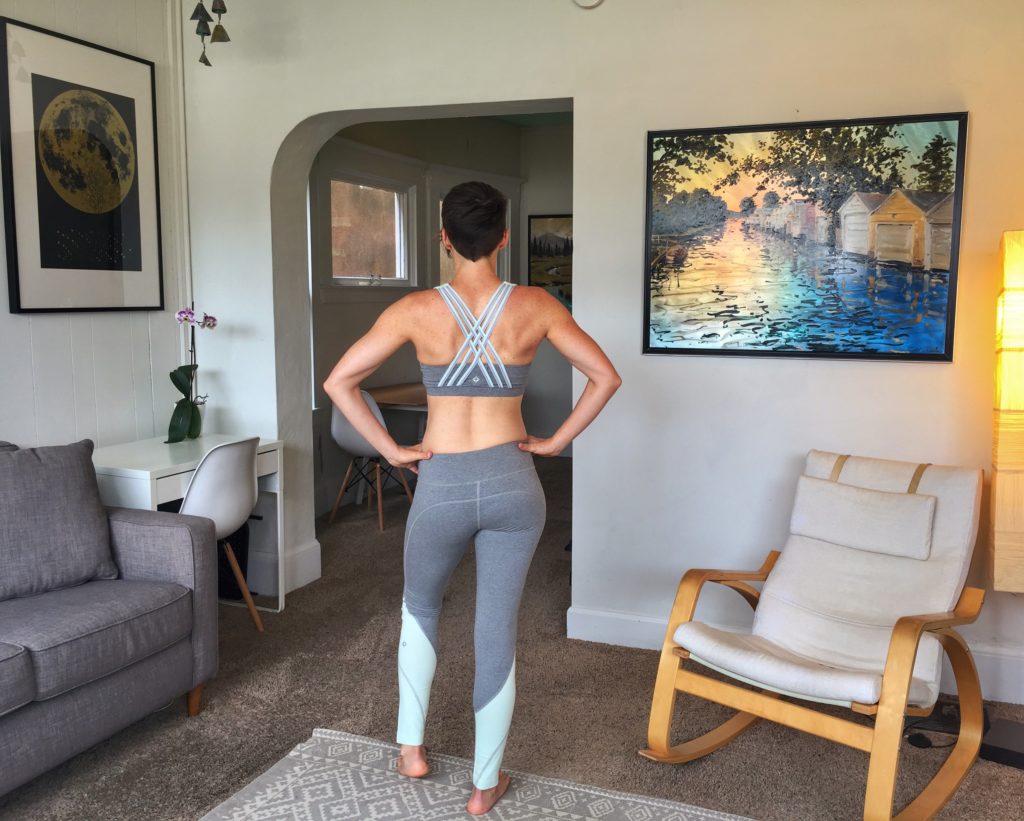 The organic cotton is more breathable than performance leggings, and I think they'd be perfect for hiking or a workout on a hot day.
I absolutely love the heather grey and mint combo, however I prefer hot yoga or HIIT and strength training, which leaves me a little too sweaty for grey leggings. An easy solution would be to go with the Citta in purple and black, or opt for the Hatha leggings in blue. I haven't tried those, but definitely have a crush.
The Citta leggings fit true to size. You'll notice they're not tight all the way down to the ankles. I didn't love that at first, but I think it's part of the reason they are so comfy! Finally, they are more affordable than many other ethically made leggings I've highlighted.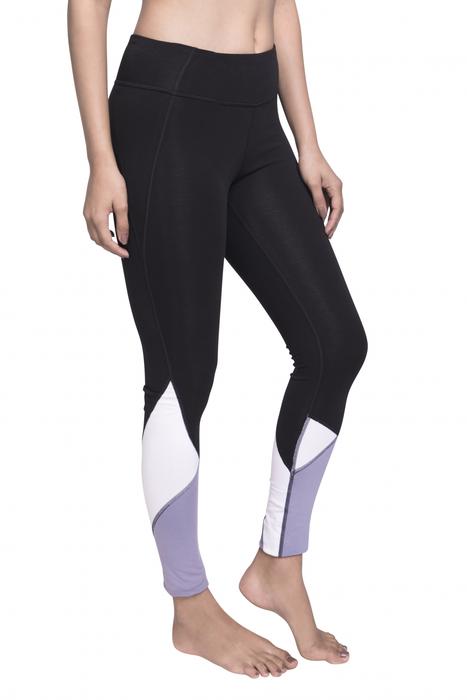 Kosha Bra Top
I'm obsessed with the back of this bra! It's supportive, stylish, and the back straps will make you want to workout even more! I may have measured wrong when they asked for my size, but the small seemed too tight for me. However, I'm petite but strong, and those darned muscles make finding clothes a little challenging. If you have the same issue, make sure you measure correctly and/or try sizing up, or reach out to customer service!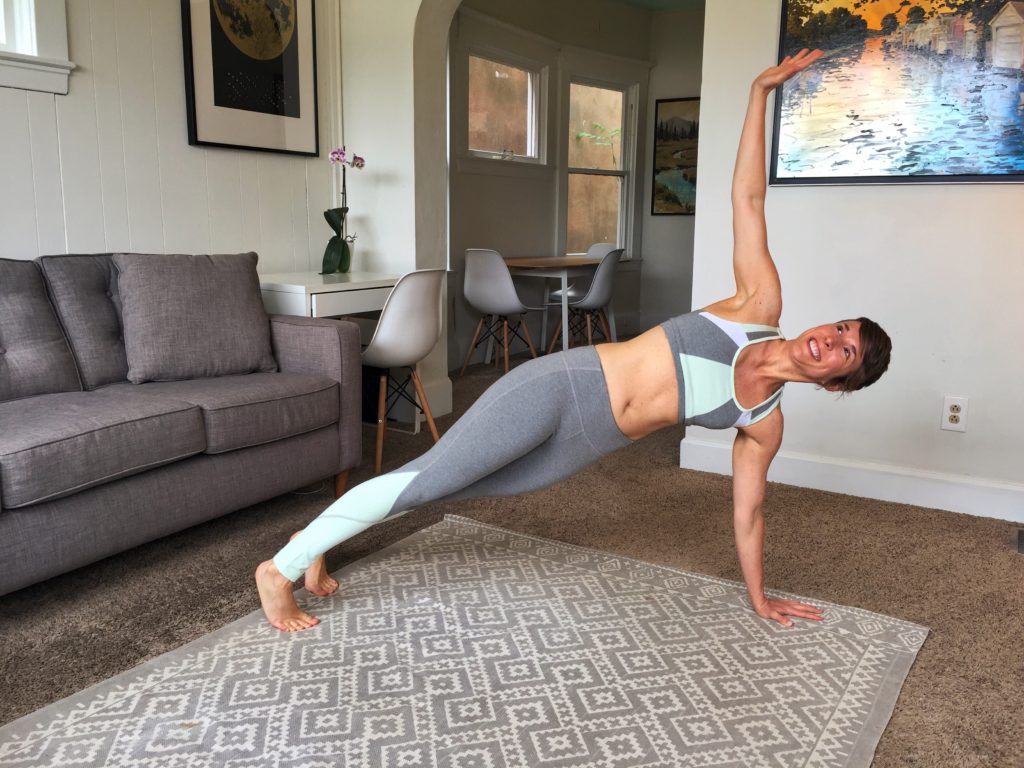 The Kosha bra top was very supportive and stylish, and would be perfect for using as a workout top as well. It's also made from certified organic cotton, free of pesticides and toxic dyes! It also comes in black and purple.
Also, can I just be real for a second? I believe you should ask yourself a few times a year, "When was the last time I wasn't dieting or trying to cut calories?" because that's not always a healthy place to be, mentally or physically. So, I'm currently enjoying all the food Portland has to offer, and loving every second of it.
Adamantine Tee in Heather Grey
This has been my favorite thing they sent me. I took the tags off and put it on immediately, and have been wearing it all-too-frequently ever since. It's perfect for the spring! It's long sleeve, and the material is a little thicker and stretchier than a regular tee shirt. However, the black part of the sleeves is a mesh material that allows a slight breeze!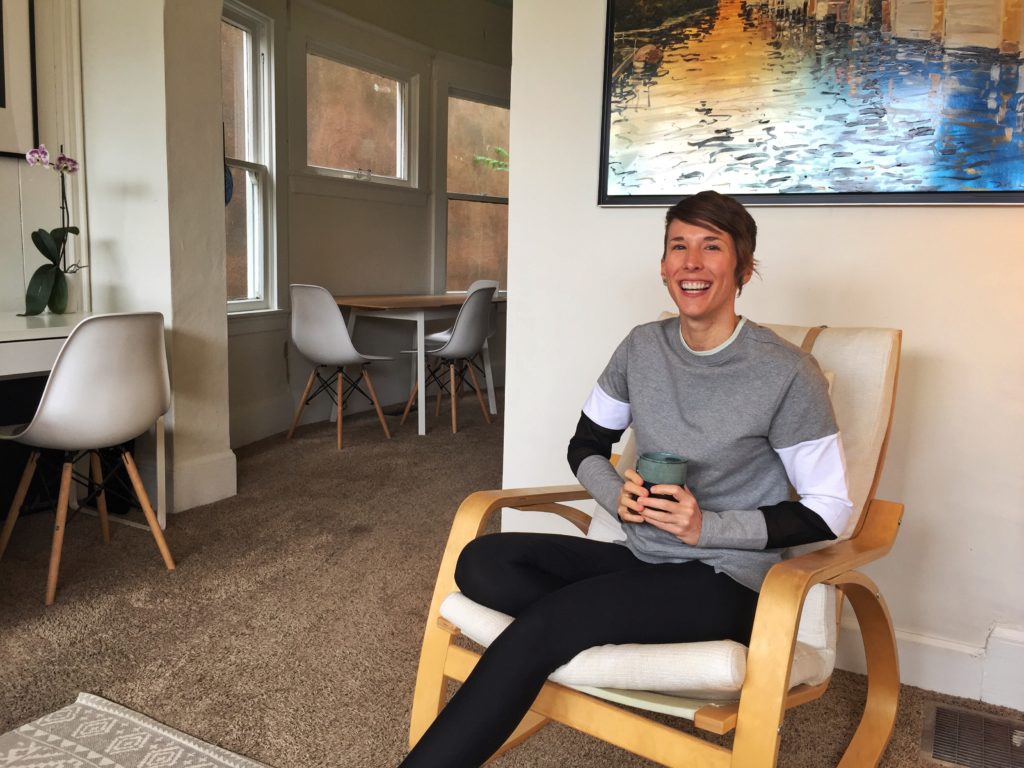 I've gotten lots of compliments on this shirt, and people love how the color blocks are different on each arm. And the collar has a strip of mint all the way around that people have complimented as well. It's slightly fitting and very flattering. It's made with organic cotton and also comes in purple and black, as well as pink and white.
Mine sits a little higher on my neck than I'd like. I think my size is right, but my shoulders are broad for my frame so it doesn't sit perfectly. That hasn't stopped me from wearing it constantly, and it's still really comfortable, but if you also have broad shoulders you might want to consider that as you choose your size.
Discovery Tank
This tank is flowy and slightly loose, which is a refreshing alternative to form-fitting workout tops. It's very breathable, and is also made with the organic cotton fabric. I loved everything from the size of the arm holes to the fashionable racerback style. It is longer than most other workout tanks I own, covering most of my caboose as it hangs.
I received the white and black discovery tank, but it comes in several different colors! I don't know that I would have chosen white on my own, but I really liked how it looks on me.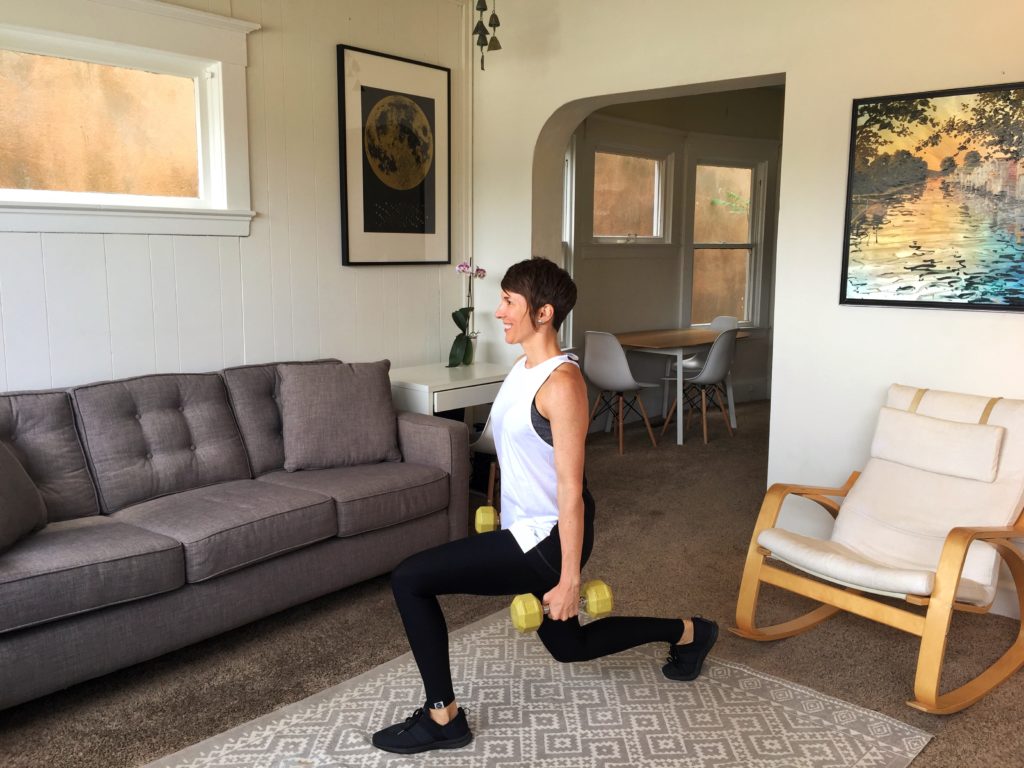 Wish List
I'm really thankful Satva reached out to me, since I've been letting readers know of their ethics and cute styles for quite some time now. I'm thankful to get a chance to see how their clothes fit and test the quality! They definitely seem well-made, and are well-priced for the quality you're getting. Plus – you know the people who made your clothes are being treated with dignity. I know many of us have grown used to the $13 leggings you can find online or at Target, but those have "sweatshop" written all over them.
Choose better: for the environment, humanity, and quality.
Here are a few items on my wish list, although I'd be happy with any of the new Spring Collection. I love the Hatha Leggings in Petrol Blue: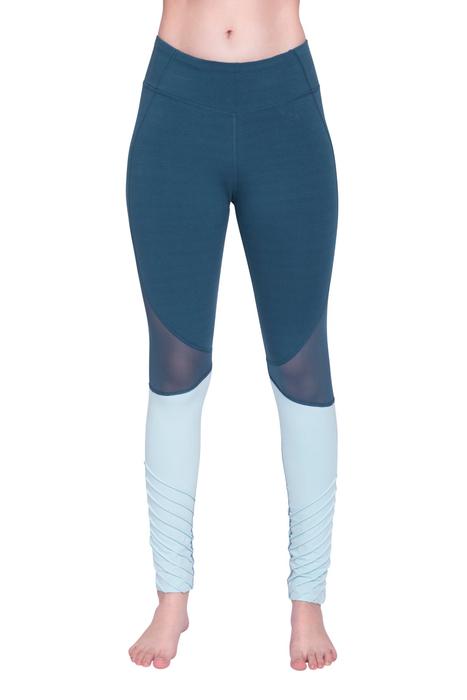 And I'm obsessed with this rad bomber jacket.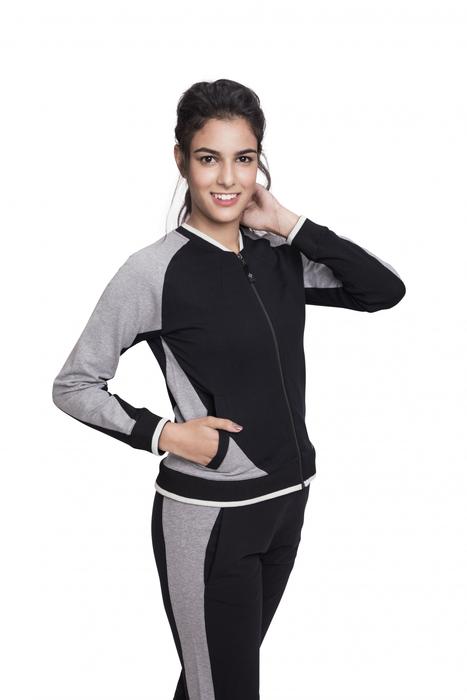 They also have several cute camis to wear for workouts and as the weather warms up!
Where to Buy Satva
You can find Satva at several locations
Their Site (+ 30% off)
You can check out Satva's entire Spring Collection here.
And while you're on the site, check out their other styles! They have cute bold prints as well as classic looks.
Fit Tutor readers can use FITSATVA30 to get 30% off their Satva order!
I know buying online can be a little nerve-wracking for sizing, so here's their return policy. The coupon code only works on their site.
Amazon
Check them out here on Amazon!
Many of their clothes are Prime and come with free returns and are a part of Amazon's "try before you buy" program so you can make sure you get the right size.
Whole Foods
And look for them at your local Whole Foods.
Purchasing Power that Feels Good
It feels so good to know you're not supporting a company who is damaging our environment or enslaving other people to make a profit — your money will be going to a company who takes their mission seriously, treats their workers with dignity and respect, and who is working hard to improve the conditions of the farming communities they work with.
… and, whose clothes are cute and functional, which also matters a lot!
It's such an honor to support companies who are sustainable and ethical, and in return you'll get high quality clothing that will make you feel and look good.