I've written a lot of articles about how to be healthy and lose weight over the holidays, but today's article is more about survival. It's for those of you who are saying "I don't care. I will eat ALL the Christmas cookies." It's about how to splurge and enjoy all of those delicious goodies while still being able to fit into your pants on New Years Eve. It's about eating, drinking, and being merry while not setting your body up for diabetes in 2017. If you feel tired, if you're just over 2016, if you feel that you "need this" when it comes to enjoying and partaking in treats this holiday season, this post is for you. Cheers.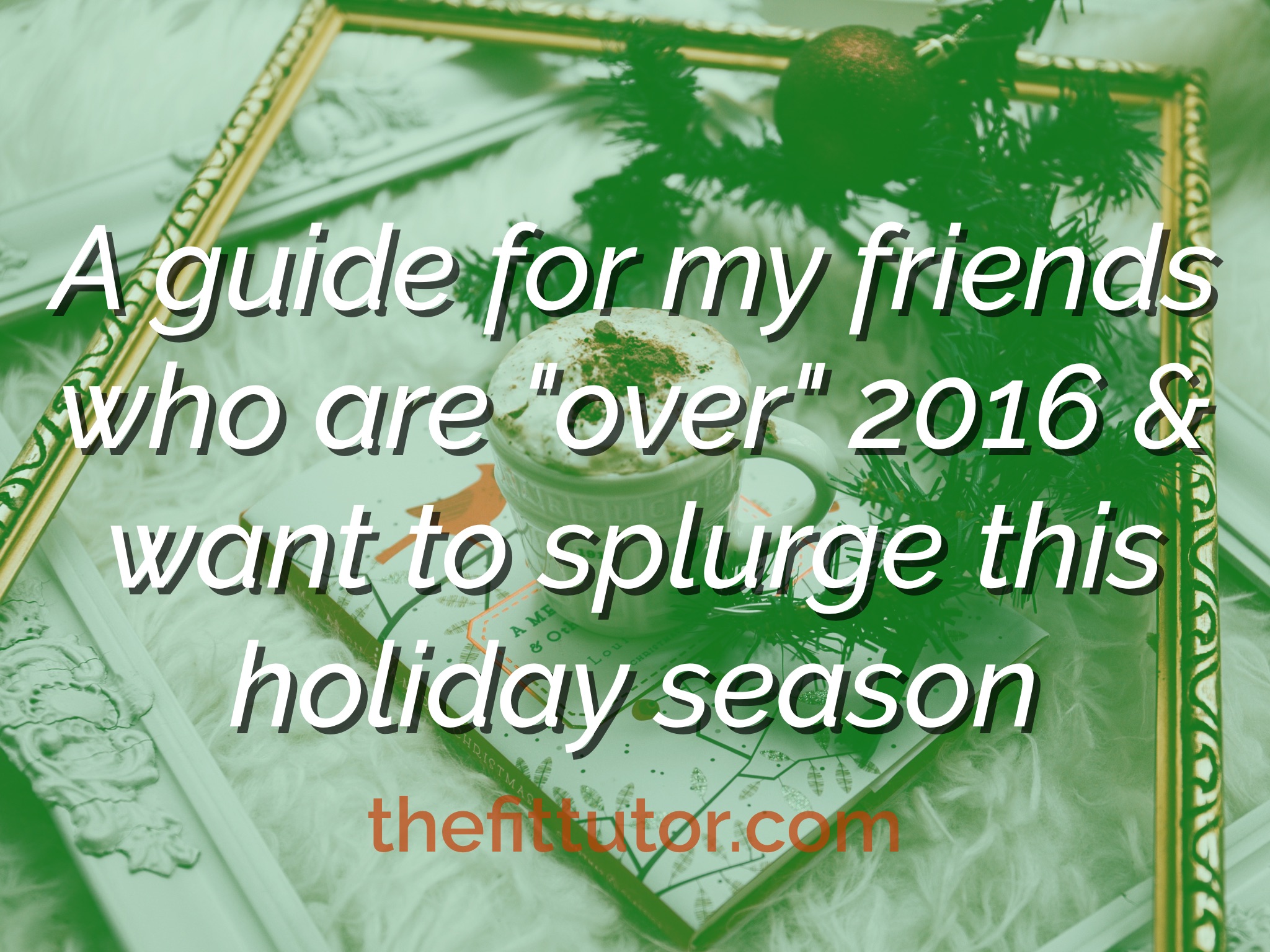 For my friends who feel they need to "get through" the holidays
First off, can I be real for a second?
These last few weeks have kicked my @$$. So much.
I lost my dad last year (who was the best, let me assure you), and now the holidays are pretty hard. A loss like that opens your eyes to the suffering and broken hearts around you, and it's a heavy weight to carry. We just lost our friend, too, and I've found my Christmas Spirit being overrun by grief. I want to be so excited for Christmas, and I love giving and receiving prezzies, but at the end of each day I feel a perpetual sadness. I know JOY is always available, but it's been hard to make that my reality these last few weeks!
You're not alone!
I know some of you can relate. It may not be a loss like mine, but it might be unanswered prayers, a failure or blockage toward a goal you're pursuing, or just the relentlessness of one thing after another…
I just want you to know that I hear ya friend. And although I'm totally against turning to food for comfort and happiness, I understand that my principles and convictions don't un-break your heart. They don't go back in time and make this year better. They don't put more money in your purse to buy presents for the ones you love. Some of the things that make Christmas so special are the food, drinks, the parties with friends and family, the expressions of gratitude in the form of cupcakes on your desk at work, etc. I'm not here today to tell you that you can't have them. I'm here to help you enjoy them with minimal damage.
And for those of you who want to just eat, drink, and be merry because… CHRISTMAS, then sorry for bumming you out- these tips will help you, too! ;)
4 Tips For Splurging this Holiday Season
I wish I could say that calories don't count in December, but that's just not the case. These tips will involve some work, but they will help you to enjoy and splurge on your favorite Christmas goodies.
1.Be GOOD otherwise
So you want to eat the cookies in the break room and then go home and drink egg nog while watching Elf? If you want to enjoy these treats without guilt, then your meals are going to have to be GOOD. Let's face it, most of us have a lot of parties, catered events, and cookie exchanges this time of year. To indulge there, we need to be good at home.
Make healthy dinners that focus on lean protein and veggies (ahem, not fried veggies). Make enough for healthy leftovers for lunch. If Lindor Truffles are magically appearing on your desk at work, then you'll need to minimize sugar and carbs where you can: your own cooking (or perhaps I should say "your own ordering out").
What should you make? Lean meats and veggies could be as simple as baked chicken with green beans. In the winter, I prefer to make broth-based (not creamy) soups filled with protein (beans, lentils, or meat) and veggies and seasoning. Warm soup belly + low calorie + high nutrients will help minimize damage when I crack open that Double IPA and write out Christmas cards. (Double IPAs taste just like Christmas to me. There is no substitution!)
Plan out meals in advance if you need to, or check out my December meal plan and steal some of my healthy meal ideas! In order to still fit into your pants at Christmas and not be pre-diabetic by New Years, you'll have to compromise somewhere. How about when you're in control over the meals?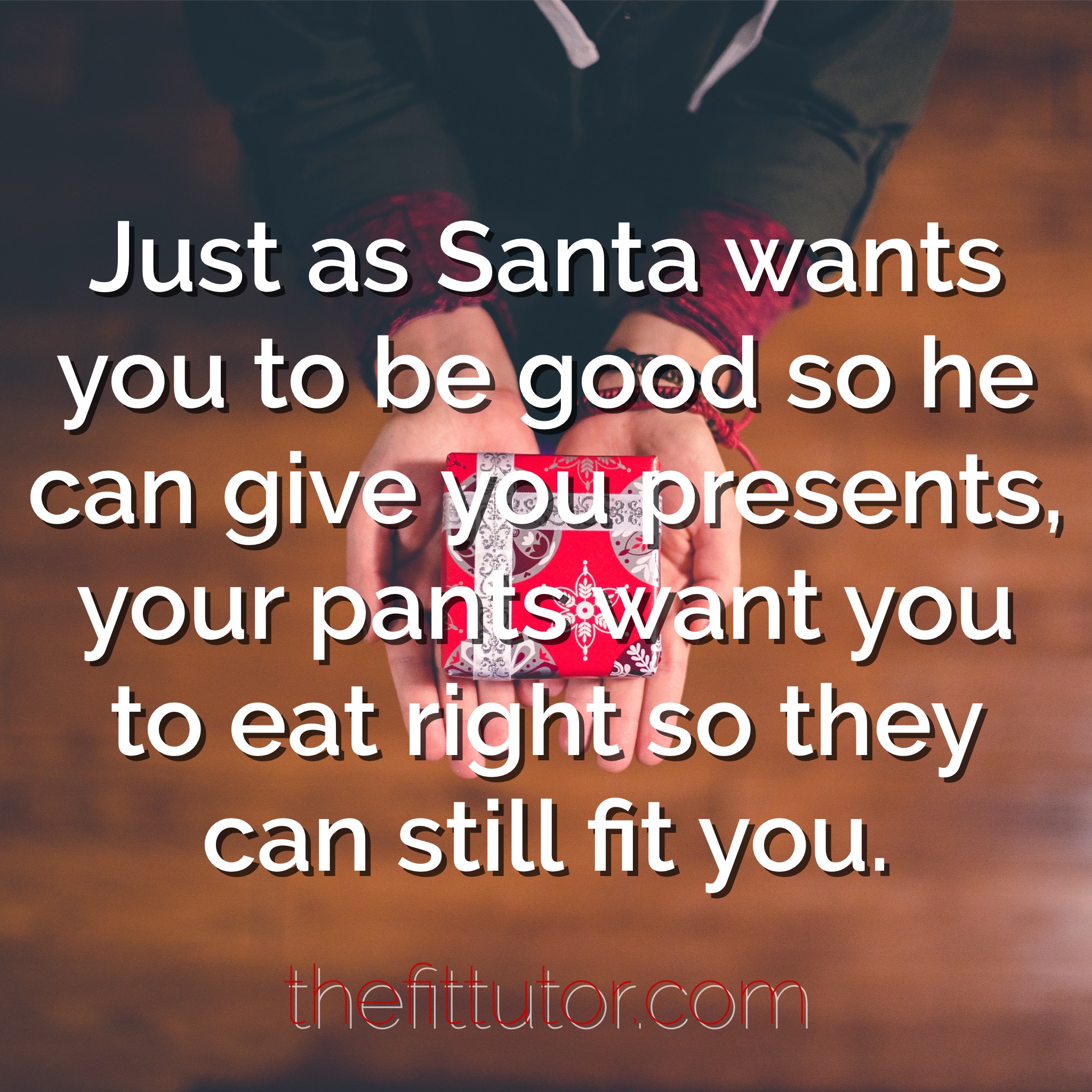 2. Supplements, for the win
Normally I would suggest looking into supplementing your diet on a case-by-case scenario; however, if you're consuming larger amounts of sugar and eating foods you normally wouldn't eat, then there are three things I'd like you to do.
One
#1 isn't a supplement; it's called water. You're going to need more of it! Flush out the toxins by drinking more water. Many of you aren't drinking enough anyway, so this will help your body survive your forbidden "cheat month"! Shoot for a minimum of 8 cups per day!
Two
#2 is probiotics, friend! Of course, check with your doctor before taking some internet person's advice, but I personally believe everyone should be taking probiotics. Especially if you're eating more unhealthy foods, consuming more sugar, and drinking more alcohol. Your gut needs to survive this holiday season, too, and probiotics help with weight loss, boosting immunity, and keeping a crucial healthy balance between good and bad bacteria in your gut (among other awesome benefits).
Three
#3 Greens: Chances are you'll be trading a side of sautéed vegetables for creamy mashed potatoes with gravy and a slice of bread. To be honest, we don't get enough vegetables in on a daily basis, not to mention this month when we're filling up on way too many carbs and desserts instead of those health-boosting, weight loss promoting heroes. Try to squeeze in a protein + greens smoothie each day to help ensure you're giving your body what it needs (aka nutrients > carbs).
A greens supplement will help you get your veggies (and other healthy things) in while boosting your immunity, promoting healthy digestion, and help your body to do that important thing called function. There are tons of health and energy benefits to greens supplements. Many women aren't getting in enough protein either (and you'll need a little more when you add in the next tip), so scoop in 20 grams of protein in your smoothie to give your body what it needs!
A Healthy, Simple Recipe
Always make sure your supplements are third party certified, and always check with your doctor! This is the recipe I've been rocking lately:
Buy these here, with my shameless affiliate links as a thank you for nerding out on this so you don't have to! I've got nothing but love for ya, dear reader! Click on the photo to be whisked away to a magical buying destination (Amazon):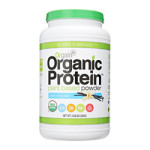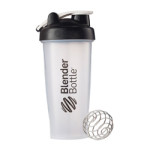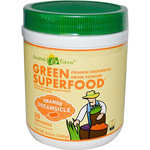 You can check out my store for more suggestions! I love that this is such a simple, easy to implement healthy strategy.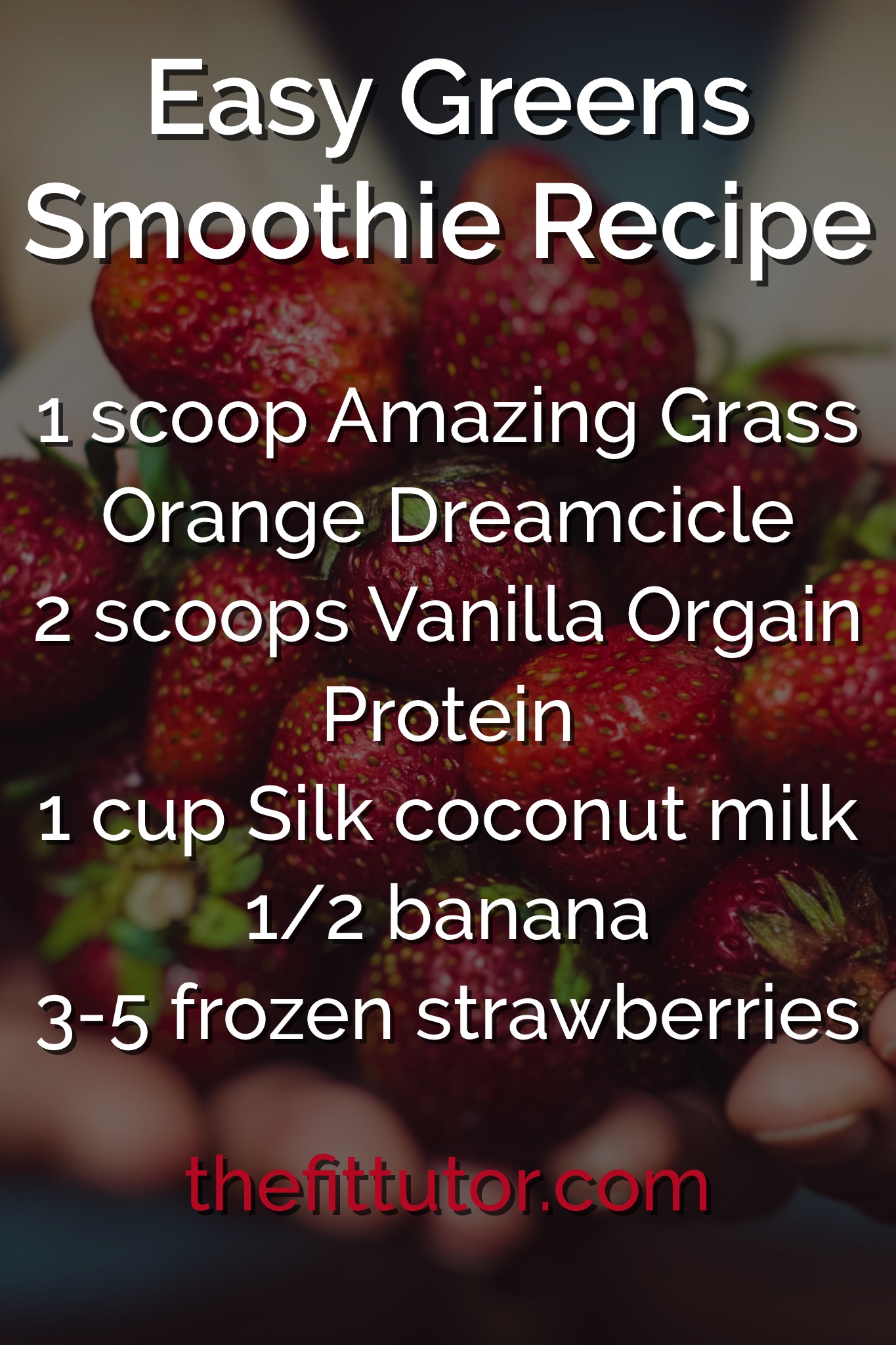 3. WORK the heck OUT!
Research shows just ONE workout session can have an impact on your blood glucose tolerance, so if you plan on splurging, exercising a must this month to keep your body healthy. Increasing muscle mass and exercising helps your body cope with the increase in sugar. The recommended amount (limit) of sugar is 6 teaspoons for women and 9 for men. Most people are exceeding that in just their regular meals, excluding desserts. If you plan on consuming those Christmas cookies or treating yourself to a White Peppermint Mocha, then exercise is non-negotiable.
Even if you're just trying to survive the holidays, you still have to live with your body in 2017, so creating a metabolic disaster is not setting yourself up for the better year you are hoping for. This applies to you skinny folk, too. Type 2 diabetes rates are skyrocketing in the "skinny fat" population due to our American diet and lack of activity.
And of course let's not overlook the simplicity of calories in, calories out. Exercise burns the "energy" you're feeding your body, so it's one of the most common sense ways to lose weight! If you're increasing your food intake then increase your exercise.
What to do
You can do my Home for the Holidays Workout that requires no equipment if you have no dumbbells or gym!
4. Stop before you're full!
The golden rule of life is to treat others how you would like to be treated, and the golden rule of weight loss is to stop eating before you're full. If you're used to being stuffed like a turkey, then start out with "less stuffed" and work your way down. This way you can eat what you want, but your stomach will help keep you in check.
Eat slowly, because it's going to take your brain about 20 minutes to realize you should have stopped eating already… Take it slow, savor every Oreo ball, cherish every sip of hot cocoa, and give your body time to realize what's going on!
Bonus Tips
I've given you 4 things to focus on these next few weeks. Make me proud, friends, and reach out if you need help along the way. Here are some bonus tips for anyone wanting extra credit, and I'll also link some more serious, noble weight loss blogs if you're wanting to do more than just "still fit into your clothes" by NYE!
Tis the season to be jolly and joyous, according to the Muppets! Follow these tips to fight weight gain this season, and after you survive the holidays, sign up for The Fit Tutor to make health a lifestyle. I'm not sure if anyone has told you yet, but you add tons of value to this world and to the people around you. So it's necessary that you're healthy, fit, and able to do the things that you were called and created to do! You are loved, dear friend. Merry Christmas!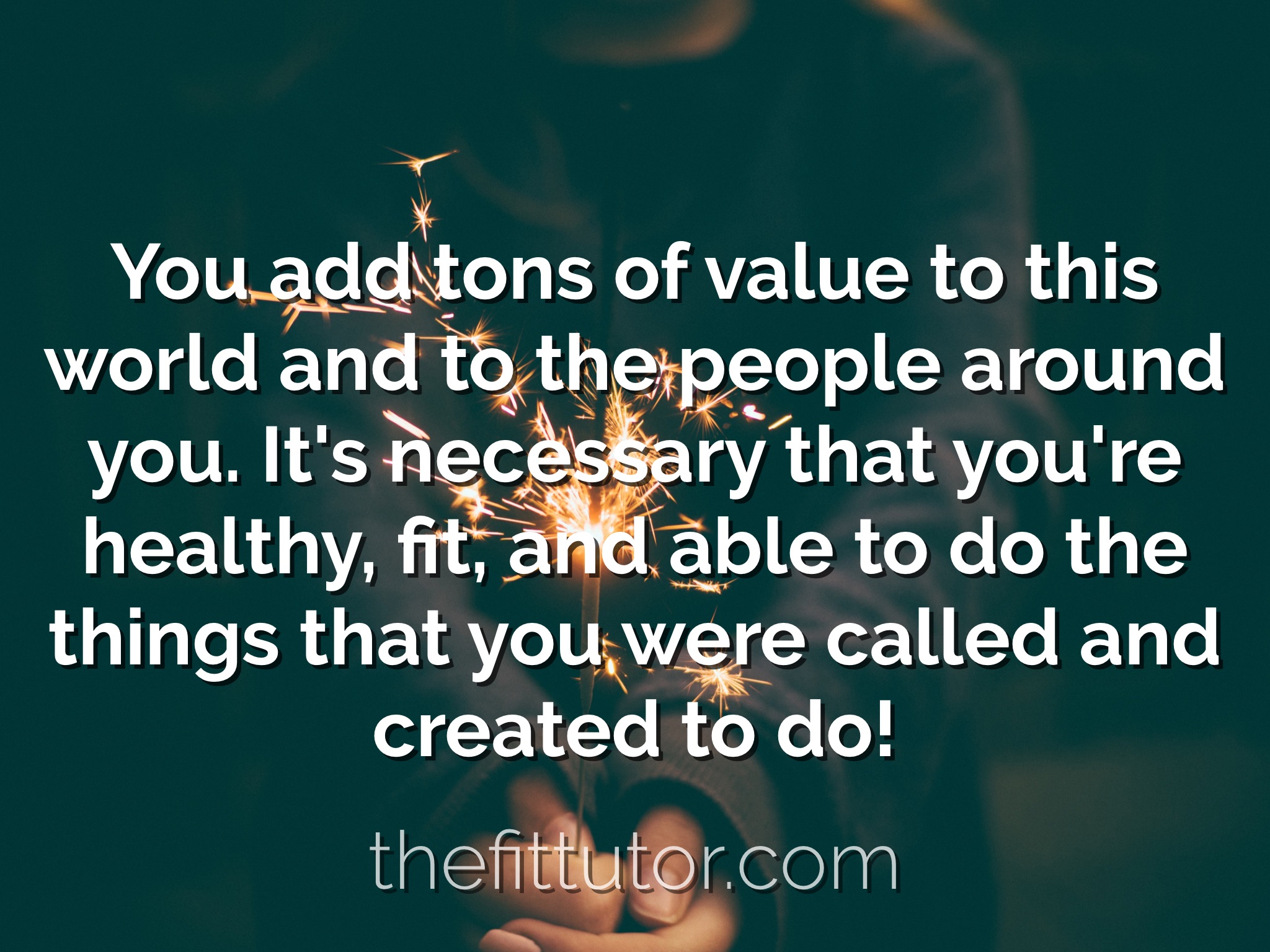 The Fit Tutor is an online workout site that includes workout programs for every level of fitness, a nutrition course to teach you how to eat right without dieting, and accountability to help you actually reach those resolutions! Here are the other Fit Tutor weight loss articles mentioned:
Love to you, friend!
Allison