Dear Mamas, I know summertime can be chaotic yet magical, and simultaneously stressful and wonderful. It's where some of the best memories are made with your kiddos. If, in the yearly quest for "best summer ever," you feel tired, frazzled, and too busy yet again, let me give you permission to say no, to breathe, and to skip activities you're not excited about.
Skip some "good" things to hold out for "great" – and in the meantime keep your sanity and peace. And when I say "great" or "better" I'm referring to something you want to do. Don't be stressed out over subpar fun or activity for activity's sake.
You have permission to choose quality over quantity and feel great about it.
More Isn't Always Better
It's OK to say no to something that might fun for your kids.
You do not need to entertain your kids all day, every day.
Your kid will be fine if he or she skips this summer's Little League season.
It's OK to allow your kiddos to to play by themselves, if age-appropriate.
It's OK to have a boring, mundane normal day that doesn't involve any sort of summer magic.
What do you need permission to say no to, guilt-free?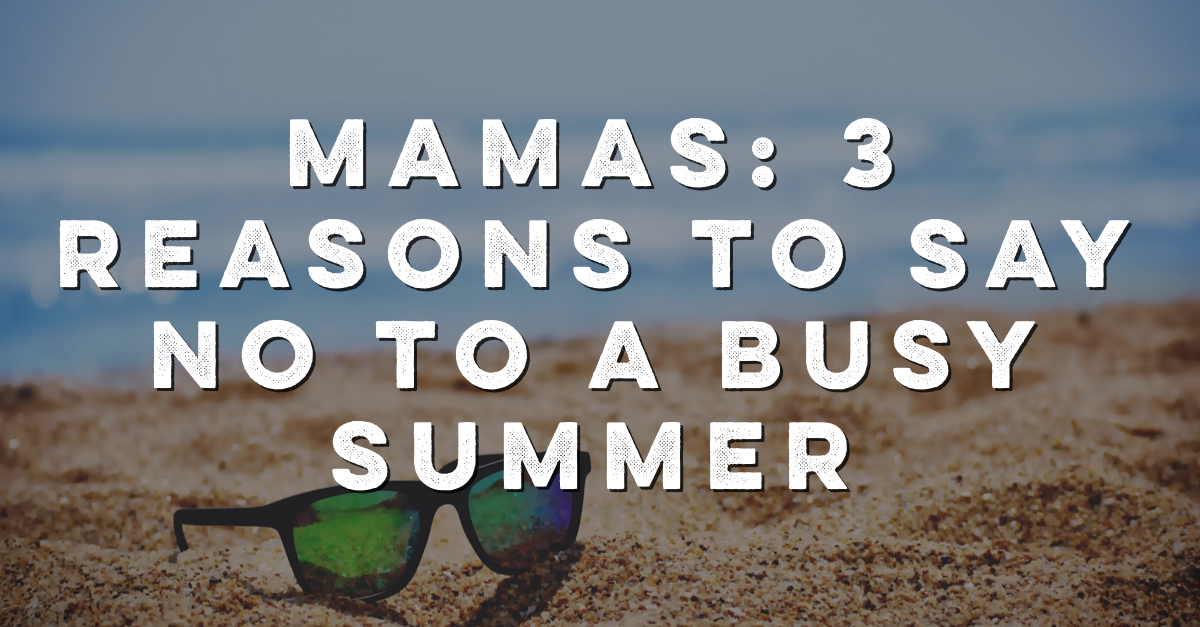 My inbox has been filling up with emails that contain a lot of stress, frustration, and obligation. The pressure for moms to take advantage of every opportunity for their kids this summer is daunting. Comparison via social media puts the nail in the coffin.
It's OK to adopt a less is more attitude and say no to things that don't excite you this summer. You and your kiddos will still have a blast!
Moms Need Summer Break Too
All I'm saying is that it's OK to take the kids to the pool an hour later if it means you can sneak in a workout. Quiet Lego time (with sounds effects, of course) can be a great summer tradition so Mom can drink hot coffee or read a book or make a meal plan and feel ahead for once, for the love!
Your kids will still have a magical summer if you turn down a few fun activities in the name of your own sanity (or your waistline, whatever).
If going from activity to activity and from playdates to soccer games works for your family, great. Rock it, Mama. But if it doesn't, then you have permission to rest.
Sometimes summer fun can decrease supplies of what you need to be the best parent, like sanity or patience.
Here's why "taking care of yourself" isn't a luxury:
3 Reasons Carving Out Time For Yourself This Summer Isn't Optional
First off, let's get this out of the way: Your kids will be fine.
They will look back and see a summer full of magic and whimsy, and not blink at the fact mom skipped a playdate or seven, or put on a show every morning or forced them to use their imaginations. Let these reasons inspire you this summer!
1. Teaching Kids Boundaries
In this day and age we are connected 24/7 and presented with opportunities that could fill up every second of our schedules. It's important we teach kids how and what to prioritize, that it's OK to say no, how to deal with FOMO (fear of missing out), and to find joy in small things so we don't need a big production to have fun.
We empower children when we say, "recharge now, fun later," and get them to the point where they can gauge the level left in their own tanks. And it's OK if it's just the mamas who need to refuel their tanks. Kids benefit from parents that aren't spread too thin :)
There's a lot of unhealthy, chronically stressed, way too busy, people walking around dying for a chance to recharge but not even knowing how. You get the opportunity to teach your kids a life-saving secret early on. Ingrain things like saying no, resting, recharging, healthy eating and exercising daily, and you'll give them the keys to thrive.
Hold out for things that make you excited, not obligated. Summer fun won't escape you.
2. Saying No So You Can Give Your Best
I understand the range of "kids" is so wide! Doing this with a 2-year-old is a completely different animal than a 13-year-old, but the idea is the same. Say no to things if you're frazzled, spread too thin, and stressed so you can give them your best. What's a bunch of fun activities if mom seems mad and is short the whole time? Half of summer fun is the memories made with the ones you love!
Set aside the time you need to exercise, get an idea for a non-fast-food only meal plan, read a book, listen to your favorite podcast while getting the house in functioning order… do what you need to do to recharge and feel on top of your game! A simple no here and there can help you feel in more control of your life.
3. Your Health is a Top Predictor of Their Health
Monkey see, monkey do, right? Kids will watch you carve out time for exercise day after day, year after year, and this will be their normal.
Research shows this will determine more than anything if they exercise or not. So show up late to the park and get in a quick run, family bike ride, or a strength training workout. Your sacrifice will help produce health and longevity for generations!
…and not to mention you won't feel like you have to cover up at the pool. But that's a whole 'notha post!
Mini Rant About Health and Self-Esteem!
Mama, the best gift you can give to your kiddos is a healthy you.
Longevity.
Being able to run around and play with them.
A healthy you also includes a mama who loves her body. A postpartum body needs some special TLC, and raising kids, working, running a home, being supermom, etc all take up a lot of time.
Carving out time for your health can teach children how to be confident in their bodies, and how to love and be proud of themselves even when they don't look like a supermodel or professional athlete. In a world convincing people they aren't enough, a mom steps up her game when she provides an example of being confident in what her body has done and what it can do!
Take good care of your body so you don't even have to resist the urge to criticize it in front of your daughter. This is tough, I know. I'm here for you!
A Summer of Magic
With mom feeling sane and the family precedent of health established, you can still have a magical summer and choose the fun-filled events and playdates your kiddos will do. Magical doesn't mean you have to take them to Disney World or set up a Bouncy Castle in your backyard. Magical can be teaching them to have fun, find joy, and create in the mundane.
What a gift! You're a mom, not an event planner and not their entertainer, so be set free from those roles. Allowing them time to play on their own and create their own fun gives them the tools to make all of life magical!
When a kid's imagination is ignited, the best forts are built, the best crafts created, the craziest rule games adopted, etc.  I have the best memories of defeating Bowser with my brother, family T-ball games, and endless hours "teaching gymnastics classes" on the trampoline. Sometimes my parents played with us, and sometimes they didn't. But I never once remember them snapping at us for being too busy or stressed, and they always took the time to do things they wanted to do, too. Perhaps my taste in music is stuck in the 90's and my parenting philosophy in the 80's!
You Do You
I'm not a parent, yet. But I work with all women, many of them moms. From my outsider's perspective, sometimes it's just a season of life that gets in the way of their exercise or healthy stress levels. Sometimes it's an event, a frustrating phase a child is going through, etc, but sometimes it's our culture. I would love to be a voice of rest and encouragement in your world. If it's out of your hands, do your best, and give yourself grace. If it's our culture, I challenge you to be countercultural. To dare to say no, to throw off the impossible standards our society requires of a mother, and do what's best for you and yours.
Living the Dream
I wish you the best: may your summer be relaxing, your adventures filled with friends for both you and the kids, and may you have plenty of time to do what you want whilst keeping the fam alive and healthy and your waist small enough to fit into your shorts! (hashtag living the dream, am I right?!)
I love my mamas! You constantly inspire me by all you do and how you fight to make health a priority. I thank you for the encouragement!
I'm here if you need any help with workouts, nutrition, and general merriment. Cheers to a happy, sane summer!
Allison
pssst: the fit tutor has online workouts made for a mama's schedule, and a nutrition course flexible for most taste preferences and lifestyles! Take a look around the site! :)
Pin this to spread the word, and I'd love to hear your comments! Is this something you struggle with, too?